Bertrand 'ElkY' Grospellier Profile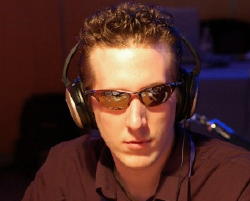 Bertrand "ElkY" Grospellier is a French poker professional and former pro gamer who has had tremendous success in the poker world. He is one of only four players to win the rare live Triple Crown of one WPT, WSOP and EPT title. He won the 2008 Festa Al Lago WPT title for $1.4 million and went on to be that year's WPT Player of the Year. He has won two EPT titles with 12 WSOP cashes and has over $8 million in live tournament earnings and another $1.7 million in online tournament earnings. At the 2011 WSOP Grospellier won the $10k 7 Card Stud Championship for over $300k. He is also known for his intense grinding and multi-tabling online. Grospellier is a member of Team PokerStars. Grospellier was born February 8, 1981 in Melun, France but currently resides in London, England.
Before transitioning to poker, he was one of the top ranked StarCraft players in the world, having placed second in the World Cyber Games in 2001. He continued his StarCraft playing by moving to South Korea where he continued to do well, placing 4th at the 2002 World Cyber Games and fourth at the 2002 Ongamenet Starleague. In 2002, he picked up the newly released WarCraft III: Reign of Chaos and immersed himself in that game for a couple years. Grospellier also finished first in StarCraft at the 2003 Euro Cyber Games and fifth at the 2003 World Cyber Games. He had a top 16 finish at the 2004 World Cyber Games before he started to turn his attention to poker.
Things you might not know:
Grospellier started playing computer games when he was three, as he had twin bother and sister who were 10 years older.

Grospellier emphasized his alias, ElkY, because Koreans had trouble pronouncing his real name.

Grospellier was the first person ever to reach "Supernova" and "Supernova Elite" statuses on PokerStars - having earned 100,000 player points in just 2 weeks and 1,000,000 player points in 4 and a half months, respectively.

Grospellier lost money in his actual playing the first time he tried for Supernova Elite, but made money on his many side bets and the bonuses he received from PokerStars. When it came down to crunch time he played for 24 hours a day for a whole week, with short 15-minute naps every four hours.

Grospellier typically plays 12 to 14 tables at once online.

Grospellier once set the Guinness World Record for most Single Table Sit & Goes played in one hour at 62 at a $6.50 buy-in with a profit of $23.50.

Grospellier was once disqualified from a 2008 World Championship of Online Poker event for agreeing to go all-in blind with another player.

Grospellier won both event 38 and 43 at the 2009 World Championship of Online Poker for over $500k.

Grospellier met his girlfriend, Catherine Hong, in Korea in 2002. She has has since taken on his interest in poker and plays live tournaments.

Grospellier had never played 7 Card Stud before entering the 2011 WSOP $10k Championship he won in June. He claimed that while he knew less than his opponents, he could use his people reading skills and pressuring opponents to fold as a result of his vast other poker experience.

Grospellier has won three title, two EPT high roller events, and around $1.6 million in live tournaments in the first six months of 2011.
Bertrand "ElkY" Grospellier credits his gaming background for developing his quick thinking, multi-tabling confidence. In StarCraft he had to predict the reactions of his opponents with little information, because he could see only a small part of the game, much like poker. He also became accustomed to the pressure of performing in front of large crowds at gaming tournaments in Korea. While he enjoyed the fame he had in Korea, he now appreciates the wider reach and success he has had in poker. Bertrand Grospellier's meteoric rise to the top of the poker world has been nothing short of spectacular.
Grospellier shared in an interview, "It is also a lot harder to be successful in video games than in poker. With poker you can be successful and get by after one year of training. If you want to make a living from it, you only need to look up the games with players who are worse than you. Then you win more and more. With video games you need to belong to the top three, or at least the top ten of the world in order to make a living from it. This is obviously much more difficult."

"I will play StarCraft 2 when it comes out. It will be released by the end of the year, and it could be that I will play two tournaments just for the fun of it, but not as much as I played the first one. With poker you just have a lot more freedom than you do when you're a professional gamer. Gaming takes up a lot of your time, and can also be quite monotonous to be honest."
Since the interview, Grospellier has played SC2, some qualifiers for GSL and a French invitational, as demonstrated in the last video below.
Grospellier videos of a high stakes bluff, attempting the multi-tabling record, playing StarCraft in 2002 and in 2010:
Other famous poker player profiles: