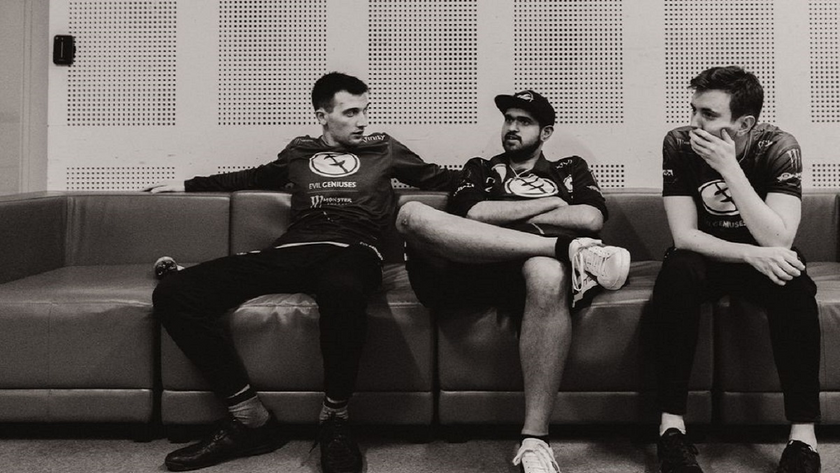 Three strikes; Three more teams are out at TI9
TI9's grand finals are closing in and three more teams - RNG, Infamous and EG - were knocked down and out from contention. 
TI9 has been a most spectacular event so far. The games have been some of the most thrilling and the competition has been of the highest caliber seen in years. Each series feels more and more intense with clutches, comebacks and pocket strats still coming out strong. 
By the start of today, half of the teams had already dropped out of the competition. Only eight of the strongest were still left standing. By the end of the day, three more bid farewell. 
RNG 0:2 Team Liquid
Their name is Royal Never Give Up and although they dropped at TI9, they put up a valiant fight all the way until the end - even as they were facing the one the scariest opponents. Team Liquid might have faltered in the group stage, but they have more the certainly found their footing in the lower brackets and have been on point in the main event. 
The European's run is so reminiscent of their TI7 journey in the lower brackets, it is hard not to already envision them lifting the Aegis for the second time. 
RNG held their ground the first game for about 25 minutes before Team Liquid seized control. The second game was filled with back and forth swings and turns, putting another nail-biter in the books for TI9. Things could have gone either way right until the very end with neither team having an easy time cracking high ground, but the Tiny with Aghs proved to be too strong and Liquid finally claimed the match and the series after 78 minutes. 
Infamous 0:2 Team Secret
Infamous has already made history as the first South American team to reach the top 8 at The International. They already have defied the odds and won the hearts of fans across the world. And yet, they went into this series ready to fight and find a win. Wearing their hearts on their sleeves, the SA team took Team Secret head-on. 
In the first match, Team Secret banned all of Infamous' comfort heroes and snagged all of the Meta's good cores. This should have put Infamous on the back foot but they pulled out Riki, the first time the hero has been played for the entire event so far. Holding their own, it took 18 minutes before Infamous was able to take a bit of the lead and started making space to farm up and do some damage. However, if there is one thing we have learned this event about Team Secret, it is that they always find a way to win. Gold advantage doesn't matter and kill deficits mean nothing to them. Clutch moves and phenomenal plays sum up the Team Secret experience and ultimately, the Europeans took the first game despite having been the first to lose barracks. 
In the second match Team Secret starting mowing down towers early on and having figured out Infamou's timings, they played around and against it perfectly in order to take a smooth second win and the series. 
Infamous is going home, but they secured a top 8 position and over $800,000 prize reward. Something to certainly boast about and be proud of. 
Team Liquid 2:0 Evil Geniuses
Evil Geniuses took the laning stage well enough to look like they were in control, however, Team Liquid played their strategy well, farming up and exercising patients to avoid all fo the team fights that EG wanted to take so badly. It was only after they came online and some incredible Chronospheres, that a few good team fights back to back for Team Liquid allowed them to snowball against the North American giants about 40 minutes in and take the game. 
After a BIG teaser and announcement for Spitfire the new hero, Team Liquid picked up Darkseer for the second game. This is the first time this hero has made an appearance at the event leaving only three heroes left - Clockwerk, Ursa and Keeper of the Light. 
Team Liquid came online quick in this game and EG didn't seem to have the answer. The Europeans have been on point and only getting stronger through not only the event but even just each match they have played today alone. 
In a convincing win, Team Liquid ended the run for Evil Geniuses in the lower brackets sending them home in 5-6th place. 
TI9 Main Event
Main Event dates - August 20th - August 25th, 2019
Sixteen teams play in a double-elimination format over six days.

Eight teams begin in the Upper Bracket, eight in the Lower Bracket.

First Lower Bracket round is Bo1, Grand Finals are Bo5, all other rounds are Bo3.
Schedule:
Main Event - Day 5 (UB Finals, LB Round 4 & 5): August 24th

Main Event - Day 6 (LB Finals, Grand Finals): August 25th
TI9 Streams
English:
Twitch:  Main Channel |  Stream #2 |  Stream #3 |  Stream #4 |  Stream #5
MultiTwitch:  Streams 2+3+4+5
Russian:
Twitch:  Main Channel |  Stream #2 |  Stream #3 |  Stream #4 |  Stream #5
MultiTwitch:  Streams 2+3+4+5
Chinese:
Twitch:  Main Channel |  Stream #2 |  Stream #3 |  Stream #4 |  Stream #5
MultiTwitch:  Streams 2+3+4+5
Other Streams:
Pod #1 | Pod #2 | Main Hall | Workshop
Other Languages:
 Korean |  Spanish |  Filipino |  French
The International 9
Valve will bring the biggest Dota 2 event of the year to the Mercedes Benz Arena in Shanghai, China.  All 18 teams are confirmed to attend - Team Secret, Virtus Pro, Evil Geniuses, ViCi Gaming, Fnatic, PSG.LGD, Team Liquid, NiP, OG, Keen Gaming, TNC Predator, Alliance, Mineski, Na'Vi, Infamous, RNG, Chaos and Newbee. The prize pool has exceeded $25 million and that of TI8 (more than $23 million added by crowdfunding) and is now over $32 million.