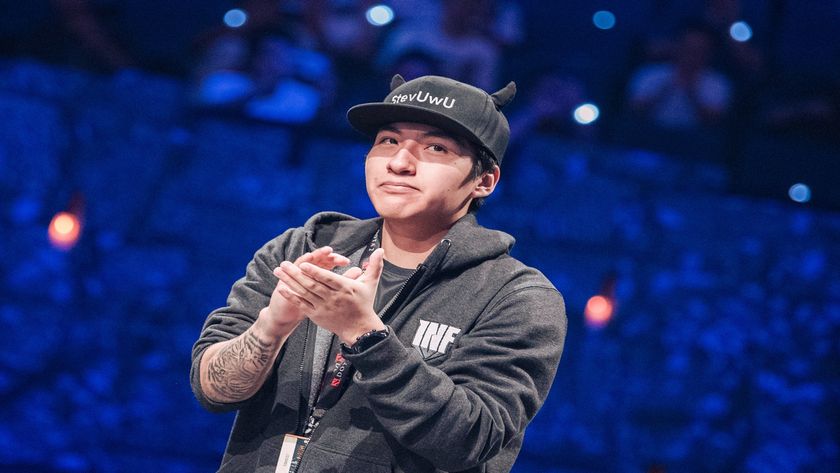 TI9 Main Event: Newbee heads home and Mineski just misses the mark in the lower bracket
Day three's lower bracket series  were some of the most exciting thus far. Team Secret narrowly avoid elimination, and Infamous rose to occasion.
Newbee vs. Infamous
Game One
The South Americans delivered a swift defeat to former Forward Gaming roster - now Newbee in game one of the second round of the lower bracket elimination series.
From the beginning of the game, Infamous wasn't content to farm it out, and went balls to wall, running a very aggressive trilane in the bottom with a signature Wraith King for Hector 'Hector' Rodriguez; their aggression paid dividends, as they picked up four early kills in the first 6 minutes along with some help from Jean 'Chris Luck' Gonzales's Monkey King.
While the focal point of the match seemed to be the bottom half of the map, all the while Yawar 'Yawar' Hassan continued to farm on his Sven, making use of the space in the top lane. But as the game progressed, Infamous continued to disrupt Newbee's lineup via Elvis 'Scofield' De La Cruz Pena's Nyx Assassin and Chris Luck, and Yawar's efforts seemed all for naught. Despite the best efforts of Newbee, the team just couldn't adapt to Infamous' pace and after the only 25 minutes called GG.
Game Two
Game two was a much different story. As coach Kurtis 'Aui_2000' said, perhaps it was just first-game jitters, and that it was as Newbee bounced back in convincing fashion.
Early on, Infamous once more went for an aggressive trilane and Newbee went toe-to-toe with one of their own. This time, the South American aggression was stymied by a poor one-for-one trade, Infamous decided to TP Hector down to the bottom to hopefully have a better time farming. While in the last game, the first few minutes were dominated by Infamous, this game was much more even.
The game stayed relatively even, with the very active early game; Newbee held a slight advantage for the first few minutes. However, once in the middle stages, Newbee just seemed to run away with it, especially at 28 minutes, with a wrap-around play gone wrong for Infamous, seeing them lose four for only one in the middle lane. With that great fight, Newbee extended their lead to 10k. While Newbee held the reins, Hector did as much as he could to dissuade Newbee's pressure, constantly split-pushing. Despite his best efforts, it just wasn't enough and with great itemization, solid play, and clean execution Newbee definitely shook off the jitters and claimed game two at 40 minutes.
Game Three
In the final game of the series, Infamous decided that game one's pace just wasn't fast enough, as Chris Luck and Scofield seemed to be everywhere on the map.
In the laning stage, it was clear that Infamous had no fear despite the looming threat of elimination, as Chris Luck truly pushed his luck time and again, playing on the edge with his life. CCnC and the Peruvian traded well in the midlane, and despite dying a few times, Chris Luck continued to push the pace. Adrian 'Wisper' Cespedes Dobles had a great time in the bottom lane, going relatively even with Yawar; this game was more even early on.
Momentum started to shift it felt at eight minutes, with Chris Luck grabbing two quick kills from Newbee, almost nabbing Yawar in the process as well; with a slight advantage and levels, Chris Luck would tear through the map alongside Scofield's Earthspirit. Infamous continued to force fights and it felt like Newbee could not find plays of their own, unprepared for these small guerrilla skirmishes. All the while, Hector happily farmed away.
At 19 minutes, Hector would finally get involved. A bit overzealous, he would fall quickly giving Newbee some breathing room from the stifling control of Infamous' vision game via Chris Luck's Slark. Around five minutes after, a great BKB reveal for Infamous gave them three for one, and an 8k lead. With Hector and Chris Luck farmed, Infamous was in a great position and just continued to choke out Newbee from the map. In the game's final stages, Newbee tried to make something happen with a smoke around the 35-minute mark, only to have it broken by Scofield who slipped away in an impressive series of jukes. The game would end shortly after, as Hector beat down the doors the Newbee's base after Chris Luck sent them on a wild goose chase. Despite being one of the bottom two teams favored for TI9, Infamous delivered a great upset. Now in a guaranteed top 8 position, they will have to face off against Team Secret in order to keep SA alive at TI.
Mineski vs Team Secret
 Austin 'Capitalist' Walsh's reaction perfectly captures this series below:
And that was only for game two.
Game One
In game one of the second elimination series, Team Secret showed why you never give up, coming back from mega creeps against Mineski in dramatic fashion. Early on, the onus was on Secret to win their lanes and hopefully forestall the Mineski's late-game Alchemist; a last pick Meepo for Yeik 'MidOne' Nai Zheng seemed a good bet to do so. Despite an early stumble from Mineski before the bounty runes, giving up two kills, Team Secret just couldn't seem to put it together in their lanes; especially MidOne who, surprisingly, died a few times to Witch Doctor from Michael 'ninjaboogie' Ross, underestimating the support's power; Ninjaboogie's rotations were extremely valuable early on, and his presence contributed immensely to Secret's woes.
Mineski opened the midgame up with a great smoke onto MidOne, catching him out in his own jungle. Shortly after, Secret finally found somewhat of a foothold after killing Kam 'Moon' Boon Seng's Alchemist, spending all of their spells to take down the tanky hero. A few minutes after, however, Mineski would answer back, taking down Secret's tier one tower mid, and then pushing up all the way to Secret's high ground to claim three. After, Secret would again try and swing back, pushing back Mineski at their own tier one and then heading to Roshan--an ensuing fight, which would cost them three buybacks, but secure them a valuable Aegis and some breathing room.
In the games final stages, all seemed lost for Team Secret; a disastrous smoke for Secret turned sour at 30, losing four and a Roshan in the process. With the Aegis in hand, Mineski marched up middle, confident in their lead, especially with the seemingly immortal Wraith King from Nikolay 'Nikobaby' Nikolov. In an intense final fight, Team Secret would lose all their barracks but managed to hold and wipe Mineski with all of their heroes up. With mega creeps about to come barreling down the lanes, Team Secret bet it all on black and charged up the middle, ignoring the barracks and going straight for the ancient. Perhaps some miscommunication occurred as Mineski bought back way too late, and to their chagrin, watched in horror as Secret defied the odds and claimed victory.
Game Two
Despite the stinging loss in game one, Mineski took it in stride and seemed unphased going into game two. Team Secret decided to put most of their eggs in a Phantom Assassin for Micha 'Nisha' Jankowski, complementing her with a Magnus and Ogre Magi for Ludwig 'Zai' Wahlberg and Secret captain, Clement 'Puppey' Ivanov respectively.
Emboldened and not downtrodden by their loss, Mineski pushed the pace with tons of rotations and aggressions--it seemed like they were all over the map. The aggression netted them a 2k lead in the first six minutes, with Ryan 'ragingpotato' Jay Qui and ninjaboogie, the usual suspects, disrupting Secret at what looked like every turn. Again, Secret needed to win their lanes, but lost them handedly, with Mineski's cores dominating; MidOne once again had a rough start.
As the game transitioned to its middle stage, Mineski had clear control of the map, off of their early take of Secret's tier one tower bottom and middle. With space and time running out, the onus fell to Nisha to make something happen. Like game one, Mineski was in firm control of the midgame, grabbing pickoffs on Nisha and MidOne; they even dove up to tier threes just like game one to get a kill, forcing a buyback from Secret.
Almost like an exact mirror of the first game, it seemed like one fight could swing the momentum in Secret's favor. And just like game one, Secret found it at 25 minutes with a huge Chronosphere steal from Yazied 'Yapz0r' Jaradat and a subsequent 5-man chrono, converting it into an ultrakill for MidOne, zipping all the way from his own fountain.
After the lost engagement, Mineski still were in a good position, but the spectre of game one loomed, and Team Secret continued their climb back up. At 31, Mineski would claim another Aegis, trading out ragingpotato to tank the gank; Nikobaby would find a great Chronosphere onto MidOne shortly after, only to have it stolen by Yapz0r once again! Mineski managed to win the fight overall, taking a single barracks, but the sloppy execution and great defense by Secret meant that the game was far from over.
In its final phases, Secret again found yet another engagement on their terms at 38, with some fast fingers from Nisha, preventing what might have been the game-ending Chronosphere from Nikobaby, Secret claimed four, and actually marched down middle, taking a full set of barracks. Secret would back off, content with their position. In the games final moments, it seemed like deja vu, as Secret weathered two Chronospheres from Nikobaby at around 50 minutes--again having it stolen by Yapz0r--and marched down middle to the ancient; with all the buybacks expanded, it was all or nothing once more. This time, however, Nikobaby would pull off an absolutely insane hold, taking down Nisha twice, and two more from Secret without buyback. And while it seemed like a repeat of game one, it was more like a mirror as it was Mineski to charge down middle, past the tier threes, straight to the tier four towers, and the victory. Absolutely insane play from everyone, but commendations have to go to Nisha, Yapz0r, and Nik0baby for one of the most insane defenses thus far.
Game Three
Game three in perhaps one of the most electrifying series of the tournament delivered yet again, with Secret and Mineski keeping everyone in Shanghai and at home on the edge of their seats.
At the beginning of the game, it would finally be Secret to grab control of lanes, as Zai's Omniknight bullied Nikobaby's Wraith King in the bottom lane. Mineksi tried to go for an early tier one tower push that gave them so much success in game one and two, but Secret was wise to the strategy this time around and defending early. Not missing a beat, Mineski would make an off-tempo move, TP top lane, and claim the tier one tower along with Nisha right after being repelled bottom. Still, Secret matched Mineski's pace much better in this game than the previous two. Puppey's squad would be the ones to come out of the lanes in the lead, after a great defense on the middle tier one tower at around the 14 minute mark.
With the lead this time around, questions arose as to how Mineski might find their way back in; like game one and two, the SEA squad took their midgame fights, but lacking the firepower (and the lead from the lanes) fell flat. Another fight at 22 saw Secret clearly outclass Mineski, spelling trouble for them. Yet, Mineski would find their way back in just like Secret, at 28, using three buybacks to wipe Secret and transition into a very slow Roshan take, but nonetheless a much needed one.
At 33, Secret jockeyed for position around middle lane, find a kill on ninjaboogie and back off; on the retreat, however, MidOne gets picked off, and the rest of Secret collapsed, as Nikobaby came in swinging, managing to take down Zai and Yapz0r; Mineski, like Secret in game one and two, swung back the gold to even after an almost 10k deficit.
With elimination looming, both teams were content to farm for a bit, gather their thoughts, and look for another big engagement. The last few engagements would be just as hair-raising as the previous ones. At 39, Secret headed to Roshan, claimed it, but lost Zai and a Chronosphere in the process. Without the two, Secret were pressed to hold, and only lost the top set of barracks luckily. Mineski backed off, but a few minutes after would fall into another, and final engagement that would last almost 4 minutes. At the end of the carnage, it fell to Nikobaby to hold against the full Secret lineup: a valiant effort by the Bulgarian, but not enough to save his squad. While Team Secret moves on, it is clear that Mineski has made a lasting impression this season with that performance, and I personally look forward to what the squad can do next year.
Upper Bracket
Round 3 - Best of 3
Round 4 - Best of 3
Lower Bracket
Final
TI9 Main Event
Main Event dates - August 20th - August 25th, 2019
Sixteen teams play in a double-elimination format over six days.

Eight teams begin in the Upper Bracket, eight in the Lower Bracket.

First Lower Bracket round is Bo1, Grand Finals are Bo5, all other rounds are Bo3.
Schedule:
Main Event - Day 2 (UB Quarter Finals, LB Round 2): August 21st

Main Event - Day 3 (UB Semifinals, LB Round 2): August 22nd

Main Event - Day 4 (LB Round 3 & 4, All-Star Match): August 23rd

Main Event - Day 5 (UB Finals, LB Round 4 & 5): August 24th

Main Event - Day 6 (LB Finals, Grand Finals): August 25th
TI9 Streams
English:
Twitch:  Main Channel |  Stream #2 |  Stream #3 |  Stream #4 |  Stream #5
MultiTwitch:  Streams 2+3+4+5
Russian:
Twitch:  Main Channel |  Stream #2 |  Stream #3 |  Stream #4 |  Stream #5
MultiTwitch:  Streams 2+3+4+5
Chinese:
Twitch:  Main Channel |  Stream #2 |  Stream #3 |  Stream #4 |  Stream #5
MultiTwitch:  Streams 2+3+4+5
Other Streams:
Pod #1 | Pod #2 | Main Hall | Workshop
Other Languages:
 Korean |  Spanish |  Filipino |  French
The International 9
Valve will bring the biggest Dota 2 event of the year to the Mercedes Benz Arena in Shanghai, China.  All 18 teams are confirmed to attend - Team Secret, Virtus Pro, Evil Geniuses, ViCi Gaming, Fnatic, PSG.LGD, Team Liquid, NiP, OG, Keen Gaming, TNC Predator, Alliance, Mineski, Na'Vi, Infamous, RNG, Chaos and Newbee. The prize pool has exceeded $25 million and that of TI8 (more than $23 million added by crowdfunding) and is now over $32 million.