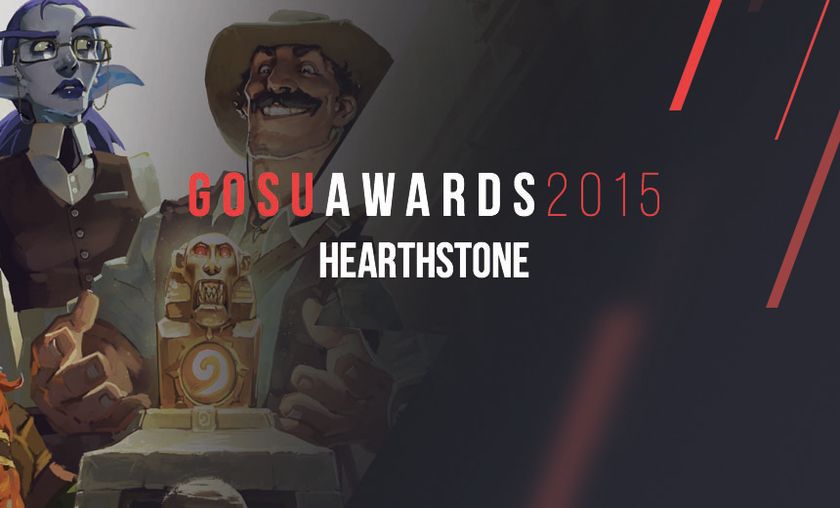 GosuGamers Awards 2015: Hearthstone nominations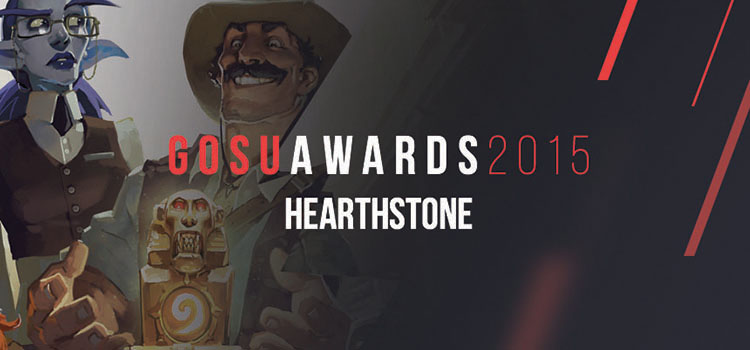 Welcome to the second GosuGamers Awards for Hearthstone, coming to you in the last days of the year. Once again, we're gathered to celebrate the best of the Hearthstone scene, from players and teams, to tournaments, organizers, casters, stories and drama.
As head of the Hearthstone section and GosuGamers veteran, these are always exciting times for me. The GosuAwards is one of the site's most treasured and respected traditions, dating all the way back to the StarCraft 1 days. Each December, my crew and I get to look back at everything that made our favorite game a pleasure to watch. Yet with all the excitement, our first Hearthstone venture into the world of GosuAwards was a scary one - we didn't know how the community will accept the nominations and whether or not they will vote with their heart or with their mind.
Ultimately, the GosuAwards nominations ended on a high note. The GosuCrew and the Hearthstone community were in agreement about 9 of the 11 categories and the feedback was overwhelmingly positive. We couldn't have been more happy.
Now, we gather for another edition of Hearthstone GosuAwards and this year we've made some changes. You will see new categories like "Break-out player of the year" and "Biggest potential for 2016", created to accommodate the huge influx of players we saw in 2015. "Best unorthodox tournament" is there to celebrate the bravery of tournament organizers, while "Best production" is a hat tip to all the guys behind the stage. We've also decided to nominate the best newcomers in the demanding profession of caster, as well as the best Tavern Brawl.
Some categories, however, have been removed to make room for the new ones. As deckbuilding origins have become harder to track, "Innovator of the year" has been removed. And because we wanted to focus more on professional Hearthstone than its casual counterpart, the category for "Most educational stream" is also gone. 
Ultimately, we have 79 nominees over 14 categories, so there's a lot of voting to be done. Please, do that objectively and leave fanboyism at home, just this time. The polls are open from now until December 26, 00:00 CET. At the end of the year, we'll reveal the GosuCrew and the community winners for these 14 categories (plus two special surprise ones!)
Here's to another great year of Hearthstone and thank you for being part of the GosuGamers HS family.
-- Radoslav "Nydra" Kolev, Hearthstone section lead
 
The nominees for player of the year have shown great versatility in their play, proving themselves as the best of the best. They come as the winners of high profile tournaments or putting out consistent results throughout the year. The nominations are not based on any rankings (GosuRankings, money won or otherwise) and are solely determined by the GosuAwards jury members. 
James "Firebat" Kostesich
Team Archon | 2015 winnings: $53,000
The 2014 world championship was just the beginning for Firebat. Archon's marquee did not let his suddenly acquired fame fade into obscurity and he kept delivering. His consistency throughout the year made him the only defending LAN champion of Hearthstone with back-to-back Gfinity wins, just two of his six grand finals this year.
Aleksandr "Kolento" Malsh
Cloud 9 | 2015 winnings: $91,650
Granted, Kolento did not make the finals of the most high profiles tournaments this year. He missed out on Blizzcon and the two big DreamHack swiss events. Yet, outside all the glitz and glamor, he's been quietly kicking ass, making a total of eight tournament finals this year alone. Even though nothing compares to the prestige of his 2014 DreamHack Winter trophy, Kolento has won more money this year than the one before, including the CN vs EU Season 2 and its $23,000 first place prize.
Adrian "Lifecoach" Koy
G2 Esports | 2015 winnings: $101,250
In the first quarter of 2015, Lifecoach was the undisputed best player in the world. Boasting ridiculous win percentages, the Nihilum poster boy was unstoppable. Although many would say that the German never hit this level of prime form again in 2015, that doesn't mean he wasn't doing well at all. Between May and December, Lifecoach saw seven top four finishes in major tournaments, including the win at ATLC as part of the Nihilum trio. His recent victory at Celestial Invitational just this month proves that Lifecoach hasn't lost his touch.
Sebastian "Ostkaka" Engwall
Natus Vincere | 2015 winnings: $107,900
Even though he was out of the headlines for the majority of 2015, there can't ever be a player of the year nomination without the world champion. As part of the "underground" lot of Hearthstone players, Ostkaka did not enjoy the same amount of invites thrown his way as some other players, but he persisted and fought his way through to the most important championship in the game. PC Gamer's jury of experts voted him the best player in the world and he might very well be, even though the sheer number of trophies is not yet there to support it.
Ryan "Purple" Root
GamersOrigin | 2015 winnings: $28,250
Like Ostkaka, Purple wasn't a very active tournament player till the end of 2015, but he was widely respected within the pro circles. Having coached the Archon roster to their many success, fans and analysts labeled the Canadian as one of the favorites for the World Championship, even more so after he conquered the Americas Championship. And while this trophy in particular eluded the current GamersOrigin coach, the recent steamroll through the grueling DreamHack Winter is more than enough to win Purple a nomination.
Thijs "ThijNL" Molendijk
G2 Esports | 2015 winnings: $87,900
What's more to be said about ThijsNL that hasn't been said already? The Dutchman is the embodiment of consistency. He terrorized the GosuRankings, peaking at the unfathomable 1453 points, more than 200 ahead of anybody else. Even in his current period of slumber, it took two months for the runners-up to dethrone him. ThijsNL is automatically considered to be one of the favourites to win a tournament when he enters it, and he might've easily been our new world champion had Ostkaka not barely survived that five-game thriller. 
Source for winnings: Liquipedia

The break-out player category rewards those players whose first competitive successes came in 2015. It matters not if the player has been around for some time now or is a fresh new face - it's the time of his break-out performance that counts. Similar to player of the year, the nominations are based on tournament successes and not on any rankings or winnings.
Frederik "Hoej" Nielsen
Natus Vincere | 2015 winnings: $27,000
When he won Viagame HouseCup #2, Hoej was dismissed as a one-hit wonder. He relied too much on aggro decks and seemed limited in his class diversity. Over the course of the year, Hoej proved that doesn't matter one bit. The Dane - now a center piece in Na`Vi's heavy-hitting squad - has two LAN championships under his belt, two major top fours and several more top 8 finishes. 
Adrian "Lifecoach" Koy
G2 Esports | 2015 winnings: $50,750
Lifecoach was not unknown before 2015. A popular streamer and deck creator, the German had a large Hearthstone fanbase that would gather to watch his scarce tournament appearances in 2014. Yet it was not until Kinguin's Spring Invitational that Lifecoach grew to be the unstoppable force of 2015 that we know and love today.
Jon "Orange" Westberg
Team Archon | 2015 winnings: $34,640
In the early months of 2015, Orange was the face of the new generation of Hearthstone players, coming and crushing the competition through the now revised open qualifier system for HWC tournaments. Back-to-back championships at ESL Katowice and SeatStory Cup III made him the hottest new player on the scene and even if his trip to Archon's house in the summer resulted in a temporary slump, the Swede returned in the fall to win the Abios Invitational and take the bronze of StarLadder Season 1, reminding fans he's not quite done yet.
Ryan "Purple" Root
Team Archon | 2015 winnings: $28,250
Purple's break-out story had the potential to be one for the ages. The Canadian was one of the main forces behind Firebat's 2014 world championship and now he craved to seize the day just like his star pupil did. Alas, that story never came to be, but Purple is without a doubt a player who made waves in 2015.
Stanislav Cifka
Teamless | 2015 winnings: $22,373
As weird as it sounds, it's rare for Magic: The Gathering players to reap majors successes in Hearthstone. Names like Brian Kibler and Paul "Zalae" Nemeth proved their worth multiple times but never conquered the highest peaks. For StanCifka, it was all different. The Czech player, currently the most lucrative free agent on the market, poured his heart and soul into Hearthstone and in the span of one year won two LAN events, finished second at another one and added three more top 4 finishes to his list of achievements. And nobody saw him coming.
Jung-Soo "Surrender" Kim
All Killers | 2015 winnings: $18,000
Even if Asian Hearthstone doesn't usually draw much attention, one South Korean player became the exception. Aged 19, Surrender not only made back-to-back OGN Masters grand finals but amassed more than 500 HWC points over the course of the year, an unprecedented record in the history of the World Championship. As he made to more and more international tournaments, Surrender became the most known Asian player, even edging out the likes of Hak-Jun "Kranich" Baek and Xieyu "TiddlerCelestial" Wang.
Sebastian "Ostkaka" Engwall
Natus Vincere | 2015 winnings: $107,900
At this point, all that we write about Ostkaka will just be repeating ourselves, but the Swede is truly the very definition of a break-out player. Ostkaka spent the first years of his career crushing community cups and gathering the respect of his peers. Then came SeatStory Cup III and his silver medal almost got him a world-wide recognition but not quite. Becoming World Champion, however, surely did the trick. 
Source for winnings: Liquipedia

The category for biggest potential for 2016 acknowledges players who either came too late in the year to make it to either of the previous two categories or have shown great skill and understanding of the game but falling flat of a major championship. These are the names to look out for next year.
Esteban "AKAWonder" Serrano
AKAWonder would not be described as the biggest wonder right now. His performances in 2015 haven't even gotten him a second place, nor did he qualify for HWC. And yet there is something intriguing about the Spaniard currently playing for SK Gaming. Despite his low performance it would appear that he might be just below the radar. He qualified for the playoffs at Dreamhack three times and performed surprisingly well there. A lot of the time his elimination came at the hand of a big powerhouse and that is certainly not shameful in our book.
Dylan "Hotform" Mullins
The conclusion to Hotform's world championship campaign was not a great one. The Canadian fought tooth and nail through the qualifiers and regional championships and Blizzcon playoffs only to be crushed 3-0 by Ostkaka. He never met the same success as he did at the HWC finals but if the world championship runner-up is not a person to watch out for, then who is?
Yuichiro "Kno" Sato
We haven't seen much from Kno, but what he's shown is worth looking out for. His best performance came at the HWC finals where he made it to the top four. As is the case with Nias so is it the case here, that performing so well as an unknown player is amazing. Since HWC, he hasn't appeared again and from what we know is not scheduled to do so, but it is not unheard of for a breakout player to take a break and make a later resurgence. This was pretty much the story of Hoej, and it is a story Kno may repeat.
Lan "Neilyo" Tran
As HWC 2016 goes even more global, we expect more Asian names to become known to the western public. SEA's champion Neilyo is one such name. A versatile competitor, Neilyo has shown multiple times to followers of the Asian scene that he's not another nobody and had it not been for Hotform, he would've played in the playoffs of Hearthstone's grand event. 
Victor "Nias" Shelstad
Nias is a classic Cinderella story. Being guy with a kid and real life job, Nias wasn't expected to go far in the World Championship but he did, against all odds and against titans of the American scene. He read the metagame masterfully and created almost impervious line-ups. Should he choose to pursue competitive success in 2016, he should definitely be on your radar.
Jan "SuperJJ" Janssen
The time of new releases belongs to that of great deck builders, and over the past weeks SuperJJ has proven himself to be exactly that type of player. He was the first to integrate Reno Jackson into a tournament deck at Seatstory Cup which won him the tournament, and in the following days he would also win the Time2win invitational. CompLexity went mostly under the radar once Dog left, but now with a brilliant show of creativity and innovation SuperJJ has managed to bring attention back on his team. Just this week he tore through Insomnia Truesilver Qualifier and Championship for a top 4 finish beating the eventual champion RDU and Kolento during that run. If this is a form he can keep once the meta settles, then he will be a force to be reckoned with.
Jung-Soo "Surrender" Kim
When you say Korean Hearthstone you also have to think "Surrender". Not because they scoop a lot but because of this young genius currently playing for team All-killers. His performance this year in Korea has been incredible. He won OGN Season 2 and got second place during Season 3. He has also been performing well outside Korea, taking 3rd in the Vulcun Deckmasters and going through the i-League StarSeries qualifiers. The latter is by no means an easy road as Thijs, Kolento and Purple were all players he had to beat on the way. 

Team of the year is a category that - quite obviously - rewards the best performing rosters in Hearthstone. The criteria nominations are mostly based on individual performances of the players, but team league successes are also taken into account wherever relevant.

Cloud9
Cloud9 went through a lot of changes this year. TidesofTime ended his long period of inactivity with retirement from Hearthstone. Gnimsh transferred to a career of full-time caster. StrifeCro and Ekop are struggling to put up the results they did in 2014. Yet somehow, the C9 logo was everywhere, winning stuff. Kolento's "off-Broadway" win streak kept C9 on top of the rankings, and the combined power of him, StrifeCro and Ekop brought them the silver from ATLC. 

G2 Esports / Nihilum
The trio of Lifecoach, ThijsNL and Rdu might have changed many names, but they never dropped the ball on the Hearthstone battlefields. The team has a total of three nominations in the "Player of the year" and "Break-out player of the year" categories, hosts the most consistent Hearthstone player of all time and is proud owner of the ATLC trophy. Do we need to say anything more?

Natus Vincere
When you combine the individual strength of Xixo, Hoej and Ostkaka, no team is arguably better than Na`Vi at the time of this article. The long-time esports organization chose the best time to enter Hearthstone as they picked up the eventual world champion, alongside a two-times LAN champion in Hoej and the king of online cups Xixo. Even for small teams, to have all their players consistently do well is a rare occurrence. 

Team Archon
Archon might not share the same amount of hype that currently surrounds Na`Vi and G2, but you can't take anything away from them. When you start doubting Amaz's team, remember all the household names that have gone through it or still represent it: Firebat (player of the year nomination), Orange (break-out player of the year nomination), Xixo (six-time tournament winner in 2015), Purple (player and break-out player of the year nomination and HWC AM champion) and Zalae (arguably the best Patron player in the world). What a house to practice at.
Team Dignitas
Like Archon, Team Dignitas might seem like an odd nomination: Most of their players weren't doing too well until recently, but credit must go where credit is due. Blackout and Greensheep came out of their slumps to make for an all-Dig grand final at DreamHack Valencia, and shortly thereafter Kranich became the only player in Hearthstone to make repeat HWC finals. So yes, Dignitas absolutely deserves to be among the nominated.

The "Transfer coup" category collects the smartest, most fruitful player signings of the year, ones that resulted in a significant boost to the track record for their home teams.
Celestial's local expansion
When it comes to Asia, roster changes are even less talked about than tournaments, but one particular expansion deserves a nomination. After their initial roster of Tiddler, FrozenIce and SilentStorm absolutely flopped at ATLC, team Celestial turned to the local scene and recruited, well, every talented prospect. The extensive growth of the team not only brought stability but ensured two quarter final spots at HWC 2015 through Zoro and DieMeng, making Celestial statistically the best team at the HWC group stage.  
Team Liquid spent most of 2015 looking for a headline player, following the departure of Amaz in October 2014 and the diminishing tournament appearances of Savjz as he took on more casting jobs. They eventually found it in former CompLexity star Dog, signing the American after months of courtship - a move that instantly put them back in the spotlight.
Signing a player just weeks before he ends up winning the world championship alone is worthy of a nomination. When you sign him as well as two of the strongest players in Hearthstone to go with him, you end up with a strong candidate for transfer coup of the year. 
Much like Na`Vi's founding, Nihilum came from nowhere to pick up a number of players that would define the landscape of competitive Hearthstone in 2015. Even if one is to disregard all that Lifecoach and ThijsNL did throughout the year, it must be mentioned how Nihilum's consistency and team-work resulted in the $150,000 cash grab at the debut ATLC.
Archon's trademark for some time now has been identifying and snatching players with enormous potential. Firebat was signed shortly before being crowned world champion and Xixo and Purple ended as multi-tournament champions. It was the same with the Orange acquisition: the Swede got signed following his ESL Katowice victory and ended up conquering SeatStory III and Abios Invitational for House Archon.

Every esport has its rivalries, the head-to-head competitions that color the competitive scene and make it interesting to watch. 
Archon vs Tempo Storm
Archon versus Tempo Storm is a rivalry that was led on multiple levels, often outside competitive Hearthstone. What started with the rocky relationship between the two owners Amaz and Reynad evolved into a race for who has the better website, or the better rosters (non-HS included), or the better tournaments, or the better streamers, or the better PR presence, or the larger fanbase. It's a multi-faceted rivalry that absolutely deserves its spot among the nominated.
China vs The World
It's no secret that China has been trying to prove itself as a strong Hearthstone region for the better part of the year. The local Chinese players were incentivised with opulent rewards - a totally awesome Ferrari included - if only they could beat the western competition. So far, China's campaign has been largely unsuccessful but their continuous attempts and perseverance places this rivalry in the top 5.
Forsen vs Savjz
The 24-hour ladder marathons were tournaments like no other. There was tension, laughter and drama, making them unique and memorable. On those battlefields, the rivalry between Forsen and Savjz developed, spanning across both grand finals and ending with controversy both times. So far, the score is tied 1-1 in championship titles, and we almost cannot wait for the third edition.
Lifecoach vs Nozdormu
This is one of the less serious nominations and one of the shorter rivalries here, but it draws a nomination just for its sheer hilarity. Known for taking every spare second of his turn, Lifecoach encountered his arch nemesis [card]Nozdormu[/card] in one of Kinguin's Invitationals, finally materializing the long-time rivalry. 
Patron vs Patron Counters
No other deck in Hearthstone shaped the metagame so dramatically as Patron Warrior (OK, maybe [card]Undertaker[/card] Hunter did so in 2014). For months on end, tournaments passed under the sign of the dwarven gang. As Patron reigned supreme, players consistently came up with hard counters to the deck, thus making for the best in-game rivalry we've ever seen.

The "Most memorable tournament" acknowledges the events we'll always hold dear in our hearts. This is not about production, or prize pool, but about moments, emotions and experiences that fans will never forget.

 Archon Team League Championship
Winner: Nihilum | Prize pool: $250,000
The Archon Team League Championships was a different kind of beast altogether. Teams all competed to earn a bit of the $250,000 prize pool and bragging rights. Three players used six decks interchangeably with each other. The format were unique and fun, and the players seemed to love it. More Hearthstone tournaments should be light hearted, and have confetti cannons.

 Blizzcon World Championship
Winner: Ostkaka | Prize pool: $250,000
This year's Hearthstone Championship was amazing. The prize of $100,000 and world championship title created some of the most interesting games of the year. Rogue saw more play there than it did all season, and the stage that was set up superbly. We saw APAC triumph and NA almost get eliminated, the Ostkaka/ThijsNL epic and some of the best production of a Hearthstone event ever.

 DreamHack Summer
Winner: TiddlerCelestial | Prize pool: $40,000
With $40,000 on the line, over 100 players gathered in Sweden to play some Hearthstone. This was the first major tournament to use the swiss format, making for a much longer, but much better tourbament. The finals were an absolute nail-biter, with China's own TiddlerCelestial beating America's Dog in a brutal 3-2 split. European tournaments are always extremely fun to watch, and this was no exception.

 SeatStory Cup III
Winner: Orange | Prize pool: $20,000
Two nominations go to SeatStory Cup this year and we start with its 3rd edition. The final match between Orange and Ostkaka will be one for the history books, a nine game madness that's a must watch for every fan of competitive Hearthstone. Add do that the signature SeatStory atmosphere and you have a worthy nomination. 

 SeatStory Cup IV
Winner: SuperJJ | Prize pool: $20,000
SeatStory IV had some interesting surprises. The format was changed to "Last Hero Standing" from "Conquest", much to the delight of the pro players. This was also the first tournament to use League of Explorers cards with players barely having the time to experiment and test. It was there that SuperJJ, one of the newest rising stars on the Hearthstone scene, brought a Reno Jackson Freeze Mage that blew everyone away.

There was so much tournament content this year, that we couldn't possibly put it in one place. "Best unorthodox tournament" is a new category, celebrating those brave initiatives that stepped away from the standard "3-deck conquest" rules and tried doing something different.

 Archon Team League Championship
ATLC might've just discovered the best way to do team matches in Hearthstone with its "team conquest" format. Love it or hate it, there's no denying this move of his was largely the reason why ATLC hoarded such big viewership numbers, even in the twilight days of Blackrock Mountain.

 Celestial Invitational
Nine-deck tournaments are always a pleasure to watch, as their metagames behave like no other. Held just recently, the Celestial Invitational took a page off of Viagame's book but imposed no bans. The result was one of Hearthstone's most diverse metagames in ages, a living proof how formats like this must be tried out more often. 

 Challengestone
Conceived by Rania "UnderflowR" Hatzi and produced by Kripparrian and Tempo Storm, Challengestone made waves as one of the most inventive tournaments out there. Presented with a new challenge each time, Challengestone contenders have to think outside to box to construct the best possible decks for the current situation. It's a pure celebration of deckbuilding genius.

 Lord of the Arena
Tempo Storm founder Reynad is known for identifying content niches in Hearthstone and hitting them hard, and Lord of the Arena is another example of this. Currently the only televised arena tournament in the game, Lord of the Arena is an absolute must when it comes to GosuAwards nominations.

 Viagame HouseCup
Viagame's HouseCups have been responsible for many a memorable moment in Hearthstone, and its ingenious format is partially the reason. Developed and perfected with the help of pro players, the pick/ban format of HouseCup has made it one of the most difficult - and thus prestigious - tournaments to win in Hearthstone.

"Best new caster / analyst" is another new category in the GosuAwards, created partially so that Frodan doesn't win everything every year. Below, we have a list of eight names that defined the casting landscape in 2015.
Keaton "Chakki" Gil
Pro players often make for the best analysts and Chakki is no exception. As player, Chakki is known as a lover of aggro decks and a master of Freeze Mage but as an analyst he's made events like ESL Legendary Series unforgettable welcoming the laypeople to the pro player world of highly complex decision making.
Brian Kibler
If you're searching for in-depth TCG knowledge, look no further than Brian Kibler. A veteran of the industry, Kibler's career includes being a MTG pro tour champion and developer on several card game titles. Nowadays, his charm can be spotted on Hearthstone analyst desks, dissecting games and plays with uncanny ability.
Jakub "Lothar" Szygulski
A former WoW TCG champion, Lothar made a name for himself early into 2015, as he gradually left competitive Hearthstone for analyzing it professionally. Since then, he's made it to numerous high profile events, including the HWC European Championships and DreamHack Winter.
Kacem "Noxious" Khilaji
When it comes to new casters in the host role, none appeared on more gigs than Noxious. A popular streamer himself, the Canadian from team CompLexity rose to prominence by casting big online tournaments like the Kinguin Pro League and ATLC and has been sought after ever since.
Andrey "Reynad" Yanyuk
The sarcastic and salty tone of Reynad make him an interesting streamer to watch, but an even better analyst. His work on the HWC Americas Championship and HWC grand finals was nothing short of remarkable, combining in-depth knowledge of the game with his signature "Reynadisms" to spice things up.
Robert A. Wing
Robert Wing is a name none expected to see commentating Hearthstone, especially given his line of work as Hearthstone community manager. Yet, Robert's career shift proved more than successful and he was seen working on some of the biggest HS events this year, including HWC America and Blizzcon World Championship.
Janne "Savjz" Mikkonen
Competitive Hearthstone might've lost Savjz as competitor but the casting desks have only profited. Much like Reynad, Savjz applies his extensive know-how and adds in humor, verve and charm to liven up Hearthstone broadcasts.
Simon "Sottle" Welch
When it comes to hardcore game analysis, Sottle is an absolute front-runner. A writer for Icy Veins and PC Gamer and competitive player himself, Sottle is a valuable addition to every analyst desk, identifying and explaining plays and strategies not always apparent to the "naked" Hearthstone eye.
Tournament are not just the players and the games they put on. It's also quality of stream, readable overlays, quality talent and seasoned veterans behind the stage.

 DreamHack
One of the pillars of esports, DreamHack has always put on quality events. The winners of the 2014 special GosuAward for esports contribution continued to deliver in 2015 as well, bringing in the first major swiss tournament in Hearthstone and providing one of the largest prize pools in the western scene. All that with impeccable production and content delivery, even during those tricky swiss events.

 ESL
ESL did a lot for Hearthstone production this year. Not only did they put on two Legendary Series finals and IEM Katowice, they were involved in producing Blizzard's HWC events, and you can hardly find any flaws in those, can you? Smooth, clean and crisp overlays have since become ESL's trademarks.
 Kinguin
While ESL and DreamHack competed about who would put up the better LAN event, Kinguin conquered the online world. The Kinguin team started with small-time invitationals only to pull off the massive challenge called KPL, Hearthstone's first ever ongoing league. 

 PVP Live
Most Hearthstone production companies go after the casual, tavern feel, but PVP Live took a different road with their HPL. With Admirable and Tannon Grace all suited up and broadcasting from a live studio, HPL had this very "professional" look seen in traditional sports.

 Viagame
Throughout the year, Viagame and SeatStory were the two circuits that regularly wrapped Hearthstone in a homely atmosphere. And while the SeatStories had their production hiccups, Viagame's execution was rather flawless. Decklists were provided immediately after each game, the pick/ban format was well illustrated and players were even locked in dark rooms to prevent opponent scouting. 
Shocking tournament announcements, player storylines, sudden metagame changes and more make for our "Story of the year" category.
A community tournament of unprecedented size and prize pool rivaling that of the World Championship, ATLC was how Amaz and Backspace left their mark on competitive Hearthstone in 2015. When it was announced that nearly all the best players in the scene would face off on a weekly basis, the community cheered loudly, and every week the tournament delivered high-quality Hearthstone action, as well as hilarious moments and an overall great atmosphere. Before the first season of ATLC was even over, the community already wanted to know whether it would have a follow up. It wasn't until the very last moment that Amaz waited to announce there would indeed be a second season of ATLC, and it can only be hoped that this one will be as great as the first edition.
The 2016 World Tour restructuring
The Road to Blizzcon 2015 did, to put it softly, not go smoothly. Rules were vague, the points-awarding system seemed off and professional players let Blizzard know this. Fortunately, Blizzard listened. Announcing that 2016 be all about perfecting the competitive scene, the HWC was revamped almost entirely. Instead of hosting one major tournament, three seasonal tournament will held, culminating in the final World Championship. The point system is rebalanced, and so is the whole culture of invites. All that with a $1.9M total prize pool as the juicy cherry on top.
Prior to the Hearthstone World Championship, Na'Vi player Sebastian "Ostkaka" Engwall had not acquired much recognition from the public. Other players respected him greatly, and noted that he was a brilliant player, but for some reason the young Swede had not had a major breakthrough. Even after his silver at SeatStory Cup III, it took time for Orange to make the real headlines. Then, HWC 2015 came. At Blizzcon, Ostkaka dropped only three games on his way to the top, until he faced Dutch powerhouse ThijsNL in the last stop before the finals. During arguably the most tense match in competitive Hearthstone this year, Ostkaka displayed his incredible knowledge of the game and barely made it through. The last bump on the ride was Canadian player Hotform, who was dealt with easily in a 3-0 victory. Finally Ostkaka was in the big spotlights, and with nothing less than the largest prize a player can win.
Patron Warrior nerfed before Blizzcon
A short while after the Patron Warrior deck was founded, it was apparent that it was insanely strong. ?s it became more and more clear that the deck was legitimately too strong, the community started begging for a nerf. This begging went on for a long time before it arrived at the most shocking time possible - weeks before the Blizzcon finals. All of a sudden, the deck was presumed unplayable but even if it wasn't really, its change came just in time to diversify the HWC meta greatly. Had Patron Warrior still existed in its powerful form, the HWC would very likely have consisted of primarily Midrange Druid, Handlock and Patron itself, interesting to note is that two semi-finalists, Ostkaka and ThijsNL, both bring a version of Patron Warrior, only this time it was played as a Midrange deck rather than a combo deck, and had great success with it.
To be a good player, one needs to be consistent. In 2015 there was one king of consistency: Thijs "ThijsNL" Molendijk. The Dutchman had already proven to belong to the top, appearing in the biggest tournaments around. Many of his professional colleagues deemed him the Druid god, but he was also a feared Freeze Mage player. Then, at some point during 2015, Thijs' engines started going on fire and it didn't seem like they'd ever stop. He crushed TiddlerCelestial's previous GosuRanking record, and even crossed the seemingly unreachable 1400 point mark. Peaking at a mind-blowing win percentage of over 85% in October, Thijs was probably the most favoured player to win the World Championships.

Scandals, controversies and unprofessional behavior are what keeps an esport alive in its low tournament days, as much as we'd like to think differently. Below are some of the most memorable stories dressed in negative overtones that Hearthstone saw this year.
The incident with Hosty became the first drama of 2015. Caught on stream allegedly stream ghosting a tournament he was playing in, this was the downfall of the Canadian player. As reddit threads about the ghosting blew up, Hosty got sacked from Archon the next day and could never repair his reputation. 
Sometimes, stories are too crazy to be believable, and the same is true about MagicAmy months after it all transpired. About the time this female Korean pro started taking games off the best in the business, circumstantial evidence surfaced that she is not who she appears to be, rather the mask of a Canadian male gamer. Two day investigation followed from Tempo Storm - the team employing MagicAmy - and although she was offered the chance to appear at an event and clear her name, she was never heard again from.
Players coinflipping at Nvidia Invitational
This drama didn't make big headlines like MagicAmy or Reckful (read below), but is nonetheless worth a nomination. As players confessed to have coin-flipped instead of playing their matches at the $25,000 Nvidia Invitational, it pointed out glaring flaws in how tournaments are administrated and policed, and harmed the legitimacy of the involved parties severely. 
"There are some things you don't say," we wrote in our editorial about Reckful's casting incident at ATLC, and "rape" is among them. That wasn't even Reckful's biggest offense that day - despite upsetting not one or two community figures - and the overall demeanor of the edgy caster became a bright example of how not to behave on a high profile broadcast.
Xixo removed from Archon on stream
Archon has had many PR disasters this year, and another one on that black list is handling the release of Xixo from the roster. Whether what Xixo typed to Nadia on stream was true or not and he was really given no notice matters not at this point. Between the Pinnacle 4 qualifiers fiasco, Reckful's ATLC screw up and the "Scamaz" meme, Archon really didn't need another minute of black press. 

You've seen these cards and decks define how Hearthstone is played, terrorizing metagames or making other cards obsolete. Below, vote for meta king of 2015.
[card]Dr Boom[/card]
He has many names. Dr. GG, Dr. 7 and even Dr. Concede. The impact of the giggling goblin came to many as unexpected, but very soon he acquired the respect he so much deserves. The deathrattle of the Boom Bots carry a huge amount of RNG with them, with the outcome often game deciding. It's not for nothing that the saying "If Dr. Boom is green [playable], you play him" has come to exist. Every now and then, suggested nerfs to the beloved and hated card make it to the front page of the subreddit, only to slowly sink away again, and it seems the community is finally embracing the superiority of Dr. Boom.
[card]Emperor Thaurissan[/card]
Unlike some other nominees, the strength of [card]Emperor Thaurissan[/card] was acknowledged right off the bat. Effectively granting anything from a Coin to four [card]Innervate[/card]s per turn, the power-hungry emperor has become a staple in nearly all Combo and Control and even some Midrange decks. Even before it was playable, nerfs were already proposed. Its effect should trigger at the start of your next turn. Its stats should be reduced, to make the minion easier to remove. The cost reduction should only trigger once, or one time for an individual card. Yet here Thaurissan stands - untouched, one of the best 6-drops in the game and a main reason for the rise of control and combo decks.
Face Hunter
Face it the place. This motto was widespread knowledge in mainly the first half of the year, during which Face Hunter was a prominent deck on the ladder and in tournaments. Not a single deck in the first half of 2015 caused as much post-game "friend invites" as this one, sadly often resulting in a quick ending of the friendship. The deck was labeled as "easy to play" and "no skill needed", but at higher ranks it was proved that it can often get in awkward situations, with only skilled players managing to manoeuvre through them. 
Patron Warrior
 "Charge forward!" followed by an "A fight? Count me in!", topped off by a "My blade be thirsty!" is arguably the most concede-causing trinity of summoning cries in Hearthstone. [card]Grim Patron[/card] seemed like one of the least impressive cards when the Blackrock Mountain adventure was announced. The small dark iron dwarf struck back at those expectations, being the inspiration for one of the most powerful decks competitive Hearthstone has ever witnessed. From May/June until the 20th of October, Patron Warrior dominated everything. It caused some Zoolocks to run [card]Hellfire[/card]'s, Paladins to run [card]Wild Pyromancer[/card] and [card]Equality[/card] and many other decks to include weird tech choices against the destructive army of Garrosh. The deck was deemed so powerful that Blizzard decided to take away one of the key cards, [card]Warsong Commander[/card], by changing its effect completely. 
[card]Piloted Shredder[/card]
With the introduction of Goblins vs Gnomes, the reign of [card]Chillwind Yeti[/card] in the 4-mana slot came to an end as [card]Piloted Shredder[/card] was released. Although having just 3 health, Piloted Shredder proved that its stickiness and RNG effect were strong enough to disregard nearly every other 4-drop alternative. As is fitting for cards and decks in this category, the community repeatedly cried for a nerf. Instead of doing so, however, Blizzard decided to release some 4 drops that get a better trade with the fearsome mech but not to a great result, because most decks that ran Piloted Shredder since its release do run it still, and it seems like the card will be around for many days to come.
Secrets Paladin
The Grand Tournament expansion did not exactly live up to the hype. Many of the released cards turned out to be underwhelming, and the same went for the new Inspire mechanic. However, the expansion held a surprise. [card]Mysterious Challenger[/card] gave birth to a brand new type of Paladin decks, one that is stacked with secrets and high value early minions. At first, the rude 6-drop didn't seem that strong, given that Paladin's secrets don't have much value when played individually. As it turned out though, they are incredibly strong when summoned all at once. Causing as much salt as Face Hunter, the deck dominated the ladder and tournaments for quite some time, being able to crush even the unfavoured matches. 

Blizzard's brand new game mode offered a lot of fun on a weekly basis, but some brawls were just better than others.
Although this Tavern Brawl had quite some RNG involved in it, the overall response to it was very positive. In a way it was the opposite of The Great Summoner brawl: Instead of a minion being summoned after a spell was casted, the Battle of Tol Barad added a spell to the player's hand, at the same cost of the summoned minion. The spell was then reduced to cost exactly nothing, oh the value!
The League of Explorers adventure introduced a new mechanic: Discover. The week after wing #1 was released, the Tavern Brawl's theme was built around the Discover mechanic as well. In a deck filled with 2/3 Pirates, players could choose a card to add to their hand. The brawl was a fun way to experiment with the Discover mechanic, but also required quite some insight and skill to be executed well.
The most complicated and probably highest skill-required Tavern Brawl thus far emphasized the deck building aspects of Hearthstone. Players were given a few cards to start with (a Coin, Armor Plating, 1/1 Chicken and Whirling Blades), and from there on had to built their decks themselves. Using the Discover mechanic at the start of every turn decks were expanded, although it took some additional information provided from Blizzard's side to fully comprehend what was going on. When fully understood, however, the brawl became thoroughly enjoyable. 
Showdown at Blackrock Mountain
This was the very first Tavern Brawl, and it was an impressive one to start with. Being launched shortly after the full Blackrock Mountain expansion release, this Tavern Brawl featured a final battle most players wanted to see during the expansion: [card]Ragnaros the Firelord[/card] versus [card]Nefarian[/card]. Playing as either the Elemental Lord of Fire or the Prince of the Black Dragonflight, players were given decks consisting of unique cards alongside new hero powers. This Tavern Brawl was such a success that it was repeated two times, with the last time having a slight nerf to Nefarian's side. The grumpy dragon was given 1 mana less to start with, as it appeared the son of Deathwing knew a bit too well how to abuse the power of mana. Who would've thought?
The first ever co-op mode in Hearthstone gained praise from nearly everyone in Hearthstone, and even from other communities. Two players, automatically put up with either the Paladin or Priest class, had to combine their powers to beat the uncontrollable 2/95 minion Gearmaster Mechazod. Using buffs to empower each other's minions was tough, but definitely possible to beat the wacky mech. This Tavern Brawl also served the honorable role of appearing at Blizzcon, when Reynad and Eloise from Tempo Storm took on Amaz and Firebat from Archon, to see which pair could finish the brawl the fastest. It was arguably the most competitive a Tavern Brawl has ever gotten.
GosuAwards 2015 committee
Radoslav "Nydra" Kolev

Jan "Nomlix" Lauk

Tilmann "RexVayu" Gebhardt

Stefan "Sumadin" Suadicani

Tom "Matthieist" Matthiesen

Alex "Snower" Loundy

Bonta "XpoiznX" Csongor