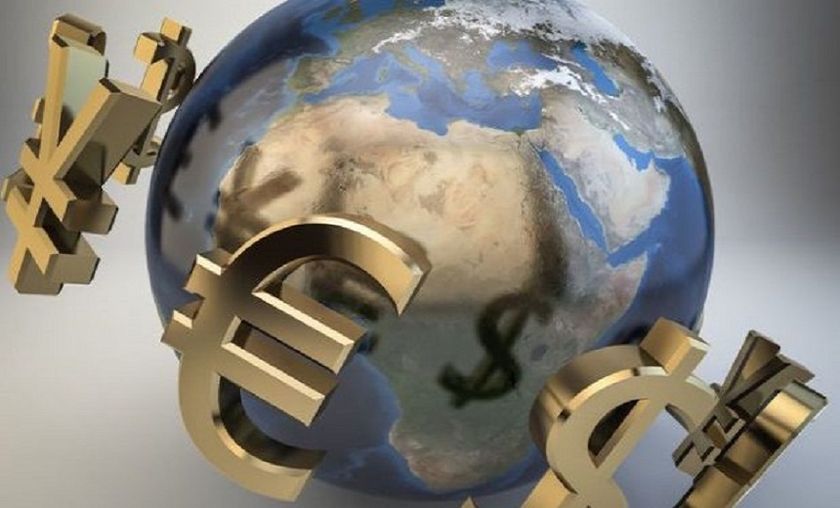 Esports: Global and Economic Expansion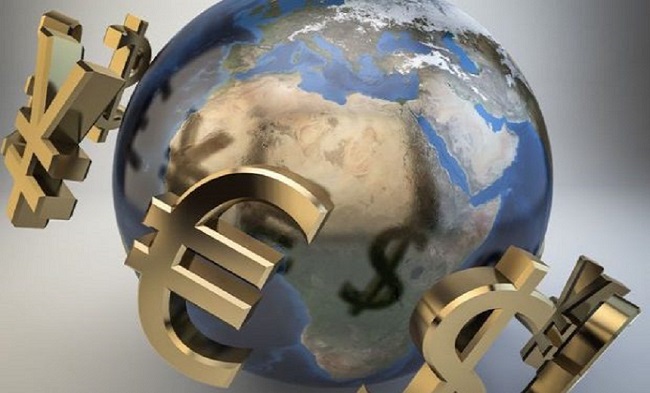 The trend of growth in esports has been accelerating over the last few years. As reported by Newzoo's esports reports, the global esports market was worth $655 million in 2017. Confident in their predictions based on past success and accuracy, they expect "that the global games market will generate revenues of $180.1 billion by 2021, and esports will be a major driver of this, with many brands investing in esports to appeal to younger demographics".
That's quite a lot of money and a pretty bold prediction. While the numbers may seem staggering, and many argue that they are inflated or deceiving, there is no disagreement that esports is generating economic and industry growth at astounding speeds.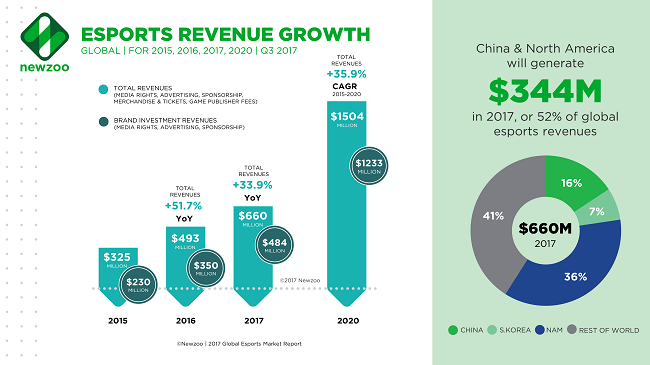 Image courtesy of Newzoo
This leads to the inevitable entrance of new brands to the scene, which will help promote and create tournaments in gaming. Some of the latest, just to name a few, have included: 
 
McDonald's has been with Virtual LaLiga eSports the first significant project from LaLiga esports and officially part of the EA SPORTS FIFA 18 Global Series on the Road to the FIFA eWorld Cup 2018.
 Riot Games has been a successful venture for Coca-Cola as a non-video game brand associated with the 85 million player base of League of Legends. 
Mastercard has joined LOL Esports just last month to start their partnership with The 2018 League of Legends World Championship starting October 1st. 
Taiwanese based tech company HTC introduced themselves to esports in 2015 creating sponsorship deals with North American based organizations Cloud9, Team Solo-Mid and Team Liquid. 
The United States Air Force and Navy sponsored ELEAGUE and NBA 2K  League team Grizz Gaming respectively. 
Fried chicken chain KFC's deal with Chinese organization Royal Never Give Up (RNG) includes logo placement on jerseys, logo integration in the team's Beijing arena, and RNG-themed toys and meals at locations in China. 
Mercedes-Benz and ESL partnership which has now been extended through 2020. 
Head & Shoulders signed a Dota 2 pro from  Russian powerhouse Virtus.pro as its first esports brand ambassador, who even changed it's team colors to those of its new sponsor Megafon.
 
In 2015 ESL made a $1,000,000 pledge for Dota 2, bringing events to new parts of the world for the organization. ESL One Manilla 2016 as their first venture into Asia and the response was overwhelmingly positive and results were successful.
Since then the organization has invested in various leagues and events across more than 20 countries worldwide and shows no signs of slowing down. Just last month ESL announced they were taking things to Indonesia and partnering up with Salim Group "to support local heroes and foster growth of community". In the provided press release regarding the venture, ESL stated:
"
ESL and Salim will work together to develop a healthy and sustainable esports ecosystem for Indonesia. With a young population and as one of the fastest growing countries in the world, Indonesia is poised to become one of the biggest markets for the gaming industry."
ESL isn't the only one to announce a foray into new territory. DreamHack Rotterdam, is taking place right now at the Rotterdam Games Week.
DreamHack also just announced upcoming investment and content to take place in Mumbai, India in December 2018. NODWIN Gaming; a pioneer in e-sports and a subsidiary of Nazara Technologies Ltd. (Nazara) and Viacom18, India's fastest growing media and entertainment network, have come together to bring the world's largest gaming festival – DreamHack – to India.
Sudhanshu Vats, Group CEO and Managing Director Designate, Viacom18 said:
"
Viacom18 has never been one to shy away from experimenting with new concepts, ideas and formats. Given the strong affinity, youth audiences have with our content, brands and experiences, we think this is the right time for us to dip our toes in the fast-paced, thrilling world of e-sports. The world is changing fast and lines are blurring between different content genres. Given the abundance of data that has been unleashed by Jio, it is only natural for the fandom around e-sports to grow by leaps and bounds in India. As the country's youngest full-play media organization, we want to stay ahead of the curve and tap into tomorrow's big passion points today. Our association with DreamHack is a step in this direction."
With all of this projected and actual growth, everyone wants a piece of the cash cow. Some wonder, however, when the bubble will burst, if at all even, and will it end up compromising the culture and integrity of the industry. Others believe it will just enhance and support the legitimacy of esports and open up new opportunities in all branches of business from players to organizations and sponsors. Whichever stand you take, there is no arguing that esports will expand into more physical and industrial territories over the next few years.