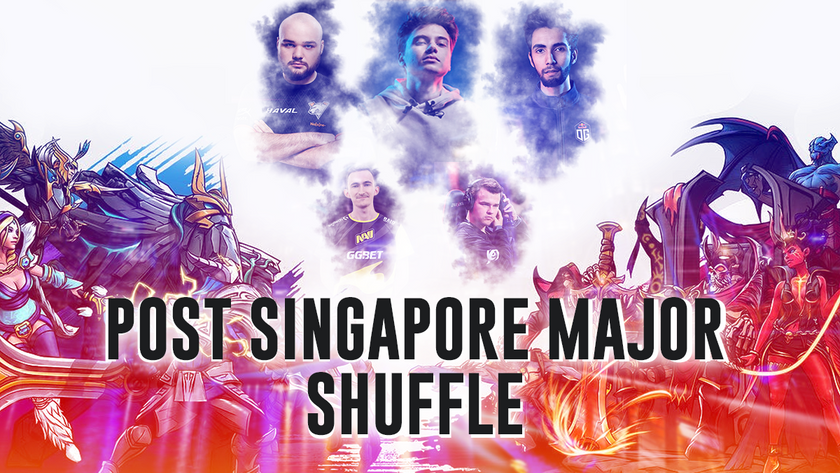 Post Singapore Major shuffle log: Confirmed roster changes for DPC Season 2 
With ONE Esports Singapore Major coming to a close, the Dota 2 professional scene entered a short shuffle window in which teams have the chance to tinker with their rosters without getting any Dota Pro Circuit Points penalty.
For those who haven't qualified for the Singapore Major, the option of making roster changes became available right after the conclusion of Regional Leagues Season 1. According to the Valve rules, the teams have time to lock their rosters until April 11, 2021, the first Sunday after the Singapore Major.
 
---
Europe
-update - April 10: Down to four members after placing Aliwi "w33" Omar on inactive status, Team Nigma will keep the role swaps and mind games open with the addition of Igor "iLTW" Filatov, who even though is a well-established carry player, he can also play in the mid lane with ease.
Team Nigma arrived at the ONE Esports Singapore Major with Roman "rmN-" Paley in place of van "MinD_ContRoL" Ivanov. Right from the start they struggled to find synergy and had ended up being eliminated in the wild card stage —a last-place finish and no DPC points or money earned. 
On April 6th Aliwi "w33" Omar had been moved to inactive status and will be considered the 6th player of Team Nigma effective immediately. 
Team Nigma roster:
Amer "Miracle-" Al-Barkawi
Igor "iLTW" Filatov
Ivan "MinD_ContRoL" Borislavov Ivanov
Maroun "GH" Merhej
Kuro "KuroKy" Salehi Takhasomi  
---
-update - April 11: Is it time for TI already? Well OG and Anathan 'Ana' Pham certainly think it is close enough.  And considering that the team failed to clinch a Major ticket, placing fifth in the EU league, they certainly thought it was needed. 
All eyes were on the back-to-back TI champions in the first season of DPC Regional Leagues. Approaching the year with a revamped roster and with the eyes on the prize, OG brought to the game the same madness their fans expected, but the result was not what everyone had on their mind. OG placed fifth in the EU league and had to watch the first major from home. With TI 10 not having open qualifiers for the first time ever, this coming Season 2 of DPC Regional Leagues is extremely important for OG, who most surely want to write another page of history by adding another Aegis of Champion in their showcase. 
On April 3rd OG parted ways with Yeik "MidOne" Nai Zheng. 
OG roster:
???
Topias Miikka "Topson" Taavitsainen
Sébastien "Ceb" Debs
Martin "Saksa" Sazdov
Johan "N0tail" Sundstein
 
---
Vikin.gg started the first season of DPC Regional Leagues as one of the teams to look out for in Europe, but their impressive growth through the online period of 2020 stagnated and the first DPC run had them knocked down into the lower division. Given their underwhelming performance in the EU league, Vikin.gg benched  Tobias "Tobi" Buchner during the group play and finished the first season with Maurice "KheZu" Gutmann standing in.
On April 2nd, the organization officially announced KheZu as their new offlane player.
Vikin.gg roster:
Indji "Shad" Lub
Miroslav "BOOM" Bičan
Maurice "KheZu" Gutmann
Adam "Aramis" Moroz
Melchior "Seleri" Hillenkamp
 
---
-update - April 6, Tundra Esports announced the addition of Jingjun "Sneyking" Wu to the roster. This will mark NA's veteran first venture into the European region.
Despite keeping their division 1 spot in the EU DPC league, Tundra Esports will enter the second season with a new support player after Malthe "Biver" Winther announced his retirement from the competitive scene to dedicate to his studies.
Tundra Esports roster:
Oliver "Skiter" Lepko
Leon "nine" Kirilin
Neta "33" Shapira
Jing "Sneyking" Wu
Adrian "Fata" Trinks
---
Southeast Asia
update - April 8: Ng Kee "ChYuan" Chyuan was officially announced to have joined Fnatic in the offlane. Formerly playing for Team Aster in the mid lane, this will mark ChYuan's first venture in the third postion. 
Fnatic came into the Singapore Major as the SEA seed #1 team, which had them starting from the playoffs upper bracket slots. Two defeats in a row knocked them out of the competition with no prize money and no extra DPC points added to their name. A couple of days after their exit from the Major, Fnatic announced their intention of making a role change by moving offlane player Natthaphon "Masaros" Ouanphakdee to inactive status within the roster.
Fnatic roster:
Marc Polo Luis "Raven" Fausto
NaNa "Moon" ♪
Kee Chyuan "ChYuan" Ng
Anucha "Jabz" Jirawong
Djardel "DJ" Mampusti
---
Released from the OG roster, MidOne returned home and will fight for a slot in the second division of the SEA league with Team SMG. He isn't the only addition to the roster, though. Besides dropping Cheng "vtFαded" Jia Hao to make room for MidOne in the carry position, SMG have also waved goodbye to Michael "ninjaboogie" Ross and added Damien "kpii" Chok.
Team SMG roster:
Nai Zheng "MidOne" Yeik
Muhammad Ammar "Neah666" Rasulli
Damien "kpii" Chok
Tue "ah fu" Soon Chuan
Yee fung "Mushi" Chai
---
CIS
 
NAVI were one of the teams forced to initially announce a roster adjustment for the Singapore Major after two of their players tested positive for Coronavirus. Roman "RAMZES666" Kushnarev was supposed to join them in Singapore, but unfortunately, he was the only one to actually arrive at the Major, as NAVI were forced to forfeit their spot entirely when their coach's test also returned positive just before flying out.  A couple of days later, Ramzes was officially announced to have replaced Viktor "GeneRaL" Nigrini in the lineup.
Natus Vincere roster:
Alik "V-TUNE" Vorobey
Bogdan "Iceberg" Vasilenko
Roman "RAMZES666" Kushnarev
Vladimir "RodjER" Nikogosian
Andrey "ALWAYSWANNAFLY" Bondarenko
---
Vladimir "No[o]ne" Minenko stepped in for AS Monaco Gambit during the CIS league play in season. He was brought for the team's final two series in the DPC League and stood in for Rostislav "fn" Lozovoi. With him in the mid lane, ASM Gambit forced a tiebreaker for the third place in the league, which they won and booked a ticket to the Singapore Major. No[o]ne made the trip with the team to Singapore and although their run stopped in the wild card stage, ASM Gambit announced No[o]ne to have joined the lineup in full capacity for the second season of DPC Regional Leagues.
AS Monaco Gambit roster:
Kiyalbek "dream'" Tayirov
Vladimir "No[o]ne" Minenko
Vasily "AFTERLIFE" Shishkin
Alexander "Immersion" Hmelevskoy
Akbar "SoNNeikO" Butaev
 
---
After being officially released from the AS Monaco Gambit roster, fn locked himself in on the Valve official registration page with Team Unique. He will be replacing Yaroslav "Pikachu" Vasilenko in the midlane and will play through upper division of CIS League Season 2.
Team Unique roster:
Nikita "Palantimos" Grinkevich
Rostislav "Fn" Lozovoi
Andrey "Ghostik." Kadyk
Danilo "Bignum-" Shehovstov
Syoma "CeMaTheSlayeR" Krivulya
 
---
North America
Despite keeping onto their upper division slot, Sadboys underwent a couple of changes ahead of the second season. The team got rebranded to PentAce and lost three of their players, including captain Peter "ppd" Dager.
PentAce roster:
clinton "Fear" loomis
Eric "Ryoya" Dong
Steven "Monster.us" Noel
David "Moo" Hull
Zakari William Lee "ZfreeK" Freedman
 
---
Black N Yellow will start the second DPC season in the NA upper division league with a slightly changed roster. While the team hasn't made any official announcement, two new players registered on the Valve official page. Jacky "EternaLEnVy" Mao will take on the carry duties, while former Team Xolotl member, Jose "esk" Coronel, will play in the midlane. Upon their arrival, Eric "Ryoya" Dong and Francis "FrancisLee" Lee departed the roster and joined PentAce, formerly known as Sadboys.
Black N Yellow roster:
jacky "EternalEnvy" mao
Esk
Zero.dota2
Andrew "Jubei" Evelyn
YamSun
 
---
South America
Following their withdrawal from ONE Esports Singapore Major over COVID-19 concerns brought upon the team by one of their team members who broke the quarantine rules, beastcaost announced their intention of entering the new season with a six-man roster. No other details regarding who the sixth player is and how the roster will function have been revealed as of yet.
Upper division contenders Latam Defenders enter the second season with a new player in the position five support after Jeanpierre Rivera "Aretes" Perez left the team to join Incubus Club.
Latam Defenders roster:
Cucahook
Esk
Sueño
Moonlight.cl
Kevin "Angel Prince" Gutierrez
---
China
 
China veteran carry player Liu "Sylar" Jiajun will play for EHOME in full capacity starting with the second season of Dota Pro Circuit regional leagues. Although the organization hasn't made an official announcement regarding their roster change, Sylar has locked himself in with the team on Valve's official registration page just mere days before the new season is set to begin.
EHOME roster:
Jia Jun "Sylar" Liu
Guo "Xm" Hongcheng
Yang "Chalice" Shenyi
Yi "Fade" Pan
Yap Jian "xNova-" Wei