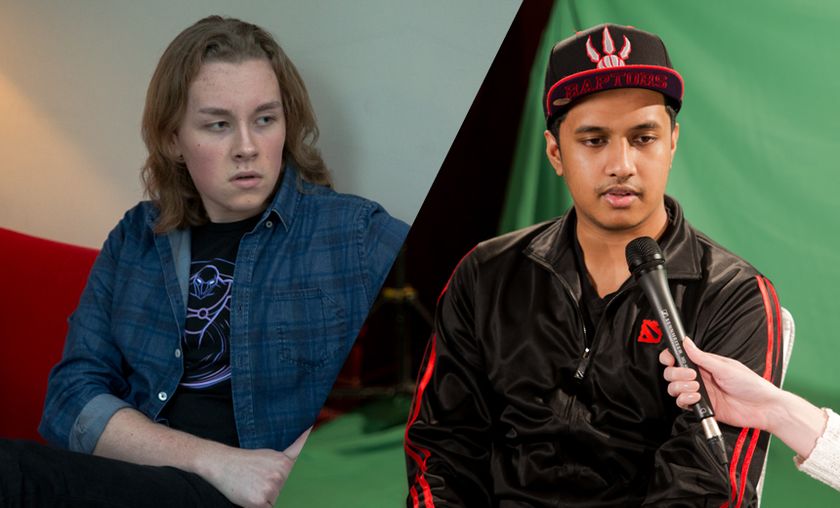 Interviews with Secret's Zai and 1437

A Team Secret double feature from DAC, where Sheever interviewed the offlaner Zai as well as the coach 1437. They talk about the group stage success and the difference in team mentality amongst the participating teams.
"Either I create space, I utilize space or I do kind of both" - Zai
Ludwig 'Zai' Wåhlberg is the newest addition to Team Secret (along with Arteezy, both previously of EG) and most people likely caught on that Secret produced a flawless record so far over at DAC. "The chinese teams continued to disappoint" Zai mentions when asked if he expected the flawless run. He consider themselves one of the strongest Western teams but expected a harder opposition amongst the chinese. "There's a lot of rumours, a lot of [chinese] players will probably switch teams after this tournament". Zai believes that to affect the focus of the players.
He considers this tournament (DAC) equal to The International, especially with the preparations they have made. But he sees some lacklustre performances in the other teams, so they probably don't share the same views on it. "I think the best approach is what Dread (of HR) had, to open up and look at what other teams are playing, trying to adapt and evolve." is the advice Zai gives for a team who feel they are less prepared and not sure what they want to play throughout the tournament. "People pick these heroes for a reason, if you can understand that reason you can get just as strong as a team."
"We each add up to what we call Team Secret" Zai expresses regarding the players coming from various successful teams. He mentions some different aspects to his offlane play, depending on the hero he is playing. "Either I create space, I utilize space or I do kind of both" he continues about Secret's different strategies. He is also found of playing Techies, which he did in the match versus Cloud9. "I think his Statis Traps are useless because of the two second arming delay and the two second activation time". Zai would consider him a top pick if the stun got buffed.
Check out the full interview here:
 
You can find an interview with Zai's teammate s4 here. 
"Experience is more important than any stats can be" - 1437
Theeban '1437' Siva has his own share of competitive experience, and currently he is coach for the successful Team Secret. "It's maybe a necessity, teams can gain a significant advantage" he shares regarding what team gains from having a coach, which was something that crossed his mind years ago even. "Experience is more important than any stats can be." he says, referring to that it is not only about checking through opponent's statistics. Furthermore he does miss playing himself but he couldn't find players he'd like to play with so he thought he should try coaching out. He feels like coaching teaches him more about the game than playing it.
About the 15-0 performance, he felt it was possible after day 2 and he wasn't suprised when it happens. The team always tries to evolve and improve, even when they are winning. Similar to Zai above, 1437 was also impressed by how Na`Vi, HR and Big God imrpoved throughout the tournament. When asked why Western teams are pulling ahead, he mentions the cycle where TI3 was better for the west and TI4 better for the east and now it's bouncing back again. "At the end of the day, you only need to focus on yourself and become the best you can be". Ultimately, in the deeper tournament run, he still fears the chinese teams the most, especially Big God because they are a new team not trapped in mindsets of the past.
"I only do casting if there's an interesting match or something I feel like doing." he mentions about his various casting apparances, but he feels like it's hard to a lot of casting.
Check out the full interview here:
 
Interviews conducted by Sheever and camerawork by tniin
---
More content on GosuGamers