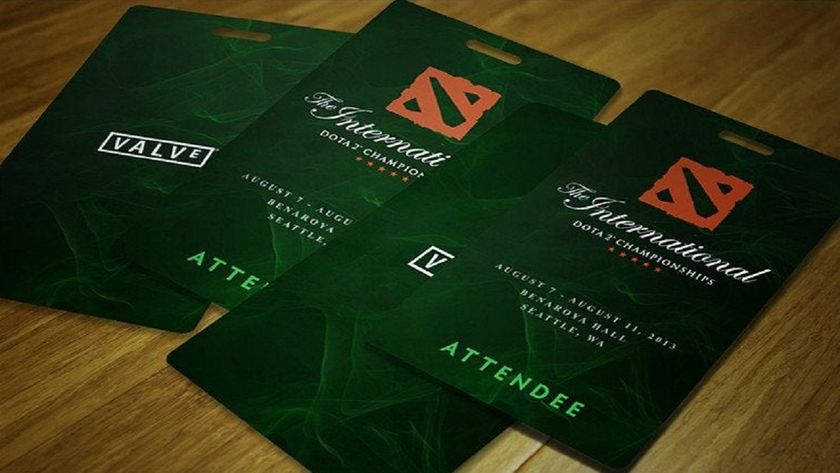 Fireworks and frustration: TI9's phenomenal ticket sale day in China
Allocated tickets of TI9 to the Chinese region reportedly sold out in a record-breaking 53 seconds, which also broke the hopes and dreams of many less lucky fans.
At 13:00 CST, May 24th, 2019's paramount Dota 2 event, The International 9, launched its ticket sale on the Chinese website Damai.cn after an unexpected one-hour delay requested by Valve. Despite common anticipation of a high demand, many were still shocked by the speed at which the tickets went out of stock. 
TI tickets have always been a coveted commodity. The first batch tickets for TI5 was completely sold out in less than six minutes. A second batch then went on sale 12 hours later, only to vanish within minutes yet again. Nevertheless, this year's results seem to have set a new record in the history of TIs. Minutes after the sale closed, Damai posted a proud announcement on their Weibo: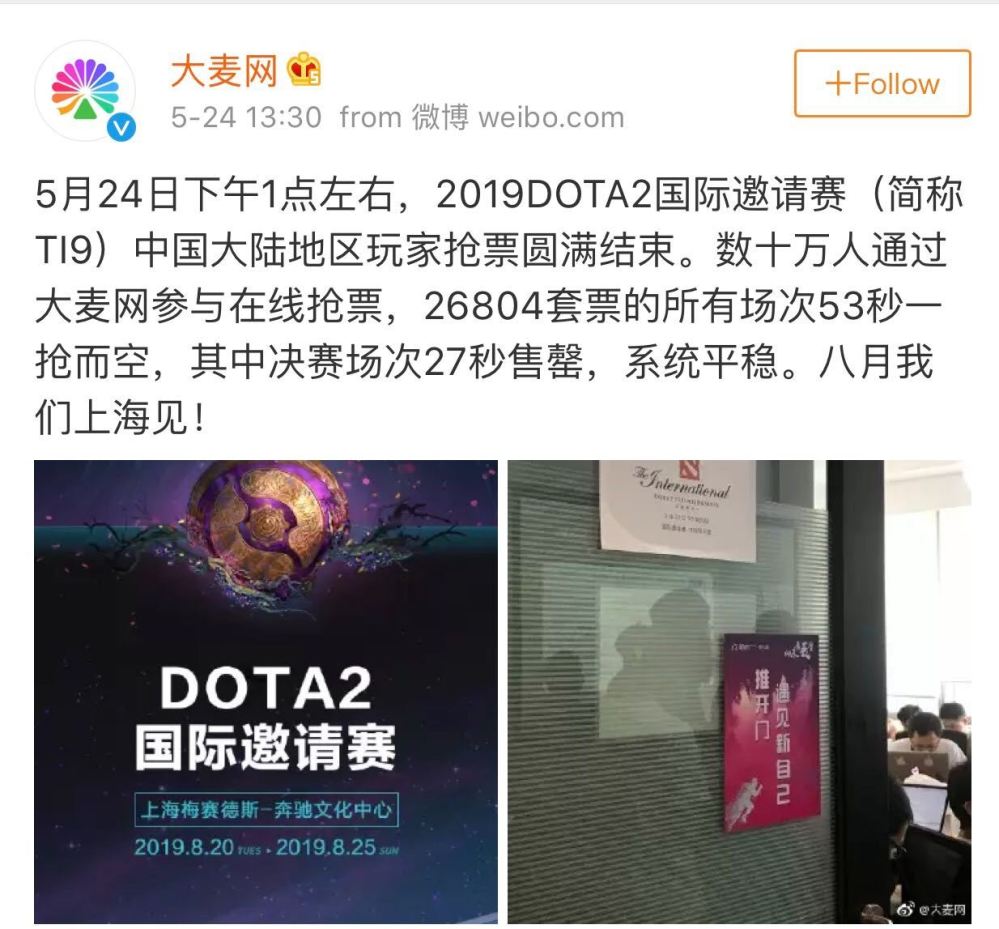 (Translation:"(...) Several hundred thousand people participated in the online ticketing, (...) our system worked smoothly, and all 26,804 bundles were snatched up within 53 seconds, with the bundles for finals gone in 27 sec. See you in Shanghai in August!" )
Frustrations
While many would attribute it to China's huge market and the popularity of Dota 2 in the local communities, suspicions started to rise, especially among fans unsuccessful in snatching a pass to their dream event of the year, as to whether unfair play might be involved. To complicate matters even more, a screenshot of an alleged scalper reselling tickets on Taobao, China's biggest online shopping site, began to circulate around the internet.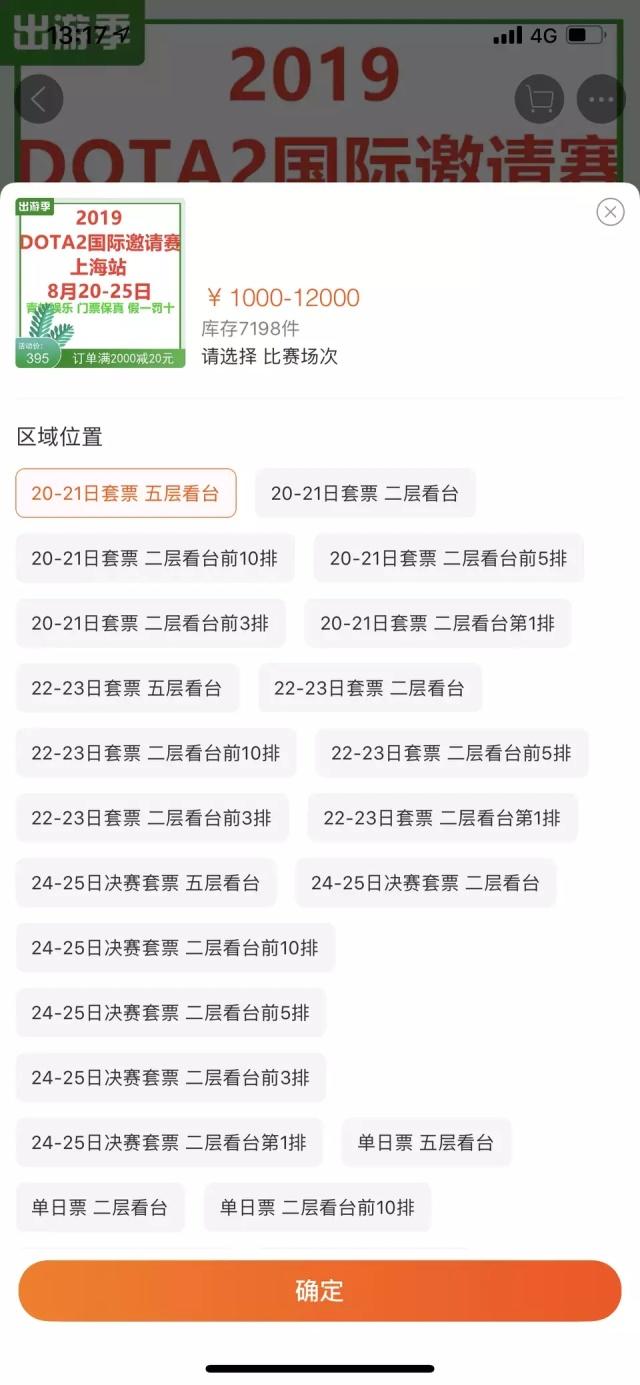 In the description above, the seller not only claims to have more than 7000 items in stock, but also allows buyers to choose in which row they want to sit. As can be expected, front row seat prices are skyhigh--RMB 12,000 (approx. 1,700 USD) each for the 1st row on 2nd floor on finals day. This sparked conspiracy theories that Damai either does shady business with scalpers, or are scalpers themselves, since legal purchasers through the website were assigned seats randomly.
After receiving numerous complaints, Taobao took the post down and banned all TI9 ticket reselling across their site. However, the damage was already done. While those who are lucky enough expressed exhilaration with posts of their booking receipts on social media, their disgruntled counterparts flocked to accuse Damai of injustice.
It's not the first time Dota 2 enthusiasts were unsatisfied with how ticketing of a major event was handled. Substantial grievance rose during the release of tickets to Kiev Major in 2017, due to the lack of purchasing limits per person that resulted in widespread scalping.
While booking on Damai requires a valid Chinese national ID, and each ID/early access code is limited to a purchase of 6 bundles, it's still perfectly possible to redistribute them. 
We should also not forget that Damai was in charge of distributing tickets to Shanghai Major in 2016 and Chongqing Major in 2018, both of which went with few hiccups. That being said, it's important for the community to keep an outlook for issues with transparency and fairness, in order to continue to enjoy our beloved game.
The International 9
Valve will bring the biggest Dota 2 event of the year to the Mercedes Benz Arena in Shanghai, China —home of infamous Shanghai Major of 2016.  The venue is an indoor arena located on the former grounds of Expo 2010 in Pudong, Shanghai, China, with a seating capacity for 18,000 people. Thus far, eight teams are confirmed to attend - Team Secret, Virtus Pro, Evil Geniuses, Fnatic, PSG.LGD, Team Liquid, and NiP.