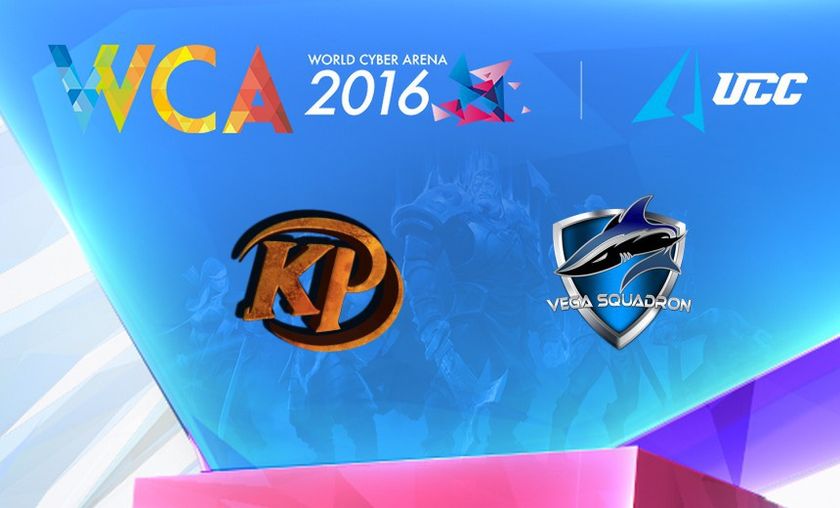 WCA 2016 EU Qualifier: Vega and Kaipi guaranteed for main event
The new and improved Vega Squadron and Kaipi are now guaranteed spots in the main LAN event of World Cyber Arena 2016, set to be held in China this December.
The WCA EU Main Qualifier started on the 23rd of August, with eight teams in total. The eight teams were composed of five direct invites and three remaining spots determined by two previous qualifiers held in July (the qualifier winners being Fantastic Five, Ad Finem, and Kaipi). Despite being a qualifier, money was still on the line and the qualifier boasted a prize pool of $54,000 USD, with the top two qualifying for the main event as well.
Here's a full list of the teams and the bracket for the EU Main qualifier:
Alliance

 Vega Squadron

 Team Empire

 Elements One

Escape Gaming

Fantastic Five

Ad Finem

Kaipi 
Upper Bracket
Round 2 - Best of 3
Round 3 - Best of 5
Lower Bracket
Final
As a note, Elements One replaced Team Liquid and Alliance dropped out in the middle of the qualifier due to their roster shuffle. After a grueling BO5 in the lower bracket finals against Escape Gaming, Vega Squadron secured their spot along with Kaipi for the main event in China. For those of you that missed the action, it isn't over yet. Vega Squadron and Kaipi are still set to play the Grand Finals BO5 series for first and second place of the qualifiers, which will net them a decent sum from the qualifier prize pool. The final BO5 series can be watched live here.
Here's a list of the current teams who have qualified for the main event as well as who is in contention for a spot:
WG Unity (Winner of SEA qualifier)

Wings Gaming (Winner of Chinese Qualifier #1)

Kaipi 

Vega Squadron

Newbee or iG Vitality (Determined by winner of China Qualifier #2)
Direct Invite
Direct Invite
Direct Invite
The LAN main event of WCA 2016 will be held later this year in December in China. Teams that have qualified will compete for a total prize pool of $600,000. Along with Vega Squadron, Kaipi and the other qualified teams, there will be three direct invite teams still yet to be announced. In total, eight teams will compete for the prize pool and title. WCA will likely be a hotly-contested event - be sure not to miss any of the action.