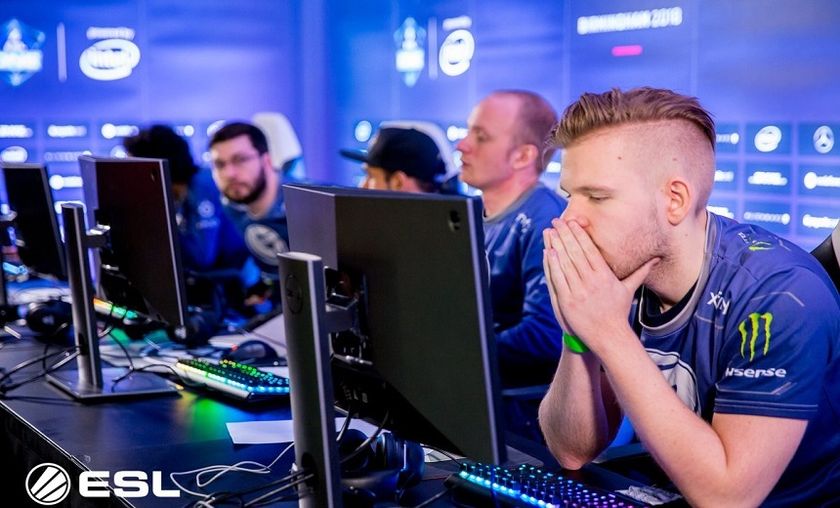 Harsh first day at ESL One Birmingham as EG, VG and Newbee eliminated

Photo courtesy of ESL
The opening day of ESL One Birmingham Major was a brutal one, sending home three teams - Evil Geniuses, ViCi Gaming and Newbee already. Three more teams will be eliminated tomorrow before the main event even kicks off. 
ESL One Birmingham Major opening day was full of surprises, tipping, chatwheel spam and heartbreaks. The brutal format that sends teams home after only two series of competition on the first day meant that three teams already would be packing up their DPC hopes and their bags. Tomorrow won't be much better for another three teams will be facing the same fate. 
Group A
The opening match between Evil Geniuses and fnatic was everything that everyone had expected and then some. In a thrilling first match that started out close and ended with a base race also saw Io with Desolator, next level decision making, and incredible wombo-combos. It was Fnatic that took the victory in the end, delivering the first nail in EG's coffin.
Although Fnatic couldn't hold up against Virtus.pro's aggressive onslaught, they were still able to survive the first day. Virtus.pro's 2:0 victory over the SEA based team had followed their convincing win over Team Spirit earlier and send the CIS juggernauts into the main event with a flawless 3:0 record for the group stage. Despite a crushing blow delivered by Virtus.pro in their opening match, Team Spirit came back to look quite impressive with a 2:0 sweep over Evil Geniuses —eliminating the North Americans from the event without a single win to their name. 
Upper Bracket
Round 1 - Best of 1
Round 2 - Best of 3
Lower Bracket
Round 1 - Best of 3
Round 2 - Best of 3
Group B
OG was looking on point today as they overpowered Vici Gaming in the best-of-one matchup and then convincingly wiped out paiN Gaming in two 31 minute games. Their successful first day gave the Europeans the first seed and a spot in the main event. 
paiN Gaming's win over Team Liquid in their opening match was not only one heck of a game and overwhelming victory, it was their saving grace that staved off elimination for at least one more day. 
The TI7 champions bounced back in time for their series against ViCi Gaming. Team Liquid made their 2:0 victory look as easy as taking candy from a baby and knocked the Chinese team sitting in 6th place in the DPC out of the event without allowing them to secure any more points for their highly coveted TI8 invite. 
Upper Bracket
Round 1 - Best of 1
Round 2 - Best of 3
Lower Bracket
Round 1 - Best of 3
Round 2 - Best of 3
Group C
OpTic Gaming's opening match was a spectacular display of talent and dominance over Newbee. The formidable NA representatives took the Chinese team by storm and secured their first win to give them a strong start and secured place in the group stage for at least one more day. 
Mineski made taking the game from LGD.Forever Young look like a cake walk as Chai "Mushi" Yee Fung's performance on AntiMage was not only flawless but deadly. However, in a reverse sweep, OpTic Gaming was able to keep the SEA team in check and outplay and outlast Mineski to take the first seed of the group.
On the brink of elimination, the second match between Newbee and LFY was a back and forth rollercoaster of a match with drastic swings through the second half of the 57-minute game. LFY was finally able to close out the match in their favor and forced the first three-game series of the day. It took another 54 minutes for the last game to end, but LFY had control of the game since the start and were able to maintain their grasp on it until the very end to claim the victory, eliminating Newbee in the process.
Upper Bracket
Round 1 - Best of 1
Round 2 - Best of 3
Lower Bracket
Round 1 - Best of 3
Round 2 - Best of 3
ESL One Birmingham Major Group Stage
The group stage will be played on May 23rd and 24th
All games are played backstage
Three GSL groups of four teams each
Bottom two teams from each group are eliminated, Runner-ups advance to the quarterfinals
The three first-place teams play additional Bo1 matches against each other to determine which two teams advance to the semi-finals and which team joins the three runner-ups in the quarter-finals
The group stage will come to a close tomorrow, May 24th, with the Decider Match series for each of the three groups. Kicking things off will be Fnatic vs Team Spirit at 11:00 local time/12:00 CEST.