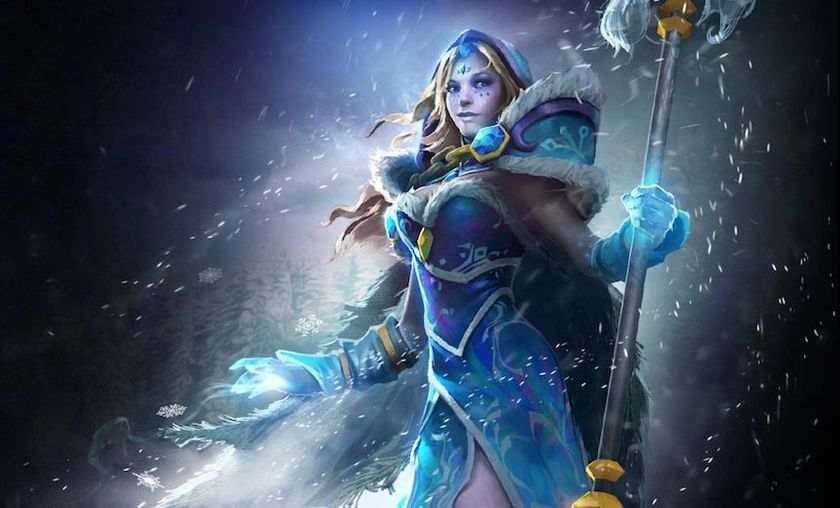 New Bloom update launched on Test Client, nerfs to Axe and Juggernaut
The event hype continues with New Bloom Part 3, detailing the Crystal Maiden arcana set, Winter Wyvern's abilities, and nerfs to this patch's most popular competitive heroes.
Valve released part 3 of their New Bloom event page today, revealing more of the new hero Winter Wyvern, the Crystal Maiden arcana set dubbed Frost Avalanche, and several other changes set for patch 6.83c. The event is scheduled to launch later this month.
Many of the updates for New Bloom are of the cosmetic variety, the most exciting of which is the Frost Avalanche arcana set for Crystal Maiden. The set includes a non-combat wolf pup that follows the player's hero around, several new animations, and new icons. The bundle is available to preorder now for $27.99. The update also brings along improvements to the item drop system that was implemented last year. After much community uproar, the drop rate has increased on the bundle drop system and a single-item drop system has returned alongside it. 
On the gameplay side, Winter Wyvern's revealed abilities describe a hero suited to the support position, able to heal and disrupt focus on an ally with Cold Embrace or control enemies with Winter's Curse. Snippets of the frost dragon's voiceover dialogue are also available to listen to. Nerfs were added to tone down the most popular heroes in the DotA 2 Asia Championships meta, mainly Axe and Juggernaut. Juggernaut's agility gains took a hit along with his early game power in the form of mana increases on Healing Ward and Bladefury. Axe lost the ability to use Beserker's Call on invulnerable units and suffered changes to Culling Blade's kill threshold. In addition, the reworked Phantom Lancer will be added to Captain's Mode. 
The Year Beast Brawl event was mentioned on the page but not detailed, so expect more announcements forthcoming. View all the upcoming changes here. 
---
More content on GosuGamers