Empire Leads in Week 7 of Raidcall Dota 2 League
Returning champions Empire defend the top spot after seven weeks of play in the Raidcall Dota 2 League. Teams continue to battle it out for a spot in the top 4 and a chance at the $10,000 prize pool.
The second season of the Raidcall Dota 2 League continues in its seventh week. Let's take a look at the standings as we pass the halfway point.
Returning champions Empire lead the pack with 5 wins in 6 matches, followed closely by Fnatic with 5 wins in 7 matches. Empire is looking strong coming off victories in their matches against No Tidehunter, Team Liquid, and TI2 runner-up Na'Vi. 3rd place team No Tidehunter edges out 4th place Team Liquid. Both have 4 wins so far, but No Tidehunter has managed this in 6 matches compared to Team Liquid's 7.
Dignitas is biting at the heels of the top 4 with 3 wins in 4 matches, followed closely by Mousesports, who sport 3 wins in their 5 matches. There is a three way tie for 7th place, as dd.Dota, Na'Vi, and Virtus Pro each have 2 wins in their 5 matches so far.
Tournament organizers Evil Geniuses come in 10th, having taken 1 of their 3 matches so far. Re-Defining Madness, formerly mTw, come in at 11th place, winless so far in 3 matches. Finally, 3D Max is still searching for a win after 6 matches played, bringing them in at 12th place.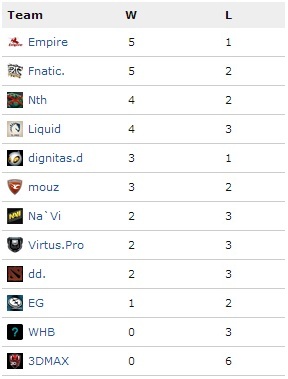 Wednesday Feb. 13th will see 9th place Virtus Pro battle it out with current leaders Empire.
Keep up with
our coverage of season 2 of Raidcall's Dota 2 League
,
catch the games live
, or check out the
official tournament website
as we close out the round robin stage in the weeks ahead.