Tony G. Profile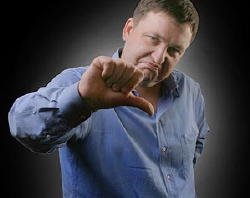 Tony G. (Guoga) is one of the most established and outrageous poker personalities and business man in the poker world. Despite his reputation as a "hyper aggressive smack talker," Guoga has numerous poker accomplishments. His first significant victory was in the 2002 World Heads-Up Omaha Championship beating Dave "Devilfish" Ulliot. Guoga then placed fifth in the 2003 World Poker Tour Grand Prix de Paris. He had a few smaller victories before finishing second in the 2004 WPT Grand Prix de Paris for $414k. Guoga won the 2005 $5k European Poker Championship for $456k. In 2006, Guoga won the Asian Poker Tour event in Singapore for another $451k. He has 15 "in the money" finishes at the WSOP that have contributed towards his over $3 million in live tournament winnings. Guoga also has multiple business interests in the poker world; including principal ownership of Pokernews, pokeraffiliateworld, and pokerworks. Guoga was born December 17, 1973 in Kaunas, Lithuania and calls Melbourne, Australia home now.
Things you might not know:
Guoga was a Rubik's Cube champion in Lithuania as a child.

Guoga and family moved to Melbourne, Australia at age 11.

Guoga excelled in sports and became an excellent basketball player.

Guogo played pro basketball for a while before becoming an agent to represent former teammates.

Guoga started playing poker when he was 15 and bigger games when he was 18.

Guoga moved to Hong Kong after starting to beat the games in Australia, where he also did some dealing.

Guoga once took his bankroll of over $200k to Las Vegas when he was under 21, secured a fake ID, and proceeded to losing the entire amount while taking home a bruised ego and a lot of lessons.

Guoga stopped in London, then settled in Vienna, Austria where he gained the nickname Tony G. while beating the games there.

Guoga was one of the early big online winners when online poker sites popped up in 2000.

Guoga defeated Mike Matusow to win the WPT even Bad Boys II in 2005, against Phil Hellmuth, Gus Hansen, Jean Robert Bellande, and Men"The Master" Nguyen.

Guoga was inspired by Barry Greenstein's charitable habits and donated his entire $205k winnings from a 2007 Russian tournament he won to Russian orphanages.

Guoga will occasionally sell pieces of himself on his own site chipmeup.
Guoga has always had a sense for when to turn up the hyperbole to bring attention to himself, and often scorn and ridicule on his opponents. Guoga insists his outburst are not planned by spur of the moment in the heat of battle moments. He is trying to get people off-balance giving him a good edge so that the other players are worrying about him. Away from the table he is much more generous, personable and easygoing.
"I love my poker, I am not as hungry to win anymore and it's just about getting a kick out of it for me, it's my outlet to do stuff that I can't at home."
Guoga video highlights of his outbursts, a hand against Devilfish, and a hand against Phil Ivey:
Other famous poker player profiles: