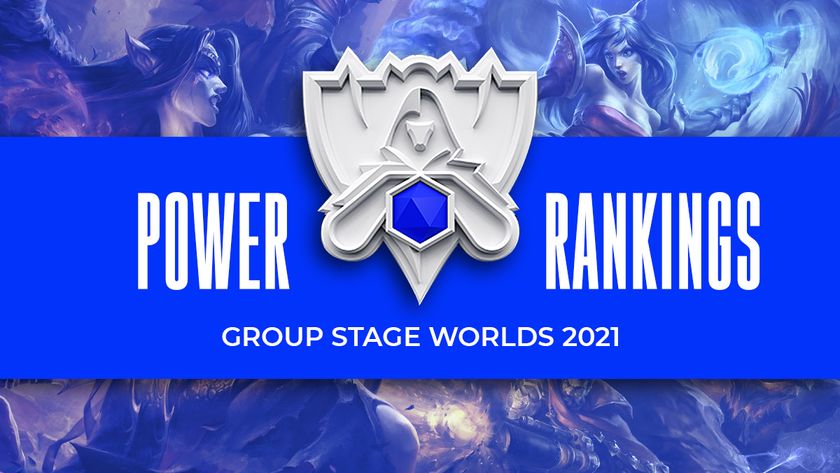 Power Rankings: Group Stage for Worlds 2021
This time, we will be featuring all the teams that have made it to the group stages of Worlds 2021.
If you didn't already catch it, we've done our power rankings for the Play-In Stage teams for Worlds 2021. With that said, we will now be focusing on the Group Stage teams for LoL's biggest tournament of the year. Riot Games has also recently confirmed the date and location of Worlds 2021. It will be in Iceland, which also played host to the Mid-Season Invitational back in May 2021.
With the announcement, Riot also confirmed that teams from the Vietnam Championship Series will not be participating. Because of that, the LEC's third seed will automatically qualify for the Group Stage, thus ensuring both it and the Play-In Stage are evened out
As for our power rankings regarding the group stage teams, we'll be looking at their results over the Summer Split as well as touch on their Spring performances as well.
12.

Rogue
Having already made an appearance on our previous power rankings for the Play-In Stage, Rogue can count their lucky stars that they made it to the Group Stage of Worlds. This is because the VCS will not be participating at Worlds once more due to travel restrictions caused by the pandemic. With the LEC given an additional slot to Groups given that they are playing host, Rogue automatically takes it. While they did manage to top the group stage of the LEC Summer Split, their playoff run was less than ideal, only managing to defeat

Misfits Premier before losing to

MAD Lions and
Fnatic in quick succession.
11.

Gen.G
Gen.G is one of the LCK's top teams but unfortunately, things have not quite panned out for them as they would've hoped. Their Spring Split run was a lot closer as they finished second only to

DWG KIA  as compared to their third-place finish in the Summer. The group stage during the Summer saw three teams vying for the top spot with Gen.G being one of them. Sadly, their dream run was dashed rather quickly at the hands of

T1 in a 3-1 loss. Thankfully, the team has their previous performances to thank as with their second-place finish during the Spring and a third-place finish in the Summer, they've accrued enough Championship Points to still make it to Worlds 2021. While many aren't expecting them to go far, South Korea has always been known to surprise when we least expect it.
10.

Team Liquid
The fourth time should be the charm for Team Liquid as they hope to end their slump of never making it past the group stages at Worlds. They always seem to falter at the very tail end of it. Hopefully, they'll do one better this year as they've had consistent second-place finishes in both the Spring and Summer Split. Having lost to
Cloud9 in the Spring, many thought that they would take the LCS Championship by storm. While their group stage performances were decent at best, it was their playoff run that caught much attention. After dispatching C9, they went on to knock down both

TSM and

100 Thieves . Unfortunately, it was in the grand finals where their streak ended, courtesy of 100T who came back up from the lower bracket to take the series 3-0.
9. 

100 Thieves
While still a relatively young team in the LCS, 100 Thieves have already made a name for themselves in the world of esports as a whole. When it comes to LoL, the team has already managed to make it to Worlds on its debut season back in 2018. While they have struggled since then, this year could very well be the year where they might see the playoff stage. After a rather disappointing Spring Split, they finished the Summer group stage in second place, right behind TSM. Their playoff run in the LCS Championship was a true roller coaster ride. First, they defeated

Evil Geniuses in a thrilling 3-2 series to only then lose to Team Liquid in the same manner. But they didn't let that defeat deter them; they managed to make quick work of C9 in the lower bracket final before sealing their tournament fate by taking out Team Liquid effortlessly in a 3-0 finish.
8.
Fnatic
Many didn't expect Fnatic to make it to Worlds, let alone get that far in the LEC Summer Split. After a dismal finish in last year's Worlds, they saw their star ADC, Martin "Rekkles" Larsson swap colours for the black-and-white of

G2 Esports . However, that didn't stop the team from sticking to their guns and grinding out the results. Their Spring Split performance wasn't ideal, to say the least, and their Summer Split run in the group stages didn't fare any better. Starting in the lower bracket, they had a steep mountain to climb. What followed could only be described as a dream run for the boys in orange, defeating
Vitality.Bee , Misfits, and G2 Esports. All three wins went to five games with Fnatic coming out on top each time. They also managed to defeat Rogue in the lower bracket finals 3-0, further stamping their mark in the LEC as one of the team's to fear. Sadly, their run was cut short at the hands of

MAD Lions , who we will be talking about shortly.
7.

T1
T1 is one of the most storied teams in the LCK as well as the rest of the world. They remain as the only team to have won Worlds on three separate occasions as well as back-to-back wins in 2015 and 2016. Alas, their performances over the past few years have been less than ideal. Led by the legendary midlaner, Sang-hyeok "Faker " Lee , T1 missed out on Worlds last year after their exit in the semifinals the year before that. But it looks like 2021 is a different story as T1 came into the year raring to go. After a disappointing Spring Split, they started the Summer season well, finishing fourth in the group and secured a spot in the playoffs. From there, they went on to defeat

Liiv SANDBOX as well as getting their revenge on Gen.G for eliminating them in the Spring. While they did go on to lose to

DWG KIA in the finals, their Summer Split run allowed them to garner enough points to make it to the LCK Regional Finals. From there, they faced off against

Hanwha Life Esports in the grand finals, winning 3-2 and securing their spot to Worlds once more.
6.

PSG Talon
Southeast Asia has never really had the best time at Worlds but PSG Talon may just change all that. Since its debut back in 2020, they managed to make their debut at Worlds only to bow out in the group stages. However, 2021 tells a different tale as the team managed to make it to MSI 2021, finishing in a respectable third/fourth place for only their second international tournament. They finished their Summer Split spectacularly as well, ending the group stages undefeated. They did, however, suffer their first defeat at the hands of

Beyond Gaming , the second-best team in the region. But this only fueled them to go one step further, defeating

J Team 3-0 once more in lower bracket finals after their prior semifinal clash. The grand finals between PSGT and BYG were one for the books as both teams took turns taking the W before PSGT came out in the clutch in game five.
RNG has arguably been one of the most exciting teams to watch this season, whether in victory or defeat. The team has had an eventful year so far, winning MSI for the second time and then crashing out in the LPL Summer Split right before the double-elimination bracket. The team looked to be in disarray from the start of the Summer Split, racking up as many losses as wins during the season. While they did exit the tournament early, they have their Championship Points to thank, giving them enough to secure a spot in the LPL Regional Finals. From there, all they had to do was not lose to

Team WE and they did just that, securing a 3-0 victory to book their slot to Worlds.
FPX has always been one of the LPL's most premier teams in the competition. Being only the second Chinese team to ever claim the World Championship, FPX comes into the competition with some recognition of their name. Unfortunately, their past results won't carry the same weight as 2020 was a year to forgot for them. They did fare much better in 2021, ending both their Spring and Summer Split runs in second place. They have been consistent for most of the year; their only issue is keeping their composure when it matters, especially in the grand finals. Having already lost both times this year, they will be looking to overcome this slump in time for Worlds.
3.

MAD Lions
If there ever was a team that has caused as big an upset as any, it would be MAD Lions. The young EU squad has been tearing up the LEC this year, securing their first win during the Spring Split and getting the chance to go to MSI. There, they finished in third/fourth-place, a great result for a team that is making their debut at MSI. Many thought it was just a fluke; nobody would expect them to recreate their performances in the Summer Split and boy were they wrong. Ending the group stage in third place, they went on a rampage during the playoffs, securing key wins against G2, Rogue, and Fnatic to claim what is rightfully theirs. Big hopes are now placed on MAD Lions to go all the way to the finals at Worlds and there is an outside chance that they can take it.
With the LPL securing four slots to Worlds and with three in the group stage, you can expect China to pull out all the stops to ensure they bring the World Championship back home. With RNG and FPX already part of the list, EDG rounds up the list as China's number one team at the moment. Having been to Worlds a total of five times, they know what it takes to perform on the biggest stage. Their only downside is that they have never made it past the first round of the playoffs, losing on four separate occasions in the past. However, this time looks to be different with EDG looking solid the past few months. Their third-place finish during the Spring Split was slightly disappointing but they more than made up for it by claiming first place during the Summer Split. They go into Worlds as one of the favourites; let's just hope they get a better first-round playoff than history suggests.
1.

DWG KIA
South Korea boasts the most talent going into Worlds 2021 and DWG is at the forefront of it all. Being the current holders, DWG certainly has a target on their back as the number one team to beat at the tournament. They have been flawless for the most part, winning both the LCK Spring and Summer Split without much difficulty. While they did slightly falter at MSI by losing to RNG in the finals, they have shown that adversity means nothing to them. Their entire playoff run only saw them play two series, winning both, and dropping one match in seven games. DWG are the team to watch at the moment and many are expecting them to go all the way to the finals once more.