Are Mobile MOBAs the future? Two Dota 2 players make switch to Mobile Legends
Two ex Dota 2 professional players have made the switch from Dota 2 to Mobile Legends: Bang Bang since the start of the year. 
Kenneth "Flysolo" Coloma, veteran Filipino captain and support player, announced just a few days ago that he would be retiring from Dota 2 and making a transition to Mobile Legends: Bang Bang. Flysolo spent over ten years playing competitive Dota, starting with DotA 1 before moving over to Dota 2. 

 "I will try my luck and apply my drafting skills on this game. Bye Dota 2 world. It was a pleasure to meet you all," posted Flysolo on his Facebook page. 
He is the second former Dota 2 professional player to make such a decision since the start of the new year. 
Mark Anthony "Jacko" Soriano announced in January that he was looking for a new beginning in Mobile Legends: Bang Bang. Jacko was banned from Valve sanctioned events in 2016 due to match-fixing when he was only 16 years old —a shameful fate for the Filipino player many considered a prodigy. 
 Amihan E-sports revealed that they had signed Jacko to their Mobile Legends lineup as they posted on their Facebook page
Jacko's decision to transfer to Mobile Legends signifies a story within all of us. A symbol of redemption of oneself and forgiving your own past. We understand the frustration between his famous 322 scandal and many more, but in the end it took big guts for Jacko to talk with the management and open up about his decision.
In a recent interview with the Manila Bulletin, Jacko said "When something goes wrong, what's the best course of action? To change your direction."
Although under different circumstances, for both players it is about continuing to be active in a competitive MOBA environment and harness a brighter future. 
Mobile Legends: Bang Bang
Mobile Legends: Bang Bang is an ever-growing MOBA in the mobile gaming industry. Developed and published by Moonton in 2016, the game has become popular in Southeast Asia and was among the games chosen for the first medal event esports competition at the 2019 Southeast Asian Games in the Philippines.
Similar to Dota 2 (and League of Legends) it features two opposing teams fighting to reach and destroy the enemy's base while defending their own base for control of the three lanes. 
Additionally, Mobile Legends: Bang Bang have different kind of arcade games, featuring different gameplay mechanic respectively, such as:
Competitive Mobile Legends: Bang Bang 
Ok great, it sounds familiar and fun to play. But competitively? 
Yep!
Official Mobile Legends tournaments have been held in the Southeast Asian region, including the annual Mobile Legends: Bang Bang Southeast Asian Competition (MSC) and having their own local leagues such as the Mobile Legends: Bang Bang Professional League (MPL) -- which has done really well in the recent 2-3 years in bringing in established esports organizations, viewers, and market interest.
The first Mobile Legends: Bang Bang World Championship, dubbed as M1, was held in Axiata Arena in Kuala Lumpur, Malaysia from 15 to 17 November 2019 and featured 16 teams across the world to battle it out for a prize pool of $250,000.
MPL PH Season 7 (starting in March) is currently funded fully by Moonton and sponsors, but it is rumored to adapt a Franchised League Model in Season 8. Much like MPL Indonesia and the Overwatch League.
The Franchised League Model was introduced in the fourth season of MPL Indonesia aiming to make the MLBB esports scene more sustainable.
For a one-time franchise fee of $1,000,000, a team gets a permanent slot at the league. Other features of the league includes; A salary cap. more than 50% of the revenue will be shared with the teams. players get contracts with a fixed minimum salary and a minimum contract length of six months per season, no team relegation. 
Sounds like a LOT of potentials there to make some good money and have a stable income and team —unlike the bleeding heart and the fractured pipeline of the Tier 2 Dota 2 scene that has spurred many players to switch to other games or retire. Even the new format for the DPC still holds many kinks and disappointments for aspiring teams, continuing to cater only to the top-heavy and already established and dominating top 20 teams competing. 
Mobile Gaming; The future?
Mobile Legends: Bang Bang or MLBB is the biggest Mobile MOBA in the Philippines. Bren Esports of the Philippines recently won the M2 World Championship, which probably also propelled local and international interests.
Just take a look at the viewership for the MPL PH Season 6, compiled by Esports Charts.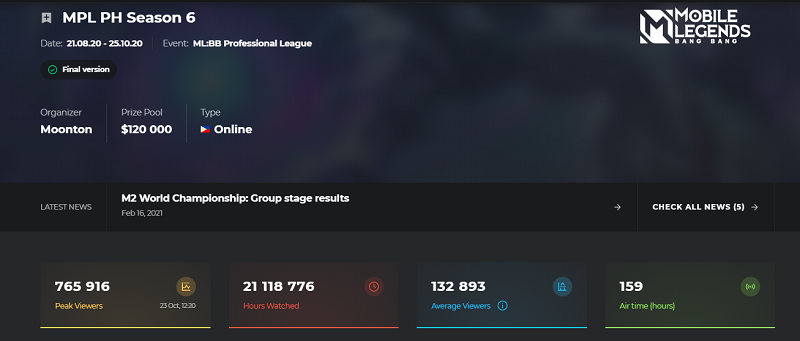 Not too shabby!
Interestingly, a lot of ex-LoL pros in the SEA region switched over to MLBB around 2019 when they started the MPL system. Most of them are from Singapore, Malaysia, and Indonesia.
Rex Regum Qeon (RRQ) also dropped their Dota roster and focused primarily on MLBB and PUBG Mobile.
The future is here and many see it as a bright spot on the horizon and are looking to get in early. 
Unlike Jacko who has joined a sponsored team, Flysolo decided to build his own team in Mobile Legends.
According to the announcement FlySolo made, he already found a group of players who will be moving to his own house to fully focus and practice in a professional set-up. At 29 years old, Flysolo gives himself two more years in the esports field, after which he wants to resume his studies if his plans for MLBB fail.