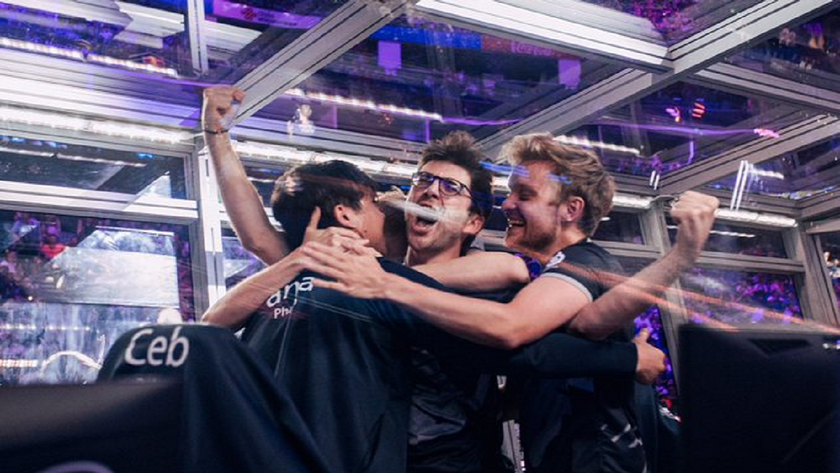 OG will defend their title; PSG.LGD and Liquid to lock horns next at TI9
TI9 continues to impress as OG have secured a spot in the grand finals to defend their title against the winner of PSG.LGD/ Team Liquid. 
The days are winding down at TI9 and spectators are at a loss for words. Not only has the pinnacle of all Dota 2 events delivered some of the most incredible matches, game plays, clutch performances and new strategies, the storylines continue to build up with fierce intensity. 
Team Secret 2:0 ViCi Gaming
Team Secret absolutely shellacked ViCi Gaming in two very quick games for a clean 2:0 sweep of the series. The longest of the two games took only 23 minutes - almost as long as it will take to read this entire article twice. 
Team Secrekt took a page from OG's book using IO as the core which proved very effective for them. But it just wasn't using new strats that worked, the European team worked very quickly and set incredibly fast tempos for both matches that ViCi Gaming was not able to catch up to. 
Secret moved on, hoping to use some of that momentum to head into the next series and defeat Team Liquid. 
OG 2:1 LGD
OG claimed the Aegis of Immortals last year, going 'against all odds' and pushing PSG.LGD to the limits with a full 5 game series. It was spectacular, it was emotional and it was everything fans had wanted to end the season. 
TI9 seems to be the event to top them all though. Going head to head in the upper bracket finals once again, history repeated itself as OG overpowered LGD 2:1 for the second time and advance to the grand finals. Not only will OG be able to defend their title, but they are also primed for a historic two-time championship win and back-to-back victories to top it off!
The 'dream green' team has been playing on an entirely different level. It isn't just their shakeup in drafting and hero roles, it isn't even just that they are clearly having so much and entertaining at the same time. It is that they are just so confident and have the exact right synergy and chemistry for it to all fall together perfectly. 
Alchemist proved way too much for LGD and then they let it through again because as their coach stated in pre-game interview 'they had an answer for it this time' (paraphrased). They didn't. Once again, OG outplayed LGD and the Chinese team was not able to get online in time despite answering/countering Alch in their draft. 
Taking the mind games to a whole new level against LGD in the upper brackets, OG demolished their Chinese opponents in a reverse sweep. Whether it will demoralize or ignite PSG.LGD is yet to be seen. One can't help wonder if OG has destroyed the spirits of all they encountered so far. 
Team Liquid 2:0 Team Secret
Former teammates and the only two TI all-timers, Kuro 'Kuroky' Salehi Takhasomi and Clement 'Puppey' Ivanov set the stage for some real anime storyline. At the end of the series, only one of them was able to move forward and aim to also become the first to claim the Aegis twice. 
Team Liquid dismantled Team Secret in the first match - the w33po pick defeating the new IO strat with relative ease and ended the first game in just 27 minutes. 
The second game didn't go much better for Team Secret. Despite having built a reputation through the event as the team that was able to find wins at all costs and come back from some dire straights, Team Secret were not able to find any space against Team Liquid. 
Year after year, Team Secret enter The International as the utter favorites, and fall very short of expectations. Despite once again being the DPC leaders and favorites for TI9, the Europeans once again fall (though not as far as in the past) from meeting that. Team Secret walk away with a fourth place finish and $2million reward. 
TI9 Prize Pool Distribution and Rankings
1st Place $15,490,252 -
2nd Place $4,425,786 - 
3rd Place $3,064,006 -
4th Place $2,042,670 - Team Secret 
5-6th Place $1,191,558 - ViCi Gaming/Evil Geniuses
7-8th Place $851,113 - Infamous/RNG
9-12th Place $680,890 - Mineski/Newbee/TNC Predator/Virtus Pro
13-16th Place $510,668 - Na'Vi/Keen Gaming/Fnatic/Alliance
17-18th Place $85,111 - Chaos/NiP
Upper Bracket
Round 3 - Best of 3
Round 4 - Best of 3
Lower Bracket
Final
TI9 Main Event
Main Event dates - August 20th - August 25th, 2019
Sixteen teams play in a double-elimination format over six days.

Eight teams begin in the Upper Bracket, eight in the Lower Bracket.

First Lower Bracket round is Bo1, Grand Finals are Bo5, all other rounds are Bo3.
Schedule:
Main Event - Day 6 (LB Finals, Grand Finals): August 25th
TI9 Streams
English:
Twitch:  Main Channel |  Stream #2 |  Stream #3 |  Stream #4 |  Stream #5
MultiTwitch:  Streams 2+3+4+5
Russian:
Twitch:  Main Channel |  Stream #2 |  Stream #3 |  Stream #4 |  Stream #5
MultiTwitch:  Streams 2+3+4+5
Chinese:
Twitch:  Main Channel |  Stream #2 |  Stream #3 |  Stream #4 |  Stream #5
MultiTwitch:  Streams 2+3+4+5
Other Streams:
Pod #1 | Pod #2 | Main Hall | Workshop
Other Languages:
 Korean |  Spanish |  Filipino |  French
The International 9
Valve will bring the biggest Dota 2 event of the year to the Mercedes Benz Arena in Shanghai, China.  All 18 teams are confirmed to attend - Team Secret, Virtus Pro, Evil Geniuses, ViCi Gaming, Fnatic, PSG.LGD, Team Liquid, NiP, OG, Keen Gaming, TNC Predator, Alliance, Mineski, Na'Vi, Infamous, RNG, Chaos and Newbee. The prize pool has exceeded $25 million and that of TI8 (more than $23 million added by crowdfunding) and is now over $33 million.