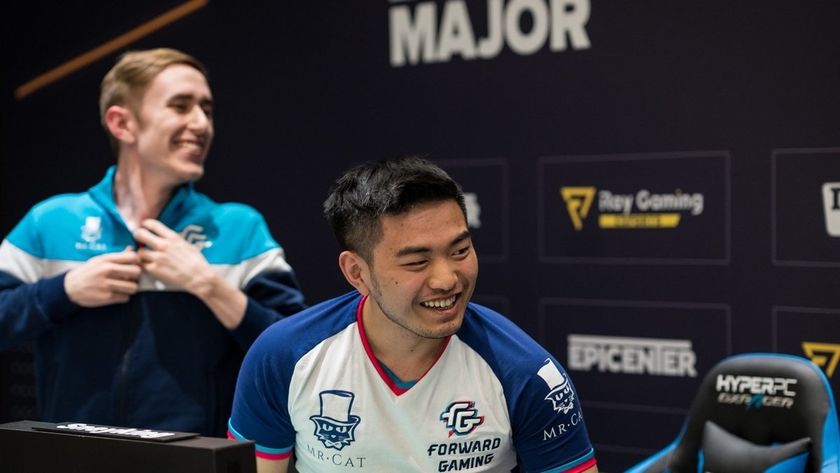 Forward, march! Final team qualified to TI9
Title image courtesy of Forward Gaming
Forward Gaming man-handled the North American region to become the final team to qualify for TI9.
Quinn 'CCnC' Callahan and company were heavy favorites coming into the regional qualifiers. After the conclusion, there was zero doubt about why that was. The team dropped just one game through the entirety of the qualifiers. One cannot help but speculate that a lengthy run at TI9 has its potential. Four of the players on Forward Gaming finished in the top eight at last year's International, so there is plenty of experience.
Forward Gaming's first loss finally arrived in game one of the Grand Finals versus J.Storm. However, Forward Gaming thoroughly demolished J.Storm in the following three games to seal the final TI9 invite. In each of those three games, Forward Gaming boasted a 1k+ net worth per minute advantage when the ancient crumbled.
Forward Gaming was impressive as a team, but Jingjun 'Sneyking' Wu stood out. Of Forward's 113 kills in the last three games, Sneyking was involved in 81 of them. Two of those games were on a highly active Axe for which J.Storm found no answers.
The conclusion of the North America regional qualifiers signals the end of the TI9 qualifiers with all 18 teams locked in. The only tournament (with TI9 participants) that remains before the event of events is The Summit 10.
Upper Bracket
Round 1 - Best of 3
Round 2 - Best of 3
Lower Bracket
Round 1 - Best of 3
Round 2 - Best of 3
Final
Forward Gaming roster:

 Yawar 'YawaR' Hassan

Quinn 'CCnC' Callahan

Jingjun 'Sneyking' Wu

Arif 'MSS' Anwar

Johan 'pieliedie' Åström
The International 9
Valve will bring the biggest Dota 2 event of the year to the Mercedes Benz Arena in Shanghai, China —home of infamous Shanghai Major of 2016.  The venue is an indoor arena located on the former grounds of Expo 2010 in Pudong, Shanghai, China, with a seating capacity for 18,000 people. All 18 teams are confirmed to attend - Team Secret, Virtus Pro, Evil Geniuses, ViCi Gaming, Fnatic, PSG.LGD, Team Liquid, NiP, OG, Keen Gaming, TNC Predator, Alliance, Mineski, Na'Vi, Infamous, RNG, Chaos and now Forward Gaming. The prize pool has exceeded $25 million and that of TI8 (more than $23 million added by crowdfunding) and is now over $28 million with one month still to go until the big event.