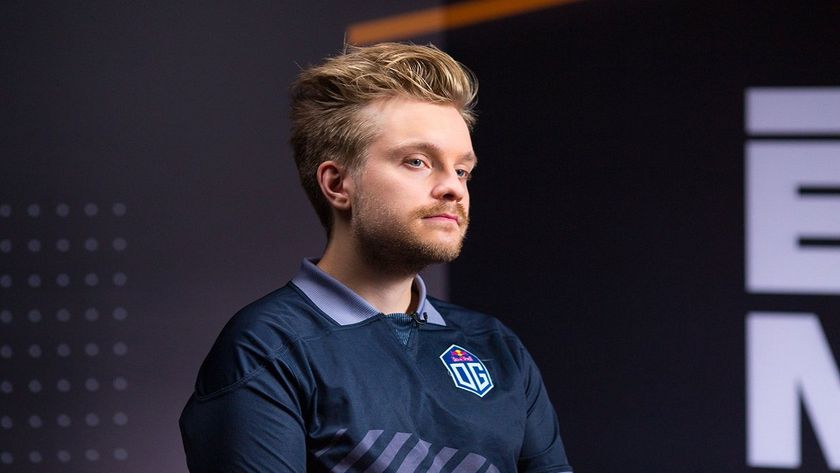 Group C and D seeding at the Epicenter Major
Title image courtesy of EPICENTER
The final groups have been decided and the playoff bracket for the final major of the 2018/2019 DPC circuit is set. 
As day two of the Epicenter Major started, eyes turned to the final two groups - in particular, Group D which has been nicknamed "The group of death." This group staged attracted much more attention than normal as Alliance, TNC Predator and OG are on the cusp of being able to claim a direct invite to TI9 and the seeding could make or break that dream. With underdog teams such as Gambit and RNG both finding themselves in the upper bracket, Alliance, TNC, and OG needed to perform.
Vici Gaming entered the tournament 4th in the DPC circuit with 6450 points to their name. Despite not needing points, this didn't stop the Chinese force. VG cruised to first in their group only losing one game to Forward Gaming across the two series. They then mowed down Alliance 2-0 to end the day for them. 
Virtus.pro appeared to be having a rough start to the major losing to Alliance 2-0.  They pulled out the Vladimir "No[o]ne" Minenko Meepo, a hero they have only played 6 times in two years, causing many to question their seriousness about the groupstage - something that comes up often. As usual, their wobbly start did not bother the CIS team as they went on to claim second in their group after sweeping through Forward Gaming and Alliance--who they demolished in a rematch at the end of the night. 
Alliance will now need to overpower Infamous in the lower brackets to keep their TI9 invite alive. 
Upper Bracket
Round 1 - Best of 3
Round 2 - Best of 3
Lower Bracket
Round 1 - Best of 3
Round 2 - Best of 3
Group D could not have kicked off with any more of an exciting match up. It had an internal battle going on as both OG and TNC went head to head as their opening matches, both needing to take the series advantage. Unfortunately for OG just before the day started, they announced that Johan 'N0tail' Sundstein was ill and would miss the group stage with coach Titouan 'Sockshka' Merloz standing in for the captain. Typically a sub would result in a penalty of a point reduction, something that OG couldn't afford right now, however in the past Virtus.pro used a standin at Chongqing Major for a day and did incur the deduction. 
.
Regardless of Sockshka's skills, a last minute change in your lineup is devastating and changes strategies and synergies, not to mention the overall mental state heading into the game. 
The end result for OG was a struggle, even a Techies pick couldn't save them. The TI8 championship team ended up in last place of their group with only one win under their belt after falling 2:1 to TNC and then being swept through by PSG.LGD. Their road to a TI9 invite will mean overpowering Evil Geniuses in the brutal best-of-one elimination series and hoping that Alliance, Gambit and RNG don't pass them up. 
A brilliant series between PSG.LGD and Ninjas in Pyjamas went the full distance, ending with a Divine Rapier from Marcus "Ace" Hoelgaard on Faceless Void and an insane base fight. Even with LGD at the fountain, they were unable to stop the void from dancing over the fountain to claim the victory.
The final game of the day saw a rematch between these two with a very different outcome. Clearly the Chinese team had learned from their battle with the team at the start of the day. 
Upper Bracket
Round 1 - Best of 3
Round 2 - Best of 3
Lower Bracket
Round 1 - Best of 3
Round 2 - Best of 3
The playoffs bracket is poised for some great Dota 2. The top two world teams - Team Secret and VP will battle it out for a hopeful final major trophy, Team Liquid is set to be put to the test with their revamped roster against the Chinese titans PSG.LGD, Gambit needs to overcome one of the most formidable teams in the circuit, ViCi Gaming, and TNC Predator and Royal Never Give Up go head to head - both eager to claim the 900 points on offer for that Bo3 and a potential Ti9 invite.
The lower brackets are no less exciting, as EG will face OG, while Alliance needs to stay in it to win it (the TI9 invite)
The action resumes on Monday, June 24th at 10:00 CEST with some upper bracket action. 
Upper Bracket
Round 3 - Best of 3
Round 4 - Best of 3
Lower Bracket
Final
EPICENTER Major
The last DPC event takes place in Moscow, Russia at the VTB Ice Palace June 22-30, with 16 teams competing for the lion's share of the $1,000,000 prize pool and more importantly, the highly coveted DPC points. The last four TI9 invites will be determined at the event, making this the most intense major of the season so far.