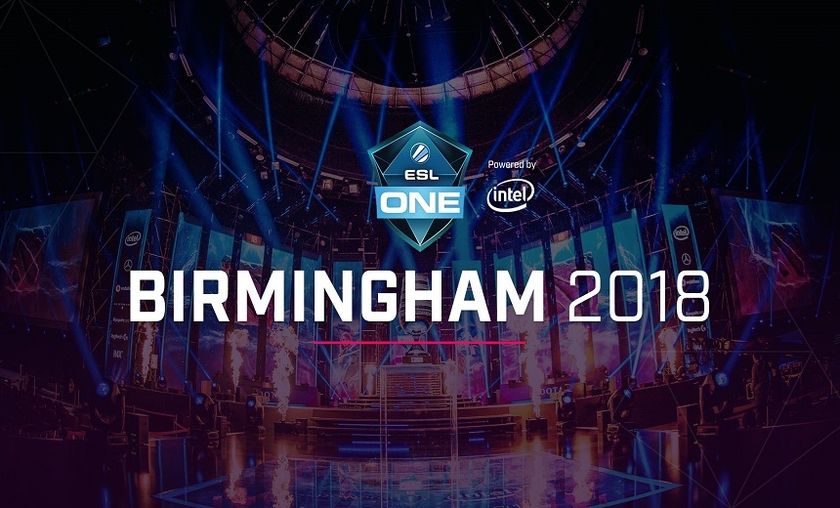 ESL One Birmingham: A Tale of Three Groups
The penultimate event of this Dota 2 Pro Circuit (DPC) season, ESL One Birmingham is a critical event for a handful of teams. Of the twelve teams attending, two have secured a direct invite to The International 8 (TI8), four are ineligible for an invite due to breaking the roster lock, and six teams are still in the hunt.
Fnatic, Evil Geniuses, and OpTic Gaming are outside of the top eight in the current rankings, while Vici Gaming, Mineski, and Newbee are more comfortably situated within it. This will be OpTic Gaming and Fnatic's last opportunity to acquire more qualifying points as neither will attend the China Dota 2 Supermajor. Fnatic need a top two finish to make it up into the top eight while OpTic Gaming need to win the tournament. Long shots, perhaps, but it'll certainly make every game they play exciting to watch.
The event has a unique format, explained here, that has the twelve teams split into three groups. Simplified, two teams from each group will be eliminated, and the rest will be seeded into the single elimination playoff bracket. Each of the three groups has a unique identity and features some compelling stories to highlight:
Group A: Make or Break
Group A features Virtus.pro, Evil Geniuses, Fnatic, and Team Spirit.
Virtus.pro is surely the strong favorites to advance from Group A. They're in first place in the DPC rankings, and with a few exceptions, have had strong performances all season. The more exciting teams to watch could be Evil Geniuses and Fnatic. Both teams are currently tenth and twelfth in the DPC, needing 600 and 900 points respectively to leap into the top eight. Evil Geniuses will get a second chance at the China Dota 2 Supermajor at the start of June, but this is Fnatic's final shot.
Fnatic and Evil Geniuses also have some history as Fnatic's off-laner, Saahil "Universe" Arora, played for Evil Geniuses for nearly four years (with a brief flirtation with Team Secret interrupting that time), competing in more than 1050 games with the organization. To top it off, Fnatic now are using former EG TI5 winner Kurtis "Aui_2000" Ling as their coach. The two teams have only met once since the roster change, a single game in the group stage Round Robin at GESC: Thailand that Fnatic won. The two kick-off the Birmingham group stage with a best-of-one that fans should not miss.
Group B: Laidback?
Group B's line-up includes Team Liquid, OG, Vici Gaming, and paiN Gaming. This group looks slightly less exciting that Group A and Group C, but don't misunderstand—Group B teams will surely be fired up to win ESL One Birmingham. It's just that Team Liquid's already secured their direct invitation, Vici Gaming is looking comfortable in sixth place in the standings, and neither OG nor paiN Gaming are eligible. So while all four teams will want the title as the UK's first Major winners and the (US)$500,000 prize, there's no real do-or-die fight happening here.
The team to keep an eye on, for me at least, is paiN Gaming. The last time we saw paiN Gaming was EPICENTER XL, where they placed 7-8th and had the strongest performance of any South American team all season. The addition of Romanian Aliwi "w33" Omar as an official member of the otherwise Brazilian team seems to be working for the squad. While they're ineligible for a direct invite because of that roster change, these are the underdogs to root for as they make their run through the group stage.
Group C: Your Guess is as Good as Anyone's
Group C is potentially a wildcard group. OpTic Gaming, Newbee, Mineski, and, to a less successful degree, LGD.Forever Young have all had ups and downs this season. While the latter team's best result was third at the Perfect World Masters in November, the other three teams have all won DPC events in 2018: Newbee won ESL One Genting 2018 at the end of January, then in April, Mineski won Dota 2 Asia Championships (DAC) 2018 and Optic Gaming won StarLadder ImbaTV Invitational Season 5.
But consistency has been a problem this season. Newbee has placed in the top four at DPC events seven times, but most recently, they fizzled out in the group stage of EPICENTER XL. They were second place at The International 7, and I've argued that they could have one of the best storylines to follow at TI8—they just need to make it there first. Sitting in seventh place in the DPC standings, they could help knock OpTic Gaming out in the group stage as the two teams face-off in a best-of-one on the first day of the tournament.
OpTic Gaming needs to win this tournament to make it into the DPC top eight—by doing so, they'd send Newbee down to eighth place with one tournament to go. OpTic won StarLadder, the last DPC event they attended, but were third in the North American Qualifier for the Supermajor. This makes Birmingham their last event this season, and it puts them in a precarious position if they have to go to Regional Qualifiers for TI8. The region's results are too volatile to be able to safely predict whether or not Optic Gaming would win.
Get Hyped
ESL One Birmingham's got an impressive assortment of teams. Some have extra motivation to do well, whether for regional pride, to earn those final direct invites to TI8, or to get some momentum going heading into the long slog through Open Qualifiers and Regional Qualifiers.
With the format Birmingham is using, we're guaranteed at least forty games of Dota 2 over the next five days. Those games could have a huge impact on whether this season is considered a success for these teams. Whether you're rooting for the top teams to keep doing well or you want to see some of the underdogs upset the leaderboards, the UK's first Dota 2 Major is a must-watch event for Dota 2 fans.
And, of course, remember: all the action will be streamed on Facebook.
Come back daily for our recaps of ESL One Birmingham!