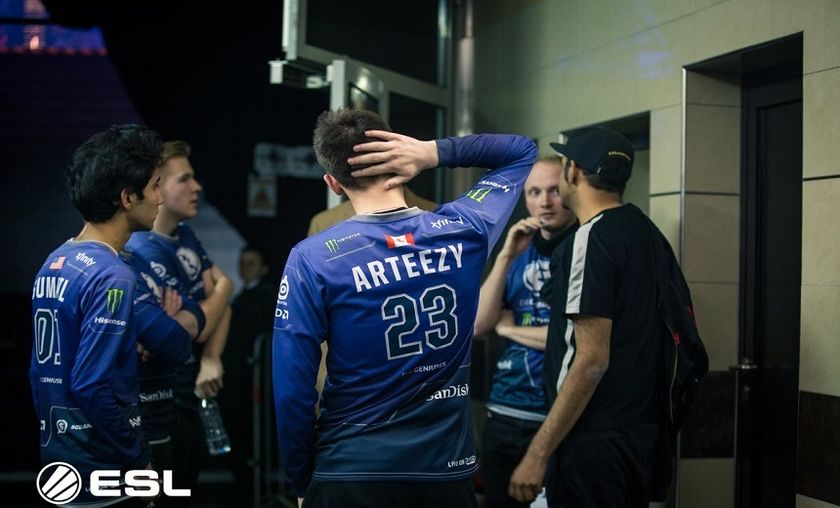 Evil Geniuses and VGJ.Thunder prevail in first day of GESC: Indonesia Minor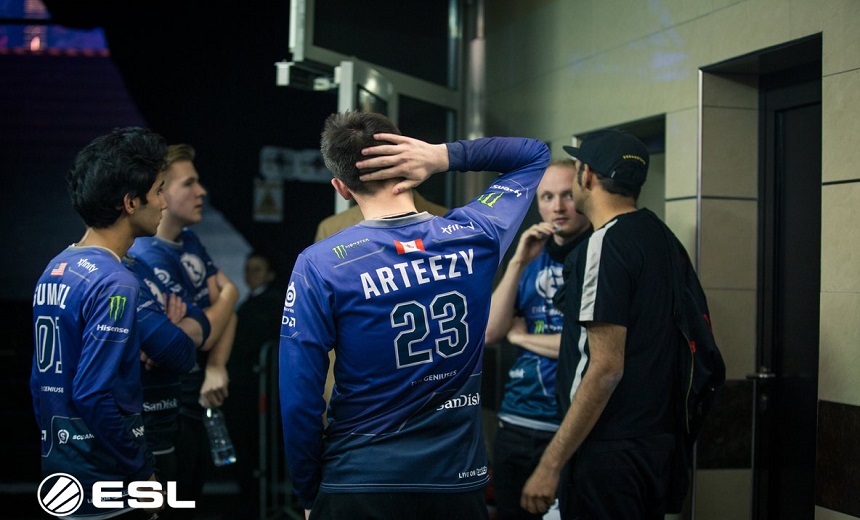 Photo courtest of ESL
The first day of GESC: Indonesia Minor has already concluded. Evil Geniuses and VGJ.Thunder have already advanced to the semi-finals. 
Sparse are the reasons to get up at two in the morning, but the Global Electronic Sports Championship is one of them. It's a cool thirty degrees Celsius in Jakarta, Indonesia - where our eight teams are set to throw-down, bringing us some first-class and hopefully air-condition Dota 2.
The international spread of teams is split into two, double-elimination brackets. The surviving four teams will then go into a single-elimination bracket, ending in a best of five grand final. All teams will start in the upper bracket and the first round games will be best-of-ones— after that, it's Bo3 till the final.
Evil Geniuses made it through unscathed, advancing to the semifinals without dropping a single match in their group. VGJ.Thunder went through after overpowering both of their opponents for a 2:0 series record.
The action will resume with tomorrow's matches to determine which two teams will advance to the quarterfinals and which four teams will need to battle it out in the best-of-one Round 1 of the playoffs starting March 17th.
GESC: Indonesia Minor Group A
Game 1 - Evil Geniuses vs Infamous
EG gave us an opening five ranged drow strat, against a more tanky based line-up from Infamous, who were looking to play round the Luna. The battle of the damage auras was incoming.
The early game was fairly even with both teams trading kills, Infamous looking to rotate and slow down the drow progression, and EG pushing objectives. Of late, the NA stars have been trying to take high-ground early and force the opponents into a defensive position. They achieved this by 16 minutes, taking not only their signature Roshan-securing tier 3, but a full set of barracks too. Item timing was just too late for Infamous and it took EG only a few more minutes to force a gg at 18.31, moving them further in the competition and sending Infamous into the lower bracket.
Game 2 - Natus Vincere vs Rex Regum Qeon
In the second group A match of the morning, the home side team RRQ played host to Na'vi.
The laning phase went Na'vi's way, with Daneil "Dendi" Ishutin shadow fiend coming out with the lion's share of the networth. Ilya "Lil-_-HaRDy" Ilyuk's rubbick was a delight to watch, making some amazing plays for his team and securing an early blink dagger, which put RRQ on the back foot. Na'vi kept their cool and didn't rush anything, saving their high-ground plays for the half-hour mark. A team-fight broke-out around the Roshan bit shortly after, and a stolen ravage by super-Lil forced a gg at 35 mins. Na'vi would now face EG to see who would move onto the semi-finals and the home side would have to fight for their place in the lower bracket.
Game 3,4 - Evil Geniuses Vs Natus Vincere.
Our first best-of-three to determine group A's first semi-final qualifier saw old friends and even older enemies take to their PC's to do a Dota three step. Game 1's draft was good for both teams, each getting themselves solid line-ups.
The first ten minutes were back and forth, neither team wanted to commit too much while they got themselves a few important items, as team-fights were the order of the day. EG managed to push Na'vi back to their base with a number of successful engagements but the Naga songs were proving troublesome. Once bitten EG, stayed back and played around Roshan until they could secure themselves some BKBs. Those coupled with the Artour "Arteezy" Babaev Lifestealer rage, the Naga was soon set packing and EG claimed game one.
The second game saw a switch of the draft intentions from both teams. Na'vi's Lil, even grabbed himself a lesser seen Shadow Demon to counter the RTZ Luna.
The laning stage went EG's way and they claimed high-ground damage at just 12 mins, while Na'vi were still trying to get their Morphling online. Just like game one, the NA side kept Na'vi locked in their base and starved for farm. It was looking like a quicker victory than game one, so Na'vi decided to go on the offensive and catch EG at the Roshan pit. The ravage from Victor "GeneRal-qw" Nigrini was exquisite, and it looked like Na'vi weren't going quietly into the night.  Andreas "Cr1t" Nielsen quickly put down the notion of a comeback with a rubbick-ravage-revenge counter-initiation and that was all she wrote for game 2. EG secured themselves the early spot in the final four, and Na'vi will get one more chance in the lower bracket.
GESC: Indonesia Minor Group B
Game 1 - VGJ.Thunder vs The Final Tribe
It's nice to see new blood in the Dota 2 scene, and the all Swedish team looked to take a diverse set of heroes to try and tame the pressure from VGJ.Thunder's line-up.
The Scandinavians showed their quality, making the first twenty minutes difficult for Thunder, matching their aggression and pushing power with rotations and objective grabs of their own. TFT got some work done with their farmed-up Terrorblade, even cracking a tier 3 on the Chinese team's high-ground.  It's wasn't enough though, as the combination of Jia Jun "Sylar" Liu's Weaver and the mid Tinker proved too much allowing VGJ.Thunder to become victorious.
Game 2 - Fnatic vs Digital Chaos
In the last best-of-one for the morning, the rising Fnatic took on a returning fan favorite; DC. The NA side chose to play around an Io, Beastmaster, combo, whereas Fnatic picked themselves a more mobile squad.
It started badly for the returning DC, with the score standing at 17 - 3 against them at around the 20-minute mark. Good game sense and rotations from Fnatic made it look like a fast trip to the lower bracket for the Americans. DC showed some true grit and fought back against the Fnatic pushes, but a 10k early lead was too much of a deficit to come back from, and after 32 minutes of the game gone and their base in shambles, DC bowed-out letting Fnatic face VGJ.Thunder in round two.
Games 3,4,5 - Fnatic vs VGJ.Thunder.
The last series of the day saw Malaysia based Fnatic take on their Asian cousins for the second semi-final spot up for grabs for the day. VGJ.Thunder drafted a magic heavy lineup, looking to get a mid Lina back into the meta. Fnatic chose to counter-draft, picking some hard push in with the Nature's Prophet and team fight with Enimga.
Both teams rotated heavily in the first ten minutes with varying degrees of success, but Fnatic did come out on top, with Johan "pieliedie" Astrom applying good lane pressure to give his team space. VGJ.Thunder then played from behind while Fnatic pushed into them. Sylar's faceless void was all but shut-down, not able to get anything done with offensive chronos and spend lots of farming time stuck in his own base.  At 25 mins it seems as if the VGJ.Thunder defensives were going to hold off the enemy hordes all day, but a disastrous team fight for them finally left them defenseless and the GG was called just before 40 mins.
Game 2, VGJ.Thunder came to play. They drafted a little greedily, but so did Fnatic, both teams looking to play around three strong cores.
The pressure and presence came early from Thunder and they pushed into an early lead in all aspects very early on. There was strong signs of life from Fnatic in the mid-game as they tried to even up the kill score, but each attempt cost them a part of their base, and by the time they were ready to contest that, the game was over. Which meant we went to a game three.
Two solid line-ups set the stage for an exciting decider game to end the first day at GESC.
Despite Pan "Fade" Yi making a nuisance of himself in the laning phase, both sides got to the 11 min mark with eight kills each and a barely mentionable network difference. Jacky "Eternal Envy" Mao's Luna then saw a lot of aggressive hunting as Thunder tried to lock-out her late game potential. The Chinese team kept amazing map vision and were able to find themselves multiple pick-offs and sway the advantage well in their favor. At around the 30 min mark VGJ.Thunder charged into midlane and forced Fnatic to defend, which resulted in them getting expunged in their entirety and losing two full lanes in racks.
It looked all over at that point, but Fnatic managed to sneak a Roshan and sacrificed their last lane of racks to let Envy grab a rapier to make an epic last stand. And epic it was. For a moment it looked like Fnatic could hold, but they're not called "last" stands for nothing. There were casualties on both sides, but in the end, Thunder and their mega-creeps took the throne, the game and the series 2 - 1. We'll see them again in the semi-finals, while Fnatic will get another try against the winners of DC and Final Tribe, tomorrow.
Is Dota of that standard worth getting up for in the middle of the night? Of course it is! So much so I'm going to do it again tomorrow, see you then for day two of the GSEC.