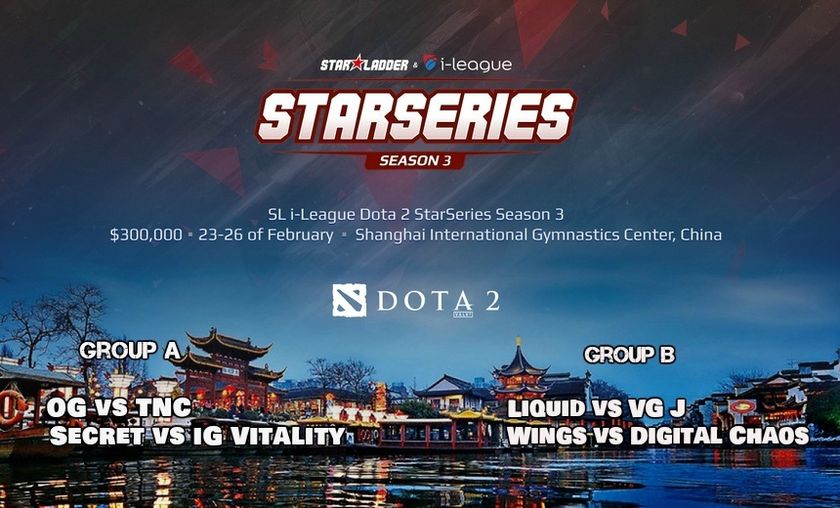 SL i-League StarSeries S3: groups are drawn
The StarLadder i-league StarSeries has prepared for the participants a GSL group stage into a single elimination playoffs bracket. Is this a dress rehearsal for the Kiev Major?
The two directly invited teams, OG and Wings Gaming are placed in different groups, for obvious reasons, while the rest of the six qualified squads have been drawn and paired randomly. In group A, the Southeast Asia qualifiers winners,TNC will face against OG in the beginning, and iG.Vitality will be playing their first series against Team Secret. The other group will kick off with Vici Gaming J taking off against Team Liquid while Wings Gaming will be fighting against Digital Chaos.
Group A:
Upper Bracket
Round 1 - Best of 3
Round 2 - Best of 3
Lower Bracket
Round 1 - Best of 3
Round 2 - Best of 3
Group B: 
Upper Bracket
Round 1 - Best of 3
Round 2 - Best of 3
Lower Bracket
Round 1 - Best of 3
Round 2 - Best of 3
Four teams will be left behind after the group stage as only the top two of each group will advance into the single elimination playoffs bracket. Taking into consideration that SL i-League StarSeries S3 is the last LAN before the Kiev Major invites, each game becomes even more crucial for almost all the participants. The only ones who can afford to take the event as a rehearsal are OG and DC who are much likely to receive a direct invite to the upcoming Major.
OG are the Boston Major Champions and have a good second place finish achieved at the end of January at the Dota Pit Season 5 LAN while Digital Chaos are the ESL One Genting Champions, which should pretty much ensure them the Kiev Major invite.
For the rest of the teams, including the TI6 Champions, Wings Gaming who have been lacking on the strong performances department for a while now, this third season of StarLadder i-League is their last chance for a direct invite to Kiev.
StarLadder i-League Star Series Season 3 will be taking place at the International Gymnastics Center from Shanghai, China and it is set to kick off in just three days, on the 23rd of February with the group stage. The playoffs will be played on the last day of the event, Sunday, February 26. The first semifinals are promised to commence at 10:00 CST (03:00 CET) followed at 13:00 CST (06:00 CET) by the second semifinals. The grand finals will be bo5 and are scheduled to begin at 18:00 CST (10:00 CET).   
For those interested to attend the live event, tickets are on sale via damai.cn.