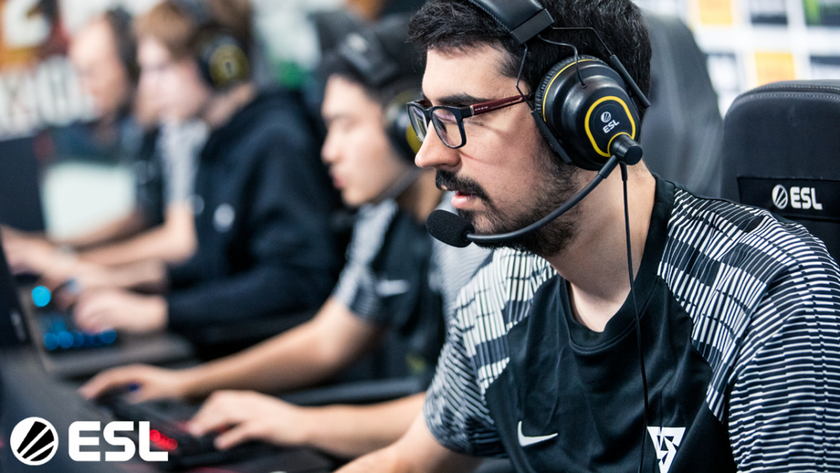 Interview with Tundra Esports' support Saksa: "The game has needed a map change for a while now"
GosuGamers caught up with Tundra Esports' position 4 player Saksa to talk about how he is adapting to life with his new team.
Martin "Saksa" Sazdov is a veteran of the Dota 2 scene, and one of the most reliable position 4 players out there. After a year with OG, Saksa is now plying his trade with Tundra Esports, and the team is looking good. We caught up with the North Macedonian to talk about the recent Stockholm Major, his experience with Tundra Esports, the current Dota 2 meta and the DPC system, amongst other things.
*This interview was conducted before the release of Dota 2 patch 7.31d.
_____________________________________________________________
Hello Saksa, how's it going? Are you back home taking a break or have preparations for the next season already begun?
Hello! It's going well. I had a bit of a break for a few days, but preparations for next season have started and I'm getting back into it.
Congratulations on making it to the top 3 at the Stockholm Major! Are you happy with where Tundra Esports finished, or were you expecting to do better?
It's not a bad result by any means, so we're happy with that. But there was a bit of disappointment since we were in really good form and could have gone all the way. We just didn't perform well during the last few days. Going unbeaten throughout the group stages and then carrying that on through the early knockout stage shows how well the team has gelled, which is quite pleasing.
You guys beat OG quite comfortably in the group stages. What changed in the playoffs?
OG changed a lot after the group stages and they adapted over the course of the main bracket run. I would say it was a completely different team.
You played with OG for a year. Does this OG team have a similar philosophy to what you guys had, or does it feel like a completely different team? Are they the team to beat going ahead after their Stockholm Major win?
Maybe the philosophy is similar, but the way they play is pretty different from previous iterations of OG. This team is quite farm heavy and focuses on their cores having a good game, which then in turn drives the overall game. They are definitely one of the best teams out there right now and yes, are probably the team to beat.
"OG are definitely one of the best teams out there right now"
The EU Dota 2 scene has undergone a significant change in the past few DPC seasons. Teams like Team Secret and Nigma Galaxy that were contenders for the top spot are finding it a challenge to make it to the Majors, while Gaimin Gladiators, Tundra and the new OG roster, who weren't in the picture a year ago, are dominating. What do you think brought about this change?
I think it is mostly because of the DPC format. With the current 6 week long DPC format, the meta changes from week to week and you constantly have to adapt and improve your strategies. Some of the older teams don't have the energy and focus compared to the younger teams. Going ahead, we are bound to see more young players come to the fore and perhaps, some of the old guard will bring young players to their teams.
Who does the drafting and shot-calling in games for Tundra? Is it mostly Sneyking, or does everyone pitch in?
During drafts, it's mostly Jing "Sneyking" Wu and Kurtis "Aui" Ling. Other members just pitch in for their heroes most of the time. In-game, Sneyking does most of the shot-calling, and then the remaining players chime in when they hit a certain timing and feel strong in the game.
You've been in the Dota 2 scene for a long time. Have you witnessed a major improvement in any of the other regions during that time?
There has been improvement in the CIS (Eastern EU) region. Other than Virtus.pro, there weren't any other teams that stood out previously. But now you see Team Spirit, the new VP and some other teams popping up in the region. South America did well at the Stockholm Major, and so did TSM FTX from North America, when historically, those regions haven't fared so well.
Let's talk about the meta – how do you like the current meta that has evolved around patch 7.31? Does it feel very similar to the TI10 meta, or not so much?
Personally, I'm tired of the current meta. I think the game has needed a map change for a while now, and I thought they would add it in the last patch [patch 7.31]. I'm hoping it will happen for the coming season, as things have become really stale. It does feel pretty similar to TI10 I suppose, which is why I feel a big change is needed.
"I think the game has needed a map change for a while now"
How does the position 4 role feels right now?
The position 4 role seems okay right now. As it stands, it is very mid focused for the 4, 6 and 8 minute runes. It is important to secure those for your mid laner, so that he can snowball off it. Other than that, I don't really have any specific opinions. Maybe they can get rid of the tower armor for safe laners, so they don't have that free advantage!
What would you like to see in patch 7.32 when it finally arrives? Are you excited to have Marci and Primal Beast available in Captains Mode?
Map changes, and maybe changes to the game economy as well since it feels like the game is favored towards playing with 3 cores and farming. Previously, you had one at least one playmaker in every team. I haven't seen Primal Beast in my pubs for a while, so I am curious to see how good the hero will be in professional games. Before the nerfs, he was a menace in every game in which he was picked.
What improvements would you make in the DPC Leagues or DPC Majors, if any? A lot of players believe the leagues are too stretched out, do you think so as well?
Yes, as far as I know, everyone thinks that the DPC Leagues are too stretched. I would like to see them cut in half to make space for third party tournaments or even a 4th DPC season. There is no reason for the DPC Leagues to be as long as they are right now.
"I would like to see the DPC Leagues cut in half to make space for third party tournaments or even a 4th DPC season"
How popular is esports in North Macedonia? Is Dota 2 popular? Are you a well-known entity in the country?
Esports in general is not that popular in Macedonia. Dota 2 is popular amongst guys aged 20-35, but not so much really with the new generations. I have been recognized by people from time to time, so I think a fair amount of people know me since I'm the only professional player who has played in big tournaments/teams.
What does Saksa love doing when he isn't playing Dota 2?
I watch anime, go for walks, spend time with my family, girlfriend or friends and do a lot of other random things.
Thank you for your time, Saksa! Any shoutouts?
Shoutout to my niece Anja.