TI10 Invictus Gaming - no question mark about them
Invictus Gaming is without a doubt one of China's sharpest weapons in the battle for the TI10 title.
China is thirsty for a big victory on The international stage. This year's edition of TI marks five straight years since this region last touched the Aegis of Champions, and this surely will spur all Chinese teams to fight to the last breath in order to bring home the most coveted Dota 2 trophy.
Invictus Gaming is without a doubt one of China's sharpest weapons in the battle for the TI10 title, but the whole journey of regaining the status they had back in the old TI2 days wasn't easy and it took several years. Going from TI winners in 2012 to organization's lowest point in 2016 and 2019 when they didn't even qualify for the biggest Dota 2 tournament, iG is one of the teams that experienced firsthand the regions' struggle to find new talent.
 
Forging champions
Much like all Chinese organizations, iG has always operated with a main team and a varsity one,  where they put all their efforts into nurturing the next generation of elite players. Despite the Dota 2 ecosystem not being built to help initiatives like this, iG, for instance, is the organization that found the back to back TI champion with OG, Anathan "ana" Pham, who was brought in 2016 to the iG house to be trained so one day he could replace Luo "Ferrari_430" Feichi in the mid lane. Players such Zhang "Eurus/Paparazi" Chengjun have also made their debut at iG and were nurtured under the guidance of old China's veterans such Xu "BurNIng" Zhilei or Bai "rOtK" Fan.
Fast forward to the present days, iG has once again managed to shape true warriors and be ready to aim at the Aegis.
Following the disastrous 2018 and 2019 TI campaigns, the organization looked into other regions to boost their ranks and found the Malaysian players Thiay "JT-" Jun and Chan "Oli~" Chon Kien, who perfectly gelled with Zhou "Emo" Yi, one of the youngest mid lane players coming at TI10. Much like Ana and Eurus in the past, Emo made his breakout at iG.Vitality where he first played when he was just 17 years old. Less than six months after being recruited at iG.Vitality, he was promoted to the main team, in September of 2018, and in the meantime, his former team captain, Su "super" Peng, has decided to step down from active play and come to the main team as a full-time coach in order to dedicate all of his resources to the final goal, which is TI10.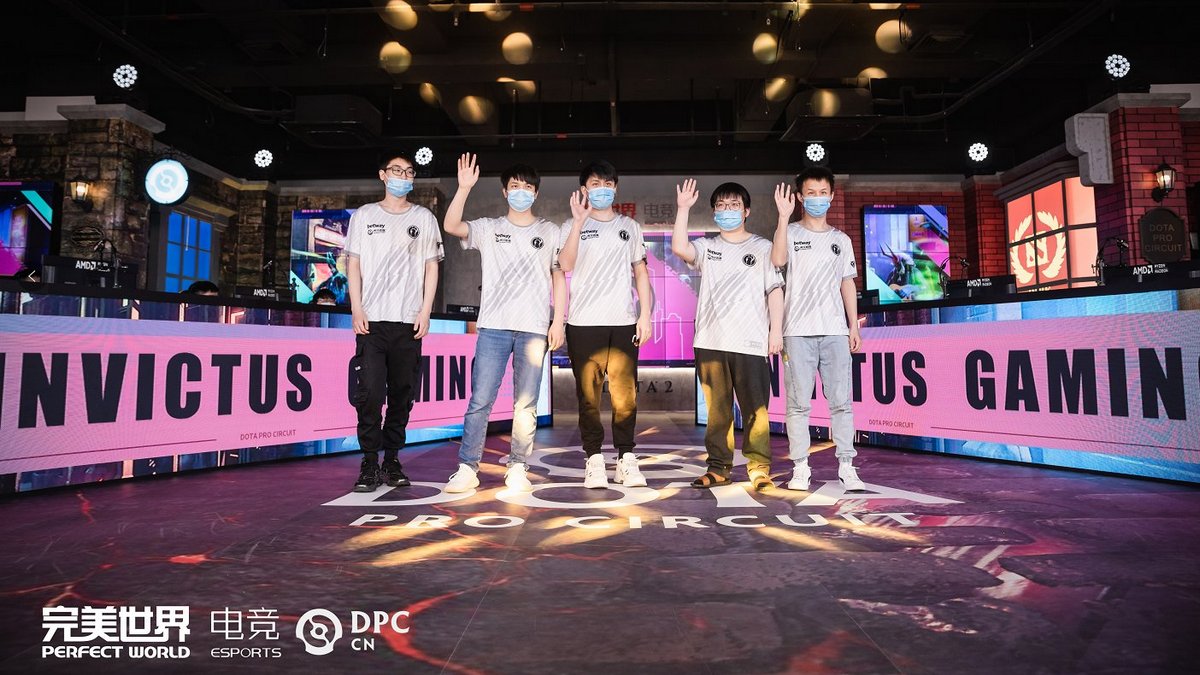 Invictus Gaming roster:
Zhiyi "flyfly" Jin

Yi "Emo" Zhou

Jun Wen "JT-" Thiay

Liangzhi "KAKA" Hu

Chon Kien "Oli" Chan
coach:
Su "super." Peng
 
 A new beginning 
During the three years under the iG roof, Emo developed from a pub star into a full-fledged mid lane beast. His flashy plays are now even more damaging to the opposing team as his map awareness and game sense are spot on. Also, having Kaka, a TI finalist in 2017 with Newbee, and an experienced team captain in the support four position, elevated his aggression. Looking back only at this year's performance from Emo, it is abundantly clear that he is ready to step on the TI stage with no anxiety, regardless of who is on the other side of the river.
The same applies for JT, who made his true breakout with iG back in 2019 at Dota Summit 11 Minor. He was the MVP of his team and his Timbersaw, Leshrac and Magnus were key factors in iG's complete domination. That was in fact the tournament that signaled iG's comeback onto the tier one scene.
By winning that Minor, iG secured the final spot at the MDL Chengdu Major where they placed top three, but their steady increase in rankings was abruptly interrupted when the pandemic hit, and everyone had to retreat to regional online competitions only.
To some extent, the fact that they had to play for a full year only via online China leagues, made everyone from the western scene almost forget about this team's rebirth, and 20 online tournaments later, when iG came to the first Major of 2021 as China's Dota Pro Circuit season 1 league first seed team, their impeccable team fight, and Emo's confidence knocked out everyone between them and the title.
ONE Esports Singapore Major remains engraved into the fan's memory courtesy of Emo. Besides his dazzling Void Spirit plays, his "?" typed in the all-chat after killing Artour "Arteezy" Babaev in a decisive high ground assault in game five of the grand finals is the newest Dota 2 meme. But besides the entertaining value of his question mark, the simple fact that he typed it in a match with such a high stake, showed his confidence and at the same time, it showed the fact that he really enjoys his time despite the stressful environment of a Major grand final.
Heading into the second Major of the year, iG preferred not to change much in their hero pool and overall strategies, despite the fact that a new patch was released and that pushed them a bit behind in the second season of DPC leagues. Coming to the AniMajor with a wild card seed, their performance was hindered even more as they couldn't arrive in Ukraine in the full formula. They didn't make it out of the wild cards and returned home with just a 15th place finish.
However, the fact that they didn't get to show too much on a LAN setup could play to their advantage at TI10. Since the AniMajor, iG are keeping their players in shape by playing in the few online tournaments for their region. Most recently, they sailed through the group stage matches at OGA Dota PIT Season 5: China and are currently fighting for a place in the grand finals. Starting with August 18 they will also play at i-League 2021 Season 2, which has a big chance to be their only tournament before TI10 on the yet-to-be-released 7.30 patch.
 
Invictus Gaming's claim at the Aegis 
iG is without a doubt one of the teams to beat at The International 10. They do have three TI debutants in Emo, JT, and Oli, but this year's edition will feature a lot of teams coming with first-timers. Their big battles will most probably be held with Evil Geniuses, who luckily for them is one of the western teams they know the most, with their fellow countrymen from PSG.LGD, VG, Elephant and Aster, and most likely with OG.
Depending on how they come out from the early group stage, iG have all the promises to reclaim the Aegis eight years after the organization's first victory at TI2. Their team fight is flawless, so was their understanding of the meta at Singapore Major. If they show up with the same energy as they did in Singapore and if the TI pressure will not crush their debutants, the Dota 2 fans should expect a great story to be written by Invictus Gaming this October in Bucharest, Romania.