A bug in Dota 2 all but ensures three North American teams qualifying for TI10
Call it a bug or a feature, but the unusual interaction between a hero dying in the middle of Tiny's Toss and buyback will ensure three NA teams at TI10.
It's not an unheard story in Dota 2 that a bug in the game has such massive impacts that it affects which teams will be travelling to the coveted The International at the end of the Dota 2 season. But there is a first time for everything, and it seems it has happened!
The moment came in the second game between Quincy Crew and Evil Geniuses in their Upper Division NA DPC League face off. Evil Geniuses were leading 1-0 and game 2 was an extremely close affair, with Yawar "Yawar" Hasan's Medusa and Artour "Arteezy" Babaev's Luna, both carrying Divine Rapiers, ready for the game deciding fight. The fight in question broke out in the 50th minute, and as the pieces fell in place after the chaos, it was Abed "Abed" Yusop's Tiny and Arteezy's Luna taking on Yawar's Medusa. They got her down to around 700 HP and 0 mana, when Abed went ahead to use the Avalanche-Toss combo, that ended up killing her.
 

Medusa bought back right away, and ended up in the exact same position she had died! The reason for that is a well known bug that has existed in Dota 2 for a long time. A hero that dies mid Toss and buys back comes back to the place where the Toss occurred. Of course, even though everyone knows about it, no one expects it, and neither did Yawar! Quinn "CCnC" Callahan in his interview after the series mentioned that all of them were surprised to see the Medusa back in the fight right away.
Long story short, the Dusa being there helped Quincy Crew win the fight and take the game. They went on to take game 3 as well, to win the series 2-1 and ended up at the top of the NA DPC League (Season 2), gaining 500 DPC points in the process.  They have a total of 800 DPC points with that, with over a 99% chance to get the direct invite to TI10.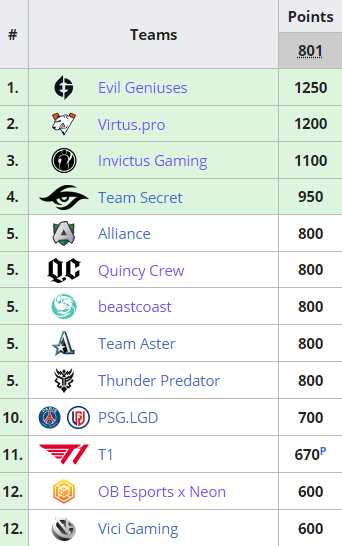 Imagine if the bug hadn't altered the path of the game. There was a good chance Arteezy's Luna would have picked up the second Rapier and EG would have gone on to win the game. They would have finished in first position in the NA DPC League, with Quincy Crew in second with 300 DPC points. Quincy Crew would have had 600 points only, and would have had to play in the group stages of the WePlay AniMajor, without having a direct playoff spot. That would mean 200 DPC points lower than they have now, and a higher chance to be eliminated before earning any DPC points at the Major. In that scenario, there was a strong possibility Quincy Crew would not have earned a direct invite to TI10 and would have had to play the North American qualifiers, limiting the number of NA teams at TI10 to just two (EG has already punched their ticket to Stockholm).
In the current scenario, Quincy Crew will end up getting the invite to TI10 and the NA qualifiers will be open to Undying and 4Zoomers – who are the two best teams after EG and Quincy Crew – to battle it out for a place at the biggest Dota 2 event of the year (not that other teams can't battle it out, but these two teams would be the favorites to get that qualifier spot). Look at it as a bug or a feature of the game (now that it has been around for many years), but had Abed not used Toss at that moment, the North American qualifying hopefuls would have had to bank on a big performance from Quincy Crew at the WePlay AniMajor. The additional team gives at The International will give North America a chance to show how good they are as a region and make a case for having three teams at DPC Majors from next year. All hail Toss!