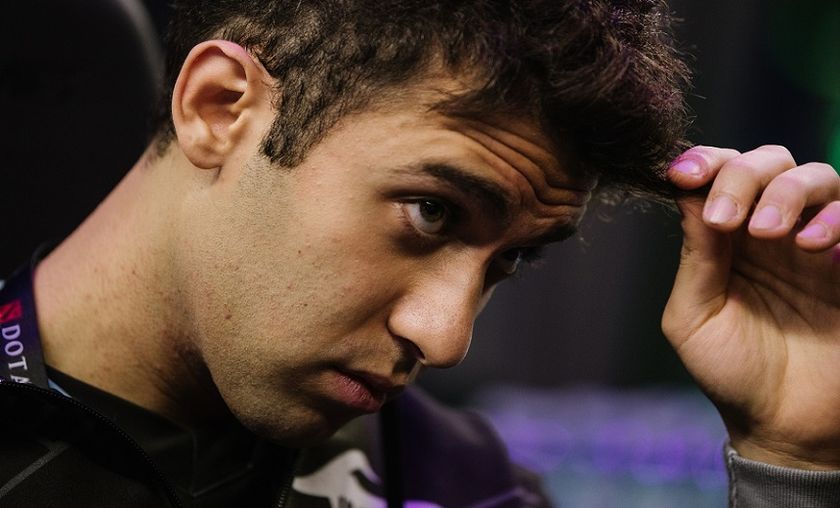 Daeja's View: Not all Fun and Games

YapzOr of Team Secret at The International 8; Photo courtesy of Valve.
From chasing the dream to defining that dream, Daeja's View has recently looked at some of the foundational aspects of playing professional Dota 2. This week let's talk about the hard truths of being a pro.
Though there are many positives to playing professionally, there are also some negatives to consider.
While many of the best players in the world are on sponsored teams, collecting salaries in addition to tournament earnings, a huge portion of professional or semi-professional players lack that regular income. Being able to focus entirely on playing Dota, even just having the schedule flexibility that Dota 2 qualifiers and tournaments require, surely makes having a second job difficult. Team Secret's Yazied "YapzOr" Jaradat commented, "Of course, you have to ask how much money you're going to make out of this to build your future. Once you're done, what happens next?"
While YapzOr assured me that he planned to be involved in Dota 2 in some capacity when he was done playing, there is a question here about the longevity of Dota 2 itself. Esports is a comparatively new industry, connected to the video game industry where game turnover is quite frequent. That Dota 2 is now into its ninth year of professional play and still, there are new ways to organize the tournament landscape, new things to discover about the game, new elements being added and tweaked. This is all quite exciting and suggests long-term viability to a degree, but there are issues of developing new talent and ensuring financial viability across different tiers of play that need to be addressed before any of us get too comfortable.

GH of Team Liquid arrives at The International 7's Key Arena for the day; Photo courtesy of Valve
Playing professional Dota 2 also means committing to a demanding schedule. The travel alone can be difficult. Several players have spoken out about the toll that long flights and jet lag take on them. At TI8, Maroun "GH" Merhej of Team Liquid told me, "Usually the flights are kind of annoying cause we have to fly all the time and that troubles us sometimes because we have to rest for a couple of days before we start playing again. Usually jet lag is a certain issue."
The travel can have other consequences as well. It means leaving behind friends and family for several weeks at a time. It can be challenging to maintain healthy relationships when you cannot be physically present. YapzOr noted that while his captain, Clement "Puppey" Ivanov, has a wife and child, that relationship is remarkable because Puppey's wife is so understanding of the requirements of the job. Those requirements extend beyond travel time. He said, 
"
"What does concern a lot of players is how much time and effort this takes. A normal job you would wake up at 8 am, work 8 hours, 10 hours, go home at 6 pm… pretty normal hours.  Us, we wake up in the morning, we play until we sleep. There's almost no time for anything else, especially during tournaments. And we travel a lot. It's way too time-consuming and too, the connection between emotions is too big. The emotional investment is too big as well. It's way harder to find girlfriends, it's hard to have time for these kind of things."
Avery "SVG" Silverman, formerly of VGJ.Storm and now with Forward Gaming, also spoke to me about the investment that Dota 2 requires.
"
The level of commitment it requires, and the lifestyle that comes with that. You have to make more sacrifices, which is true of many jobs, but I think the gains for those sacrifices don't manifest themselves as quickly as other industries…. A tangible example is I don't even have an apartment or anything, because I literally am not anywhere for more than two weeks at a time, and 90% of the year I'm either traveling or another facility or at something like [TI8]. There's no anchors. It's a trade-off. You could argue it's a benefit of the job, but it gets tiring after a while. I think it's the same for most people, whether it's sports athletes or musicians on tour, it becomes a burden and catches up with you. "
Last year's Dota 2 Pro Circuit (DPC) was packed with twenty-two tournaments, and players were stretched thin trying to qualify and attend as many as possible in order to earn their ticket to TI8. Season 2 of the DPC features ten tournaments. This could provide teams with more flexibility in their schedules to attend non-DPC tournaments, rest, and train without the pressure of constantly grinding out DPC events.
We've already seen OG, the winners of TI8, take off the first Minor and Major of the year. While other teams may not feel they're able to get that break, there will be more gaps in the schedule where they could take that time.
All of that said, I don't think any of the players were speaking only about their experiences in the last year. Playing Dota 2 professionally is an all-consuming occupation, requiring focus and commitment to hone skills, develop teams, and find those opportunities to shine competitively.
It may not be an easy job, but everyone that I talked to at TI8 spoke about their passion for the game. Many talked about how much fun they still have playing Dota 2, and that as long as they still enjoy it, they remain committed to being pros. That gives me hope that we'll all be able to enjoy watching these players for many years to come.