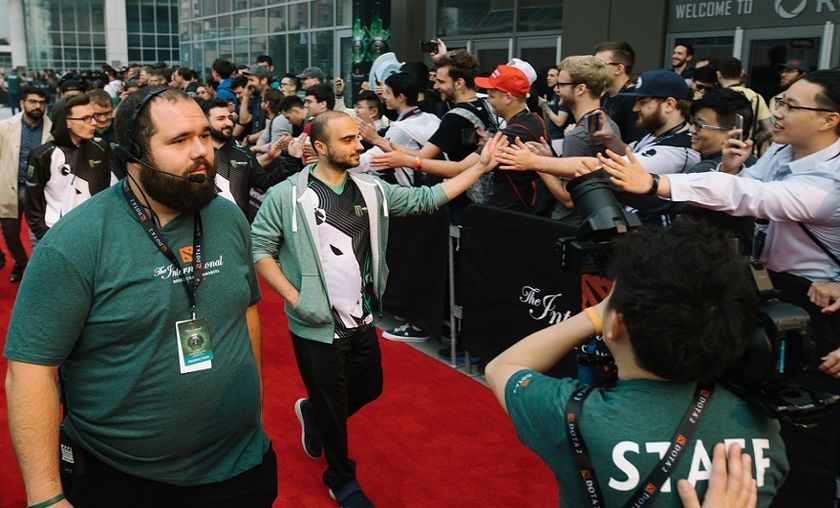 Daeja's View: The Benefits of Being a Pro

Dozens of fans lined up every morning at TI8 just to see their favorite players arrive; Photo courtesy of Valve.
We've all had that daydream, right? The one in which we go pro, win all the tournaments, hoist the Aegis at the next TI, and hear the crowds chanting our name? Being a professional Dota 2 player--well, a tier 1 player, at least--seems amazing from the outside.
Last week, I looked at Open Qualifiers, the competitive pathway for new professional teams to make it into the Dota 2 Pro Circuit. I spoke with aspiring pro player Mereum, who told me he had taken the year off to focus on breaking into the professional scene. But what does that really mean? What are the benefits of being a professional Dota 2 player?
To start, you're being paid to do something you love. Whether you've got a contract with a salary, sponsorships, making money from streaming, selling merchandise or rely on tournament earnings, you're earning your living while doing something that you're passionate about.
If you're at the top of the game, you could easily travel the world. With tournaments everywhere from North America to Europe, China to Southeast Asia, there's plenty of opportunities to collect stamps in your passport. And while some tournaments have been a letdown in terms of the quality of hotels or food, others are incredibly luxurious. Who hasn't viewed some of the pictures and videos of these locations with envy?
As teams are picked up by larger organizations with have resources and facilities to cater to athletes, another benefit of being a professional player could be the support you acquire for living healthfully. Several squads, including North American teams compLexity Gaming and OpTic Gaming, have shared pictures of players rock climbing, working out in gyms, attending team retreats and so on. That level of care has to make a person feel pretty good.
And how about those fans? Popular players have social media followings in the tens, sometimes hundreds of thousands. Fans show up at events specifically to meet their favorite players, standing in line for signings, and photographs. Stadiums chant support for players and teams. Surely it must feel great to have that kind of support.
So what would a professional player say is the best part? When I asked Ludwig "Zai" Wahlberg and Peter "PPD" Dager at The International 8 what the best part of being a professional player was, this is what they said:
Zai: "The competition. When you're competing at something like this, and it's at such a high level, it's not often that you get to partake in this giant tournament at such a high skill level in whatever you do, whether it's playing Dota or whatever else. So just being a part of this incredibly competitive–"
PPD: "To be in the 0.1 percentage of anything you do, sometimes you need to take a step back and realize how talented and how lucky you are to be in your position."
While some players might say they do it for the money (see Syed Sumail "SumaiL" Hassan during the Evil Geniuses group interview by Kaci Aitchison at TI8), we've seen how much being the best of the best means to players. Watch the footage from any TI Grand Finals and focus on the winning team, on the emotions each of the players express when it sinks in that they have won the tournament. It's clear how much winning The International, how much the title and success really do mean to everyone.
As PPD implied, not everyone can become a professional player. Talent and luck are just the beginning, as many professionals put in years of hard work, grinding Dota 2 and looking for the right opportunity to launch them into the top tier of players. Certainly, though, there's plenty of incentives!