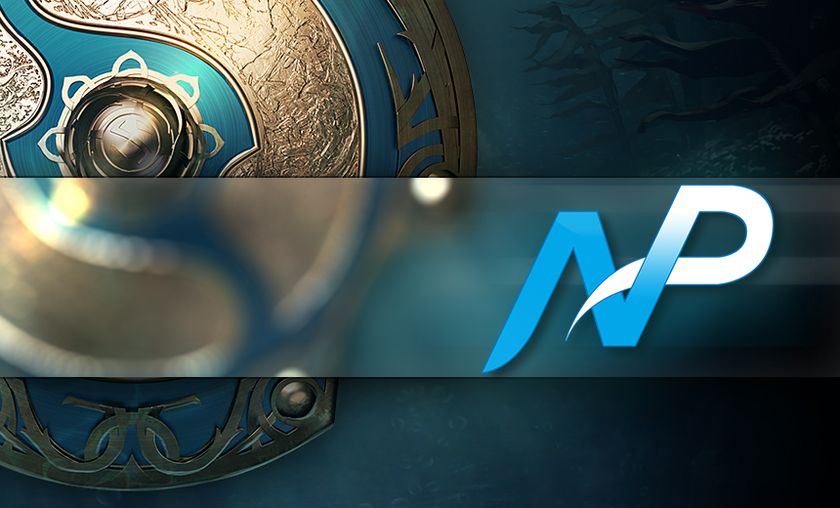 TI 7 profile: Team NP a blast from the past
Three North American teams will battle for this year's International Aegis of the Champions, all with different playstyles and hero preferences. In today's The International 2017 team profile we take a look at the first qualified squad from the NA region, Team NP.
From the blue-white colors of Cloud 9 to the blue-white colors of NP
When talking about NP, it's impossible to ignore the past. For many NP fans, and perhaps for some of the team members themselves, the road to TI 7 feels like it really started in the post TI 5 shuffle, on the 14th of August 2015, when Cloud 9 announced the release of their Dota 2 squad. Four players of the current NP roster have a long shared history together. EternaLEnVy, Aui_2000, Pieliedie and Fata used to all play under the Cloud 9 banner.
From the blue-white colors of Cloud 9 to the blue-white colors of NP, a full three years circle is closing now for Jacky Mao, also known as EternaLEnVy or EE-Sama, captain of the most famous Cloud 9 roster back in 2014-2015 and now owner and captain of NP since 2016. His reunion with three of his ex-Cloud 9 team-mates only three months before TI 7 is not a coincidence and certainly not a nostalgic move. Looking at what happened with all the former Cloud 9 teammates after they left the organization we notice that all of them registered huge successes with their new teams, with one exception.
First to leave, or more accurately the first ones kicked from Cloud 9 were Aui_2000 and Pieliedie at the beginning of 2015. Later that year Aui won The International 5 with Evil Geniuses while Cloud 9 placed 9/12th. Following the Cloud 9 disbandment, Envy and Pieliedie reunited at Team Secret and won the Shanghai Major, while Fata teamed up with Kuroky to form 5Jungz, a team that two months after its birth was signed by Team Liquid. Although not part of the current NP roster, we should also mention Notail and Misery were also members of the disbanded Cloud 9 roster from August 2015, and we all know how that turned out for them. Notail is now four times Major Champion with OG and Misery is TI 6 runner up with Digital Chaos. The one exception from this trail of success after Cloud 9 is B0ne7, who faded from the scene in the past couple of years.
From all the teammates he had at Cloud 9, Envy always pointed out that his friendship with B0ne7 goes beyond the game. So, when he formed NP along with Aui_2000, on the 7th of September 2016, it was just a matter of time until B0ne7 became the team coach. For various reasons, however, he never actively played for the team. Envy was asked on several occasions why B0ne7 didn't become an active player in NP but he refused to give the answer. Recently, after a disappointing bottom four placement at the DAC 2017, which came after losing the qualifiers for the Kiev Major, B0ne7 left the coaching position and interestingly enough, NP made their final roster change, reuniting four ex-Cloud 9 members.
Team NP's roster from position 1 to 5:
Jacky 'EternaLEnVy' Mao

 Adrian 'FATA-' Trinks

Arif 'MSS' Anwar

Kurtis 'Aui_2000' Ling

 Johan 'pieliedie' Åström 
NP's current roster was officially announced on the 4th May and it immediately became clear to everyone that Envy's team is turning into a fierce opponent. Their results achieved in just six weeks speak volumes about this team's potential.
NP's results after the latest shuffle:
1st place in the Dota Summit 7 Americas qualifiers
2nd place in the EPICENTER 2017 Americas qualifiers
3rd place at Manila Masters
2nd place at Zotac Cup
4th place at Dota Summit 7
1st place in the TI 7 NA qualifiers
In other words, after their reunion, the four ex Cloud 9 team-mates placed 4th, 3rd, and 2nd at three LAN events and had a perfect run in the TI 7 qualifiers from which they earned their tickets to Seattle from the group stage. So, for better understanding at what exactly changed for NP and how did the team became from an all over the place squad to one that might as well make it top four at this year's International, we will take a look at their statistics, drafting habits and team play.
Envy mid player
During the first iteration of Team NP, Envy played the solo mid role while Aui_2000 was the carry. For Aui_2000 it wasn't the first time playing in the safe lane, but for Envy it was the first time he would venture into the mid lane. It took time for him to adjust to the new position, and it was a bit of a bumpy road. Envy is without a doubt one of the most talented and skilled players in the scene, but this time he needed to be captain, in-game shot caller, playmaker and drafter, all at the same time. During this period NP played a lot of five man Dota, with drafts that emphasized the 10 - 12 minute mark push time. Several Drow Aura strats were played with Aui handling the hero while Envy was playing OD, QoP or Medusa, with an offlane Puck, or Batrider.
But of course that's a combo you don't get away with too often, so, when the meta allowed, (around the Northern Arena Beat Invitational time) NP got their hands dirty with the annoying Luna-Shadow Demon illusion pushing strategy. After that, for quite some time Envy spammed Mirana mid lane combined with two or three other heroes that would provide big teamfight ultimates; Mirana-Sven-Tidehunter, Mirana-Sven-Skywrath Mage, Mirana-Sven-Warlock, Mirana-Faceless Void- Naga Siren to name a few. And although all these team fighting oriented drafts yielded some success for NP, one thing was constantly happening that might be the key factor that explains why Envy's team was not a dominant one.
Envy's carry mentality and his need for vision that benefits him directly translated most of the time to having the 0 to 5 minutes wards used for vision over the opponent mid lane hero and/or over the rune close to his own offlane, which also gleaned a little bit of info for MSS. Ensuring the carry safety was in the support';s hands with their presence around the lane and the warding investment for the safe lane was actually in Sentries to deny the opponent's vision. Usually, 10 to 15 minutes into the game, the warding was still focused on the mid lane with deeper, aggressive Observers placed in between tier one and tier two towers where Envy would go gank.
One thing worth mentioning is that NP prefers to play Dire. Since September 2016, when the team was formed, NP played 226 official matches, of which 141 were as Dire and 85 as Radiant.
After the New Journey 7.00 patch, when the Roshan Pit was moved, NP has started to prioritize the warding on the Radiant offlane cliff next to the tier one tower, which is a great source of information about Radiant's rotations to gank the Dire safe lane. That warding spot remained one of their favorite until the present days.  
Now that we have a rough idea of what NP was with Envy playing in the mid lane role, let's move forward to the point where Fata- took that burden off his shoulders, Aui_2000 resumed his support position and Envy went back to the carry role. All these happened on the 4th of May 2017 with the new roster playing their first official matches 20 days later, at the Manila Masters.  
Envy back to the carry role
One of the most obvious changes in the team dynamic and gameplay was Aui_2000's impact as a very aggressive roaming support, which is completely opposed to what NP was playing with SVG and 1437. Once Aui became position 4 support, NP's drafting changed completely. One of Aui's most played hero is Treant Protector on which he boasts a 75.00% winrate (8 games in total and 6 wins). Played with an aggressive stance, the Treant is a great scouting source, a good damage output in the early ganks due to his strong right clicks, not to mention the root applied when attacking from stealth.
Another hero who became more and more popular as a support is Clockwerk, again a strong lane controller, and a very good early ganking hero as well, courtesy of his Power Cogs and Battery Assault. And as good as Aui's Treant looks, on Clockwerk he has even better stats, with an impressive 100% winrate in six games he played the hero in the 7.06 patch. One interesting thing to note is that Nyx Assassin is among Aui's most played heroes in 7.06 as well, and while he holds only a 40.00% winrate with it, Team NP actually has a 70.00% winrate with Nyx as both Pieliedie and MSS played it at times.
Bringing Fata to the mid lane in times when Lina, QoP and even Puck were hot picks in the meta, while Bristle was also a very contested hero, NP had all the good weapons to cut through their adversaries. MSS, a player who has been the constant for Team NP, always with top notch individual performances, got to truly shine now, when Legion Commander became one of the strongest counters to Bristleback and a top pick for NP, who would often draft Bristle for Envy and Legion for MSS. With the Bristleback-Legion combo NP has a 100% winrate, but what's even more impressive is MSS's individual winrate on Legion, 88.89% from 9 games played through the 7.06.
Team NP in numbers from May 25 to June 30
41 matches
31 matches as Dire
10 matches as Radiant
63.41% winrate, 26 wins/15 losses
Team NP's most played heroes in the 7.06 patch
| Hero | Total | Wins | Losses | Winrate |
| --- | --- | --- | --- | --- |
| Clockwerk | 11 | 7 | 4 | 63.64% |
| Bristleback | 11 | 6 | 5 | 54.55% |
| Nyx Assassin | 10 | 7 | 3 | 70.00% |
| Io | 10 | 7 | 3 | 70.00% |
| Ember Spirit | 10 | 6 | 4 | 60.00% |
| Lina | 10 | 6 | 4 | 60.00% |
| Queen of Pain | 9 | 7 | 2 | 77.78% |
| Treant Protector | 9 | 7 | 2 | 77.78% |
| Batrider | 9 | 5 | 4 | 55.56% |
| Legion Commander | 9 | 8 | 1 | 88.89% |
NP's most successful hero combos in the 7.06 patch
| Heroes | Total | Wins | Losses | Winrate |
| --- | --- | --- | --- | --- |
| Nyx + Io | 5 | 5 | 0 | 100% |
| Batrider + Treant | 4 | 4 | 0 | 100% |
| Clockwerk + Legion | 4 | 4 | 0 | 100% |
| Bristleback + Legion  | 3 | 3 | 0 | 100% |
| QoP + Io | 3 | 3 | 0 | 100% |
Looking at NP's playstyle with the new roster we notice that the warding pattern changed a little, the game tempo is now dictated by the early ganks provided by the supports and FATA's early laning stage success. Envy doesn't come to teamfights prematurely, prioritizing the farm over everything else, while the mid game transition is ensured by MSS who is usually ready to fight before the 15 minute mark.
In The International 7 NA qualifiers, NP played a total of 26 different heroes in 10 matches, from which Night Stalker was drafted only once, despite the fact that NS was the most contested hero of the qualifiers across all regions, with 81 picks, 237 bans and an overall 54.32% win rate. The NA qualifiers for TI 7 marked the last official match for NP, with their next appearance The International 2017 group stage, which will be held from 2nd to 5th of August in Seattle. After the TI qualifiers, Valve released the 7.06e update which brought considerable nerfs to Bristleback, Queen of Pain and Clockwerk, three heroes that NP really liked to field. So with all these in mind, get ready to be surprised once again by the EE-Sama and his nearly reformed Cloud 9 roster in a few short weeks.
Stats gathered from datdota.com, opendota.com, dotabuff.com
Click here for results, VODs and all the other information