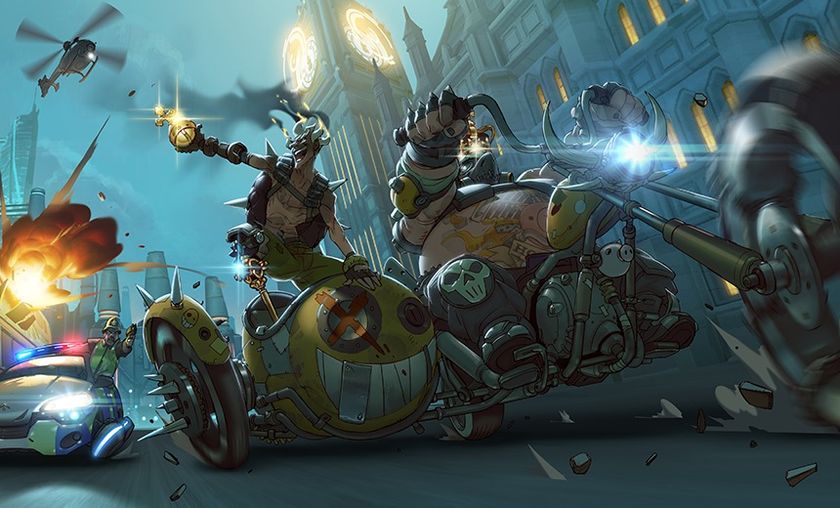 The Competitive Recap: We list what you might have missed (July 22nd - July 28th)
A lot is currently happening, and so it has become increasingly hard to keep track of everything that happened in a week. To help with that, we have compiled this Competitive Recap.
Released every week we will try to congest every tournament and important news that has happened since the last recap. Whether you are interested in the bigger news, or want to stay updated on changes in teams, you can always tune in on Thursday to see if you missed anything.
Important News:
---
ELEAGUE and FACEIT announce $300,000 Overwatch Open​
It's always exciting when big prizepool events are being announced, and especially when those events are for Overwatch. Turner's ELEAGUE partnered up with FACEIT to provide the fans the Overwatch Open, an amazing event with a $300k prizepool and top notch production from their studios in London.
This weekend's Overwatch Weeklies are sadly cancelled, but we will be back​
Seventeen. That's the number of weekends we have filled with our own GosuGamers Weeklies. Just about every Saturday, and every Sunday, in the past weeks and months have hosted a platform for ZP & hexagrams to showcase matches from some of the best teams. Unfortunately, this weekend will not make eighteen just yet, as we have decided to cancel our plans for this weekend to give some room to other organizers. We will be back soon enough though!
Optical Broadcast charity tournament - Sign ups open
With the absence of our weeklies this weekend, we wanted to highlight the following alternative that will allow you to get the desired competition as well as give you the opportunity to support charity: Optical Broadcast is organizing a weekend of events aimed at helping the German cancer foundation "deutsche Krebshilfe e.V". Due to the casual nature of especially the Saturday event, all players should feel comfortable signing up (with their friends). Registrations are handled on our website here.
Patch Notes: Sneaky patch buffs Ana, nerfs McCree​
Last weekend we already saw a patch, with Ana getting added and McCree getting some oddly timed buffs. Over the weekend, the Developers decided that Ana was slightly undertuned, while McCree maybe slightly overtuned. And so they released another patch last week, that set out to fix these issues as well as certain others.
Unique GosuGamers Content:
---
Up for Debate: ESL not allowing Ana from the start
Allowing a scene to grow and get better is not done by just passively watching what happens, but by taking action and then learning from those actions. This is why we have started a series called 'Up for Debate' in which we try to get discussion started about certain aspects of the ecosystem, with the intent of improving the scene as a whole.
Player Spotlight: LG Gods, the aggressor
For those of you who have followed our coverage for a long time, this Player Spotlight might look familiar. We are making an effort to get back to a regular schedule of giving the individual pro players the attention that they deserve, through our Player Spotlight series.
GosuGamers Power Rankings - EU Edition
A while ago we did our NA Power Rankings, and (as always) EU followed suit shortly after. Making use of our extensive database, and GosuRankings, we make it easier for you to get to know the scene and understand what teams are our current tier S/tier 1/etc teams.
Competitive Play: A Season in Review
Competitive Play was arguably the most requested feature during the Beta, and the devs delivered towards the end of it. It was slightly rushed however, and Blizzard has been tweaking all parts of the system since then. XZISST decided to take a look at the current rendition, and what he feel is still left to be improved.

Tournaments:
---
GosuGamers EU Weekly #17 - VODs - Recap
With the absence of big names yet again, but with a budding tier 2 of teams that are breaking through, the EU Weekly was very entertaining. Teams like Bringos and Sea Algae are as eager as ever, and WEUNITED especially is really coming into their own. While the EU scene might not be the largest one currently, it does have a very healthy competition.
GosuGamers NA Weekly #17 - VODs - Recap
C9, EnVyUs and LG were yet again absent, and the dominance of EU teams on the NA servers was possible because of that. Two top Asian teams, MVP Space and 1sun, were also showing their control of the game, but it was an EU team after all that managed to take the NA Weekly #17.
The first round of qualifiers ends today, with a total of 16 teams from each region (NA & EU) making it to the Final Qualifiers. Those 32 teams, some of the best around, will be playing a Double Elimination Bo5 bracket starting on August 1st, with only 4 qualifying for the offline finals at Gamescom
Overwatch Open - VODs - Recap
ELEAGUE & FACEIT's $300k tournament started last weekend, with open qualifiers for the NA and EU teams being played and broadcasted live from their studios in London. Two teams qualified directly for the next phase, while all other teams have started collecting points that might decide their future in this event as well.
Alienware Monthly Melee - July - VODs - Recap
We were back this weekend with the July edition of the Alienware Monthly Melee. Eight teams were invited to play, 7 NA + WEUNITED, and over the weekend a group stage and Double Elimination were played. In the end, the results were unsurprising but the journey is always more valuable than the destination... ;)
ZOWIE Gamestah Overwatch League
The ANZ region is lucky to have ZOWIE and Gamestah partnering up for their own Overwatch League. Week 5 is the one currently going on, and the top dogs are now clearly identified in this smaller region. Next stop: The Grand Finals that will wrap up this league, which are scheduled for the 6th of August.
Minor Transfers & Team News
---
Earlier we reported on TSM looking to individually recruit their roster, but the availability of Code7 after parting with GFE was too much to ignore. The roster is doing great regardless of all that moving around, and has shown they are capable of beating everyone (except for EnVyUs).
Northern Gaming releases their EU team and restructure their NA team
NG announced early last week that they had to say goodbye to their EU team (NG Blue). The reason given, is quite an understandable one:
"Being an entirely Swedish roster, it was very difficult for our predominantly North American infrastructure to help them out, and obviously the language barrier made it incredibly difficult to give them the support they needed.[/redquote2]
In the same Twitlonger that they used to explain this decision, they also took the time to talk about a certain player on their NA roster, and the actions that he apparently went through behind the organization's back. An interesting read indeed.
For more competitive OW news, follow @GosuOverwatch.