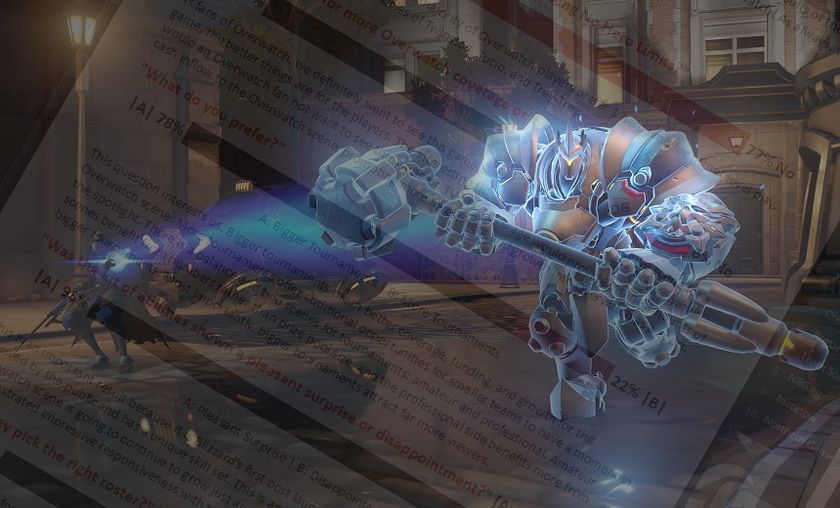 The Polls of August: Recap and Analysis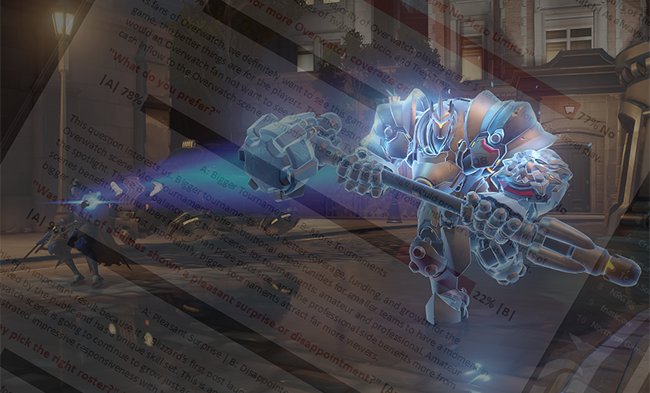 August was filled with great Overwatch news and content. We'll be taking a look at the results of the most popular polls from our articles and what they could mean for the future of Overwatch! As always, we appreciate all of our readers' time and interest in our articles!
Top 5 News article polls
"How happy are you that the GosuGamers Weeklies are back?"
|A|97% 




































































































3%|B|
A: Extremely! | B: Don't care
This is something we've heard a lot about, and fear not - the GosuGamers Overwatch Weeklies are back and better than ever. It's really important that we see this overwhelming support for the weeklies. With a whole new tournament format included, GosuGamers will continue to bring the best tournament opportunities possible. With over 300 votes, we couldn't be happier.
"Do you agree with the changes Blizzard is making?"
Yes 80% 




































































































20% No
This article covered the new ranking system in PTR. It seems as though the choruses for genji nerfs may be the driving force for this high of an approval rate, but that's just a suspicion. Mei sees a buff, while McCree, Lucio, and Zenyatta receive balancing changes. Genji gets a pure list of nerfs. These changes along with the Mercy healing buff increase should cause some huge meta shifts if this goes to the live servers.
"Do you think Rogue was the best team at the event?"
Yes! 84% 




































































































16%No
An interview right after Rogue's incredible win at the ESL Atlantic Showdown ended with this poll. It was incredible to see Rogue end the #1 team's insane win streak, but they also snatched first place from REUNITED. There was a very strong showing from the Rogue roster at LANs, and this is actually historic since it was the first major LAN event for Overwatch.
"Do you like the idea for this tournament?" [Overwatch World Cup]
|A| 52% 




































































































48% |B|
A: Yes, it sounds like a fun idea | B: No, I would rather see pro players
This is the first big "community" tournament from Blizzard. The opinions of the community are very split. I assume those in favor were seeing it as a fun community tournament, but I'm sure the more grounded minds were seeing the issues with popularity upsetting skill in who gets chosen. Thankfully, there were 2 captain's choices. This should be a very entertaining tournament to watch, and a great experience for everyone playing and watching.
"Are you looking forward to more events like this?" [The Summer Games]
Yes! 88% 




































































































12% No
The first "exclusive" Overwatch event came in the form of the Summer events. The general positive response, despite loot-box RNG only rewards, is a great sign for the future of Overwatch. These sorts of events would be crucial to keep up Overwatch traffic in-between Competitive seasons. The unique awards also offer the exclusivity and euphoria feelings when you finally get the skin you wanted. Unfortunately, those that do not receive these items are sure to feel as though they've been denied something they deserve. At the end of the day, the model Blizzard used is the absolute best. The events are meant to increase traffic and revenue, which in turn provides us with more content like maps, shorts, and characters. Hopefully the player base understands that Overwatch provides a large amount of free content, and having simple cosmetics be exclusive is a very small price to pay for free updates.
Top 5 Feature article polls
"Would you like to see more map strategy articles?"
Yes! 96% 


































































































4% No
An in-depth look at the way professional Overwatch teams play the first point of Hollywood received overwhelming positive feedback. This is great for the GosuGamers staff to see because it shows the readers appreciate this type of analysis. It can be difficult to follow along while matches are happening without reviewing the matches yourself, so these articles offer insight and a summary of the most successful methods to approach maps.
"Should Blizzard publish more information in their ban-waves?"
|A| 88% 


































































































12%|B|
A: Names and numbers | B: Keep it quiet
It seems as though the community truly wants Overwatch cheaters to be shamed. This may discourage more cheaters, it may not, but in the end the community has spoken. A clear majority wants to see the cheaters brought to light and shamed - over 250 responses were recorded for this poll. It seems as though the naming and shaming is exciting for the player base to ensure that cheaters are brought to justice.
"Would you like us to do more infographics in the future?"
Yes 99% 




































































































1% Meh
GosuGamers released an article with well designed and informative infographics based on data from the ESL Atlantic Showdown. The theme, information, and depth was very well received by the community. This is great to see that the hard work creating the infographics was not in vain, and provides good reason to continue providing infographics. There is a large amount of information to cover in Overwatch - its a great thing that people are interested in seeing it all!
"Are you satisfied with the hero changes that have happened so far?"
Yes 78% 




































































































22% No
An article covering some of the notable hero balancing acts Blizzard have done poised a question at the end asking if the community was satisfied. It seems as though the majority is satisfied, which is great to see. This means that the developers are making choices that stay in tune to player satisfaction. Interaction with the player base can be beneficial or dangerous depending on the amount. It is important to consider both the professional opinion and the public opinion, but the public is enormous. Thus, the number of differing opinions is just as vast. Regardless of the level of interaction Blizzard has with the community, their choices have been well received thus far.
"Would you want to see more Professional Player Interviews?"
Yes 98% 




































































































2% No
In this article, some text introduction is followed by the video interview. The positive feedback to these interviews are great for the professional community development in Overwatch. The players feeling the fan base is important to their continued efforts to improve. Furthermore, these interviews give insight to the inner workings of professional teams. The interest in this information is a good sign that the Overwatch community is invested in learning about professional level play. This means viewership for tournaments should continue to rise, which benefits the entire professional community.
If you enjoyed this recap on the month's popular and interesting poll questions, be sure to let us know! We see that there's a very clear majority for almost every poll question we featured here. This month definitely had the community speaking in tandem.
For more competitive Overwatch news, follow us @GosuOverwatch.