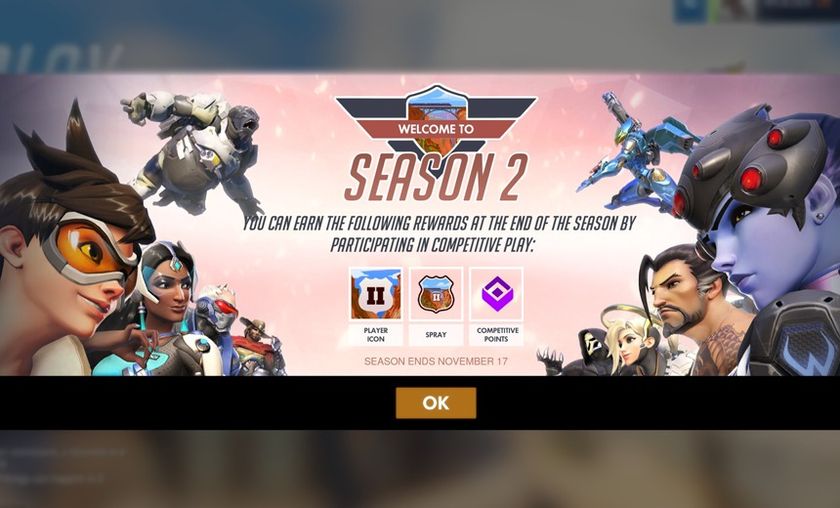 PTR Patch Notes: Season 2 preview, myriad of buffs and nerfs
Blizzard released a PTR patch today that will preview their season 2 ranking system. The patch also included a huge range of buffs and nerfs that are sure to shake up the current meta. 
Blizzard has released a gigantic patch on their public test realm today. The changes include the massive overhaul of the ranking system and a series of buffs and nerfs that will drastically rebalance the game. Blizzard has decided for season 2 of competitive play that players will be ranked in tiers as well as skill rating. Instead of the old 1-100 rating system, it will now be 1-5000 and tiers from Bronze to Grand Master. Once you have achieved a tier, you can't fall out of it even if your rating falls below that tier. Master and Grand Master are exceptions to this rule.
Among the heroes being buffed in this patch are Mercy and Mei. Mercy's healing per second has been increased to cement her role as a strong single target healer and the radius of Mei's ultimate has been increased to a huge 10 meters. These changes will certainly do a lot to make these heroes more widely used. Among the nerfs, however, are McCree, Zenyatta, Lucio and most heavily nerfed is Genji.
For the complete patch notes, click here.
Patch Notes
 Competitive Play
 
Skill rating is now measured on a 1-5000 scale instead of the former 1-100 scale
Skill Rating Tiers

Players will now be assigned to a tier, depending on their skill rating

Bronze  - 1-1499
Silver - 1500-1999
Gold - 2000-2499
Platinum - 2500-2999
Diamond - 3000-3499
Master - 3500-3999
Grandmaster - 4000-5000

In Bronze, Silver, Gold, Platinum, and Diamond tiers, a player will not drop out of their tier even if their skill rating falls below the cutoff
In Master and Grandmaster tiers, a player whose skill rating falls below the tier's minimum
 
HERO BALANCE UPDATES
Mei
Blizzard

The Blizzard projectile now pierces barriers
Radius has been increased from 8 meters to 10 meters
McCree
Deadeye

Now drains over a .25-second period (instead of displaying a 50% reduction on the ultimate meter when activated and 0% when confirmed)
 Genji
Double jump no longer resets when wall climbing
Dash

No longer deals damage to traps like Widowmaker's Venom Mine or Junkrat's Steel Trap
No longer bypasses Junkrat's Steel Trap

Swift Strike

No longer interrupts quick melee attacks

Dragonblade

Duration of Genji's ultimate has been reduced from 8 seconds to 6 seconds
 Lúcio
Amp It Up

The boosting of movement speed has been decreased by 30% (from a 100% increase to a 70% increase)
 Zenyatta
Orb of Discord

The amount of damage amplified by a target with Orb of Discord has been decreased from 50% to 30%

Orb of Destruction

Damage has been increased from 40 to 46
For more competitve Overwatch news, follow us @GosuOverwatch.