Star Series Season V announced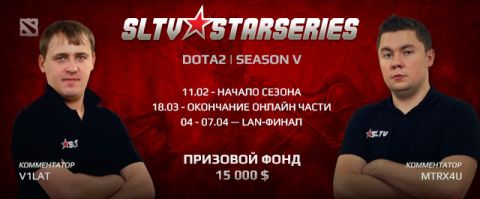 The fifth season or SLTV Star Series will feature 16 of the best European teams, competing for a prize pool of $15,000. The tournament is going to start February 11 and will conclude in the LAN finals in Kiev from April 4 to 7.
The fifth installment of Star Series has been announced with the tournament boasting a similar prize pool to last season of $15,000.
The online stage will begin on the 11th of February till the 18th of March with the LAN finals being held in Kiev from April 4 to 7. The tournament system is similar to last season; every team will have to play against all of their 15 opponents in a best-of-one. A team receives three points for a win and zero points for a loss.
The best teams will make it to the final stage which is played as a best-of-three double elemination with a best-of-five Grand Final. The tournament will be commentated by the Ukrainian trio v1lat, Casperrr and mtrx4u in Russian, whereas joinDota's TobiWan will be responsible for English coverage.
| | | | |
| --- | --- | --- | --- |
| Na'Vi | TCM | aL | Ice Climbers |
| Empire | Mousesports | No Tidehunter | Fota |
| Virtus Pro | DD | RoX.Kis | 4FC |
| eL`Pride | FnaticRC | 3DMAX | PR |
Prize Pool:
1. $8,000
2. $4,000
3. $2,000
4. $1,000
For more information on the team rosters of the tournament, click on the source down below.
Source:
StarLadder TV