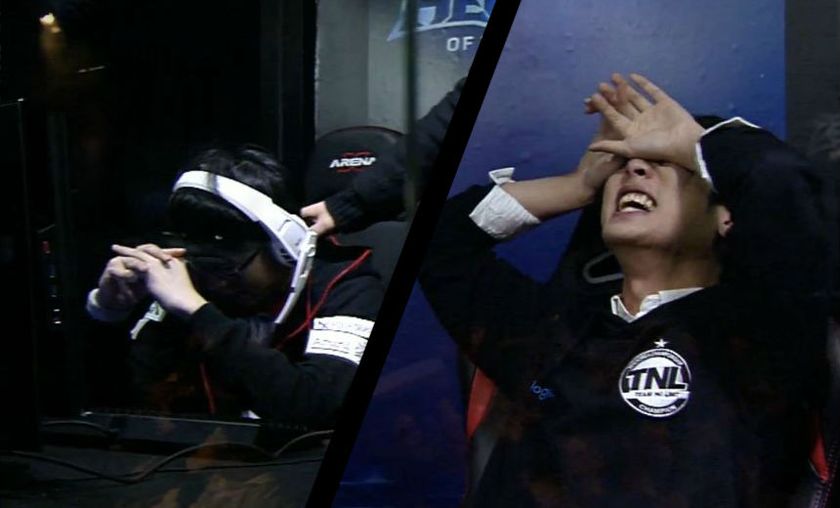 Second Korean representative for Spring Global Finals determined after grueling BO5 series

Not only was a shot at taking on MVP Black in the final on the line, but the winner between Team No Limit and Team Hero would also book themselves a spot at the Spring Global Championship.
Coverage hub
The lower bracket final for the Super League saw Team No Limit go up against Team Hero in a battle to see who might face MVP Black in the grand final. The winner would also secure a spot at the Spring Global Championship. 
The history for each of these teams is quite different, with TNL made up of Korean esports veterans, while Team Hero came into the tournament essentially as newcomers. Hero's recent results have been promising, but coming into this set in particular, TNL were the clear favorites.
Darvish's Zeratul may have had some fans in the crowd, but sCsC's Zeratul was the true MVP of the set
Games 1 and 2 were close affairs, with not much separating the two teams. A Xul+Stitches combo helped Team Hero get over the line in game one while in game two it was Noblesse's Muradin and sCsC's Zeratul that allowed TNL to secure kills and find the individual pick offs needed to take the game 2.
With the set 1-1, things started to get wild.
Bans
* This player was a stand-in for this match
TNL started drafting combo-orientated team comps, with mixed success. Their Judgment, Hinterland Blast, Disintergrate combo provided powerful burst, but without Mighty Gust or Santification their ability to control team fights and disengage was nonexistant. Team Hero were able to control the fights and the map to win the game and taking it to match point
With two victories under their belt,  Team Hero got ahead of themselves, and chose an almost unheard of strategy.
Bans
* This player was a stand-in for this match
Opting for a Starfall,Earthquake, Bloodlust that aimed to create the perfect team fight scenario, the clumsy combination of heroics got completely denied by the reliably top tier control that TNL's Zagara and Zeratul provided.
The last game of the set returned to a bit of normalcy for the drafts, but without Stitches to set up picks and establish an early advantage, Team Hero was  unable to keep up with TNL. Zeratul and Zagara again on the side of TNL allowed for total map and team fight control. It was TNL's game to lose and they made sure that didn't happen.
It was an intense B05, with CrazingMoving being brought to tears after the final victory. That ultimate high of victory was a stark contrast to the dejected mood on the Team Hero side. 
Upper Bracket
Round 1 - Best of 5
Round 2 - Best of 5
Lower Bracket
Round 1 - Best of 5
Round 2 - Best of 5
Final
With the 3-2 victory to TNL, they have set up a rematch from last year's Super League grand final. In that instance, TNL beat out MVP Black, taking the one and only seed that Korea had for the World Championship at BlizzCon. This time, both teams have already secured a spot at the Spring Championship, but with the #1 seed being able to skip the first group stage, this matchup has a lot of anticipation surrounding it.
The grand final match between MVP Black and TNL will get under way on March 20. An insane Best-of-7 match you won't want to miss.
You can watch more OGN matches at twitch.tv/ognglobal and this particular set on this past broadcast
Follow us on twitter @GosuGamersHots for more Heroes of the Storm eSports news.