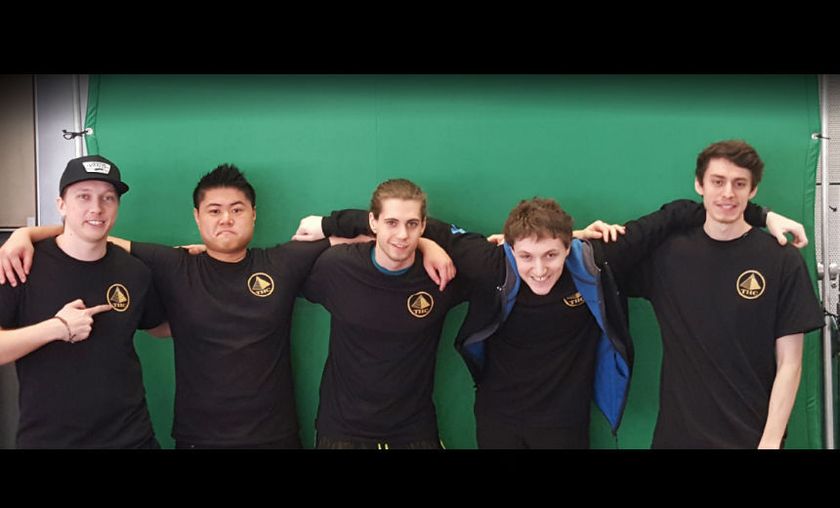 The art of changing names; An interview with Team Manager Kalabunga from Team Name Change
Hey Taylor! Thanks for taking the time to help us get to know you and Team Name Change better. First off, congrats on qualifying for Burbank. The team is newly formed and has already established themselves as one of the top teams in NA with impressive wins over both Cloud9 and BrainPower (formerly COGnitive Gaming).
To start off I want to talk a little bit about you; How did you become involved with the organization and what is your role on Team Name Change?
I was originally a player on THC White (we had THC White/Black at one point). Black disbanded before Enter the Storm #2, while White was a team from mid-November of 2015 until we disbanded after Enter the Storm  #2 in early March 2016. After that, I played on the sole Team Higher Consciousness roster until the beginning of April (school, work, real life struggles + rigorous practice time was too much on my plate) when I stepped down from main-roster player and became a sub and transitioned that into a managerial role and I've been there ever since.
What's that like?
It was always a dream of mine to be a professional gamer and I got a small taste of that when I got to play in Enter the Storm and we beat Blaze with a cheese comp on Tomb of the Spider Queen to qualify for playoffs. Even though we didn't get anywhere in the playoffs, it was still an amazing experience for me and I'm happy with how my "career" ended. Even though I no longer play competitively, I still enjoy the environment.
Is this your full-time job or are you juggling other things as well?
I wish. I'm currently engaged to a wonderful woman and we're getting married later this year so planning a wedding along with being a full-time student and working part-time during the week and the occasional weekend leaves me with little time for anything else.
Well done sir! Congrats on winning the video game. So about TNC; could you tell us about the team's beginnings? How things lined up and what it took to put it all together?
This team officially started in mid-March of 2016 after both THC White and Black disbanded. We formed one team, Team Higher Consciousness (no color this time) and focused everything on a single roster. The roster at the time was Justing, Buds, Hyonra, Elhaym (now on 2ARC) and myself. Unfortunately, that roster did not last long so we were left with Justing, Buds and myself. After a few weeks of constant roster changes and tryouts, we settled on Justing, Buds, HaoNguyen, Grizz and ishb00. The night before the 2nd qualifier for Dreamhack Austin, Grizz was replaced by MATRE and we practiced for roughly 2  hours. The morning of the qualifier, MATRE suggested we use Prismaticism since they had recently played together on their team that disbanded the night before the qualifier. THC ended up qualifying for Dreamhack Austin after a brutal 2-1 series against Brain Power (former COG) and a sweep of Astral Authority (Gust or Bust). I still find it hard to believe that this team qualified for a major event without having any real practice together. It blows my mind and I have such high hopes for these guys.
What has been the biggest challenge so far? 
Our biggest challenge would have to be our lack of LAN experience. Online scrims/qualifiers feel natural and smooth, however, our recent LAN performance at Dreamhack was lackluster. Hopefully, we can show everyone at Burbank that we aren't here by chance and we are a serious contender for worlds.
What's a day like for you as the team manager? Scrims Scheduling, contracts, team needs, etc...
Typically I'm scheduling scrims for the week. During scrims, I'll be an observer and take notes on things that need to be covered post-game. As far as contracts, we don't have anything in place that's legally binding. Anything I receive regarding an event such as what production needs, player's info and the like I will forward to all the guys and we'll discuss it before scrims. It can be rather mundane but I enjoy it 99.999999% of the time.


What type of organization is TNC and what direction do you see it heading in?
We are not an official organization (yet) but we plan on becoming one in the future. At the moment, we're just a group of guys playing video games and striving to be the best.
What creative and fun methods are you using to develop team synergy and unity?
We don't do anything too spectacular really. People have lives outside of Heroes of the Storm so there isn't too much time for developing anything other than our play. Meeting the team for the first time at Dreamhack was fun and they're a great bunch of guys and I look forward to hanging out with them at future events.
Do the players have a team pre-game ritual yet and if so how many stitches dolls are we sacrificing?
I wish I could say we do a cool chant or do a "hands in" type of thing from traditional sports, but we discuss our game plan and get prepared mentally for the upcoming match. Stitches dolls are spared for now.
What is the team's biggest focus right now?
Everyone's focus is on winning Burbank and qualifying for Sweden. Everything else is secondary.
Give us an idea of what the team's like behind the scenes; any funny or embarrassing stories you'd like to share so we can end this on a high note?
Everyone is really funny. They constantly troll each other in our TeamSpeak server and any down time between games is joking and making fun of each other.
Is there anything you or anyone on the team wants to say to the HOTS community and everyone rooting for Team Name Change?
We're going to do our best at Burbank and show everyone we are able to compete with the best teams and we appreciate the support from our friends and family and fans
Well once again, thank you so much for doing this and helping us get to know the team better. Best of luck in Burbank and qualifying for Sweden.
TNC.HotS faces Gale Force Esports Friday, June 4th in Burbank for the 2nd NA Summer Regional Qualifier. Follow the team's twitter @thcHotS and show them your support.
And follow us on Twitter @GosuGamersHotS for more competitive Heroes of the Storm news and coverage from around the world.