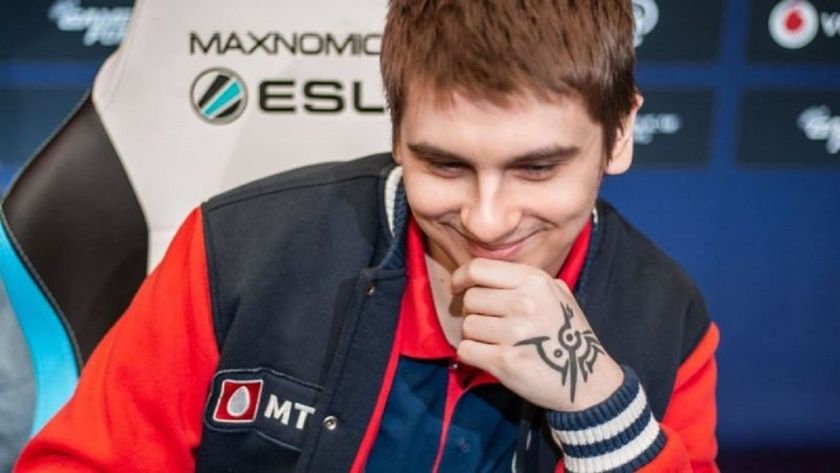 StarLadder Minor Season 3; winners and losers of the first day
Title image courtesy of ESL
The StarLadder Minor Season 3 kicked off with eight teams vying for the title and highly coveted Major spot. 
The first day of the StarLadder Minor Season 3 has already come and gone. Although no one has been eliminated - yet, that will all change come the end of today. 
So far the ones in most trouble that will be fighting for their tournament lives are three teams that have been unable to secure a single victory and head into today with a 0:2 record. It is of little surprise to see NoPing e-sports and Boom Esports appear on the list as they both were the underdogs coming into the event. More surprising is to see CR4ZY in the same situation. Although the team has only had one week to prepare under stressful circumstances, the team is still full of talent and veteran players. Failing to take a single win out of four games played has been disappointing, to say the least. They will next play against NoPing, but if they win that series then they need to face off against Alliance which is no easy task for any team. 
The biggest winners of the day have been Team Aster and Gambit who have both gone undefeated so far, taking the top seed in their groups and already securing a place in the playoffs. 
Gambit's dominance over Alliance with two heavily one-sided matches has demonstrated that the CIS team is continuing to improve ongoing and will not go down without a fight. Alliance, looked a bit shakier than they have earlier in the season when the team was Europe's force to be reckoned with. They will need to polish things up and adjust a bit in order to get past the CIS team in the playoffs and Team Aster who are looking on point. 
The action resumes today, March 6th at 09:00 CET with elimination matches, completing the group stage by the end of the day. 
StarLadder Minor Season 3 teams
 Gambit

 ForZe

 business associates

 CR4ZY

 Alliance

 Team Aster

 Boom Esports

 NoPing e-sports

StarLadder Minor Season 3 groups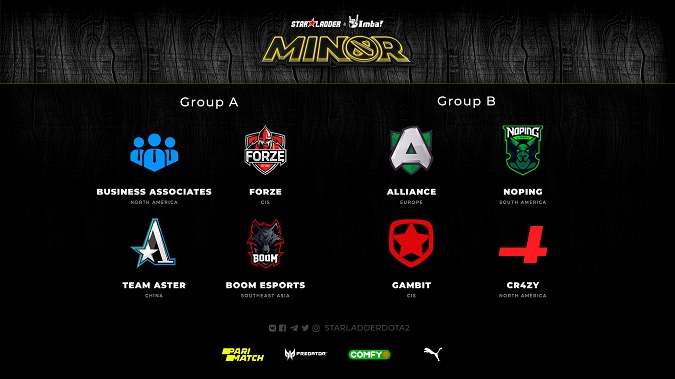 StarLadder Minor Season 3 group format
Two GSL groups
All games are Bo3
Top two teams advance to the Playoffs
Bottom two teams are eliminated
StarLadder Minor Season 3 group schedule
March, 6th 
• 10:00  Group А. Elimination match
• 13:00  Group В. Elimination match
• 16:00  Group А. Lower bracket final
• 19:00  Group В. Lower bracket final
StarLadder Minor Season 3 broadcasts
StarLadder Season 3 prize pool and DPC points
| | | |
| --- | --- | --- |
| Place | Prize Pool | Points |
| 1 | $72,000 | 140* |
| 2 | $60,000 | 120 |
| 3 | $54,000 | 110 |
| 4 | $42,000 | 90 |
| 5-6 | $24,000 | 60 |
| 5-6 | $24,000 | 60 |
| 7-8 | $12,000 | 40 |
| 7-8 | $12,000 | 40 |
*Since the minor winner also gets to participate in the major, they will only get points for the event in which they placed better (e.g: If they place last in the major, they will only get 140 points for winning the minor. If they place 8th instead, they'd get the 450 points for the major but not the 140 points from the minor)
StarLadder Minor Season 3
Between March  5-8th, eight teams determined via qualifiers will battle it out in Kyiv, Ukraine for the lion's share of the $300,000 prize pool and 660 DPC points as well as the highly coveted spot at the ESL One Los Angeles Major taking place in Los Angeles, California March 15-22nd.