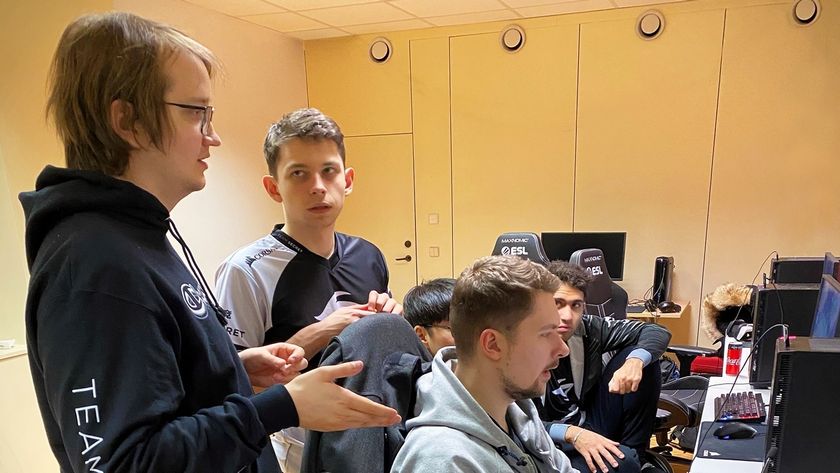 DreamLeague Season 13: Group Stage draws to a close
Title image courtesy of Team Secret
With the conclusion of the Group Stage comes our first glimpse at the playoff bracket. Here's who reached the top and those with a tough road ahead.
There was a total of 20 series player over the past two day with a whopping 14 of them ending in 2:0 decisions. This would suggest a polarizing difference in the skill level of the teams at the event, but there's plenty of time to right the ship if you're a team at the bottom through the Group Stage.
Today's winners are Nigma esports , Team Secret, Invictus Gaming and Na'vi, all of whom sealed the top spots in their respective groups. Directly behind them were Fnatic, Vici Gaming, Alliance and Evil Geniuses claiming the final slots in the Upper Bracket of the Playoffs.
Those with considerable work ahead of them include TNC Predator, Chaos Esports, Virtus.pro and paiN Gaming. These four teams finished the Group Stage at the bottom of their respective groups. Team Aster, beastcoast, Reality Rift and Team Liquid just missed a chance at the Upper Bracket by dropping the deciding matches but displayed promise within their groups.
No Dota 2 will be played tomorrow in order to give the players a break from action. However, upon their return, there will be a couple of interesting matchups.
The first series will be Evil Geniuses and Nigma, Minor champions. Evil Geniuses struggled in the Group Stage but accomplished just enough to avoid the Lower Bracket. Nigma is riding substantial momentum following a victory at the Minor and now outpacing the other teams in Group A.
The second series will be a civil war between Vici Gaming and Invictus Gaming. Both teams finished second and third at the MDL Chengdu Major, respectively. These are the only Chinese teams in the Upper Bracket which means that number is guaranteed to be cut in half by the end of the first day of the Playoffs.
The Playoffs are scheduled to begin Tuesday, January 21, at 10:30 CET.
DreamLeague Season 13: Leipzig Major Teams
  Alliance

 Team Liquid

 Team Secret

 Vici Gaming

 Team Aster

 Invictus Gaming

  Virtus.pro

Na'vi

  Reality Rift

  Fnatic

 TNC Predator

 Evil Geniuses

 Chaos Esports 

  beastcoast

 paiN Gaming

 Nigma esports 
DreamLeague Season 13: Leipzig Major Groups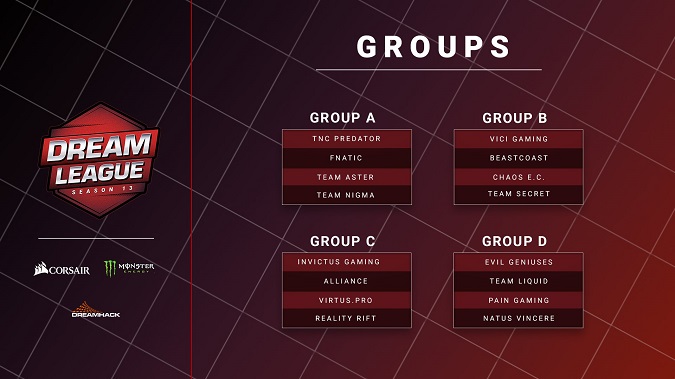 DreamLeague Season 13 Leipzig Major group stage format
Participants:

Fifteen Teams from Regional Qualifiers
At least two teams from each region
One team as the champion of WePlay! Bukovel Minor 2020

Group Stage: - January 18th-19th

Four GSL groups
All games are Bo3
Top two teams advance to the Upper Bracket of the playoffs
Bottom two teams advance to the Lower Bracket of the playoffs
DreamLeague Season 13: Leipzig Major
Between January 18-26th, 16 teams —15 determined via qualifiers and the champions from We!Play Bukovel Minor 2020 will battle it out at Leipziger Messe, Germany for the lion's share of the $1,000,000 prize pool and 15,000 DPC points.