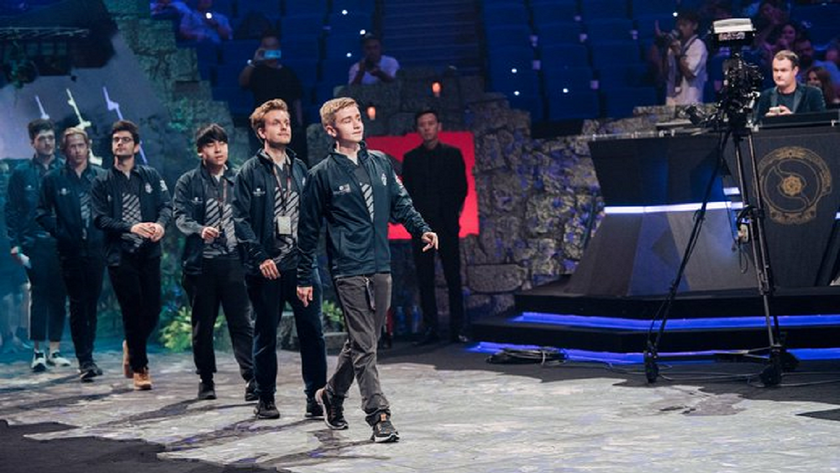 OG make history as the first ever two-time TI champions at TI9
OG is the first team to ever claim the Aegis of Champions twice, making Dota 2 and The International history at TI9. 
TI9 has turned out to be one of the greatest of TI's in history. Yes, we probably do say that every year, and yes it does feel like it is true every time. But this year, between the clutch plays, the mega creep comebacks, the new meta's that have been set and the storylines, it has definitely been true. Even the group stage was filled with upsets, history-making records, and thrilling action. 
TI9 Lower Bracket Finals Team Liquid 2:1 PSG.LGD
Team Liquid started off the day playing against PSG.LGD for the spot in the grand finals. Despite LGD taking the first match in the second match Team Liquid dismantled the Chinese team through stunning individual games, itemization and on-point decision making.
A high ground defense seemed to catch LGD off guard and Team Liquid turned the game around at 37 minutes and LGD seemed to crack under the pressure yielding to Liquid's victory and a tied series.
LGD didn't seem to be able to recover coming into the third game and a few uncharacteristic mistakes early on in gave Team Liquid a much-needed advantage and lead. It was easy after that, Team Liquid was able to then close out the game and the series in just 36 minutes and advance to the grand finals to face OG. 
With Team Liquid's victory, a two-time TI championship team was guaranteed.
The TI7 championship team would be taking on the defending, TI8 championship team to make history. 
The hype was nothing short of exhilarating. Beginning with a roller coaster of an opening game, TI9 ended with pure dominance from OG to give the TI8 champions a back-to-back, two-time TI championship title. They made taking TI titles look easy.
TI9 Grand Finals OG 3:1 Team Liquid
Game 1
In the first game, Team Liquid grabbed the 'w33po' pick which ultimately led to success for them. They were doing everything right, pushing as a group and using the Meepo to address the split-push to set a fast tempo and ensure that OG wouldn't have time to reach their late-game timing. 
OG did manage to slow things down a bit and struck hard with a team wipe over Liquid, to help bring Ana's Spectre online. Once ready, it looked like OG would now turn the tides and take control. The TI8 championship team breached high grounds and took all but one set of barracks in Team Liquid's base. Things looked to be over for the TI7 championship team. 
But it wasn't. Team Liquid didn't falter and kept pushing forward - and by forward we mean directly down the middle with Templar Assassin and Meepo, straight to the throne to take down the ancient and win the first game. 
Game 2
OG slaughtered Team Liquid in the second game. Putting Topson on the Monkey King ended up being an incredible move for OG. As opposed to the first game of quick pushing tempo, the second game was all about big brawls with 5v5 team fights in the middle of the map in the early and mid-game. 
OG just kept running at Team Liquid, looking to constantly take a fight and kill, even to the point of prioritizing kills over any other objective. OG was heading on high grounds - even ignoring the Tier 1 towers still standing. Applying enormous amounts of pressure, OG showed no mercy and were relentless, taking about 40 kills. It felt like an eternity, but after a rampage for Topson, OG finally got bored of playing with their food and ended the game in 32 minutes to tie up the series. 
Game 3
If things looked bad for Team Liquid in Game 2, it got even worse for them in Game 3. OG came out of the gate swinging and hit even harder to start things out. OG's Pugna pick became quite troublesome for Team Liquid as they had no way to counter the decrepify and Topson's dominance. At 11 minutes in Topson had already secured an Ultra Kill. 
Under constant assault, Team Liquid started to crumble. OG's coordination, team play, and draft were perfectly executed, snowballing out of control quickly and giving Team Liquid no room to breathe. 
This time, it took only 23 minutes for the game to end and OG was able to seize the series lead. 
Game 4
Team Liquid's backs were against the wall. The team had to figure out to overpower OG's mind games, confidence, and skill if they wanted to push things to a 5th and deciding game. 
OG started things off with an IO first pick, their 'new' signature strategy. Team Liquid wasn't going to let OG's infamous mind games ruffle their feathers and Team Liquid went hard with heals and looked for an early game/team fight oriented draft. 
Team Liquid decided that they would give OG's deathball, intense strat a chance, trying to feed OG a bit of their own medicine. But OG weren't having it and spit it right back out at Team Liquid and pushed them back into Liquid's base, diving fountains and taunting Liquid in the grand finals. 
OG took the victory in the most spectacular fashion, successfully defending their title and proving they are on a whole other level.
TI9 Prize Pool Distribution and Rankings
1st Place $15,490,252 -OG
2nd Place $4,425,786 - Team Liquid
3rd Place $3,064,006 - PSG.LGD
4th Place $2,042,670 - Team Secret 
5-6th Place $1,191,558 - ViCi Gaming/Evil Geniuses
7-8th Place $851,113 - Infamous/RNG
9-12th Place $680,890 - Mineski/Newbee/TNC Predator/Virtus Pro
13-16th Place $510,668 - Na'Vi/Keen Gaming/Fnatic/Alliance
17-18th Place $85,111 - Chaos/NiP
Upper Bracket
Round 3 - Best of 3
Round 4 - Best of 3
Lower Bracket
Final
The International 9
Valve brought the biggest Dota 2 event of the year to the Mercedes Benz Arena in Shanghai, China. Eighteen teams attended - Team Secret, Virtus Pro, Evil Geniuses, ViCi Gaming, Fnatic, PSG.LGD, Team Liquid, NiP, OG, Keen Gaming, TNC Predator, Alliance, Mineski, Na'Vi, Infamous, RNG, Chaos and Newbee. The prize pool has exceeded $25 million and that of TI8 (more than $23 million added by crowdfunding) and is now over $34 million.