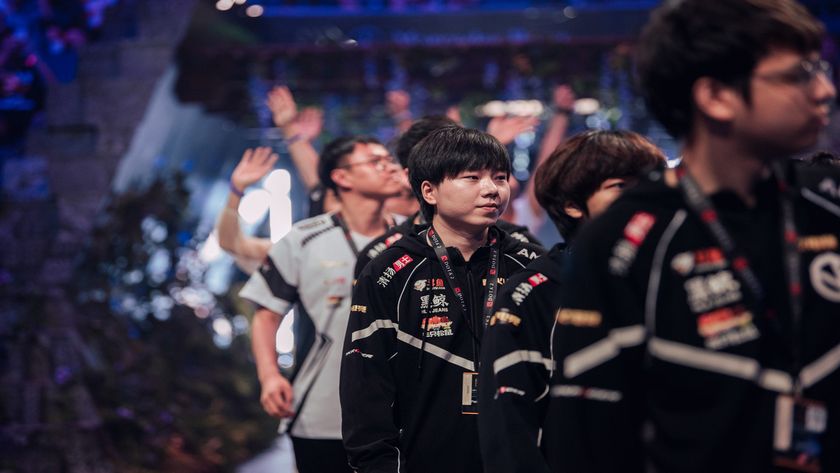 TI9 Main Event: China dominates as PSG.LGD and Vici Gaming move to upper bracket semi-finals
The hometown heroes, PSG.LGD and Vici Gaming prevail, sending Virtus.Pro and TNC Predator to the lower bracket.
Virtus.Pro vs. PSG.LGD
Game One
The International 2019's Main Event kicked off with a thunderous roar from the Chinese crowd, as  PSG.LGD took game one of the first upper bracket series in convincing fashion against Virtus.Pro.
VP went with a solid lineup, with some great team fight potential and midgame power via Roman 'Ramzes' Kushnarev's Morphling and Vladimir 'Rodjer' Nikogosyan's Earthshaker. It seemed that PSG.LGD had similar ideas, grabbing a Tidehunter, Gyrocopter, and a Sven to capitalize. The cherry on top: a Rubick for f-god Xu 'fy' Linsen himself.
Early in the game, VP looked to put pressure on Lu 'Somnus' Yao's Gyrocopter through Rodjer's Earthshaker and Vladimir 'Noone' Minenko's Dazzle in the middle lane. However, the pressure came at a price: absolute free farm for Wang 'Ame' Chunyu's Sven in the bottom lane. Fy would be the first to spill blood in the top lane, shifting the focus there for most of the laning stage.
Looking to start something in the middle lane at around 10 mins, LGD pushed up onto VP's high ground, only to be blocked off on their retreat by a beautiful fissure from Rodjer--a feat he would repeat a number of times, miring LGD's positioning. In the midgame, VP held a great position; despite Ame's farm, VP seemed to have the map under control, and even pushed up onto LGD's bottom T3 for a cheeky kill; LGD seemed hesitant to commit to a fight.
But it was patience, however, not hesitation, as LGD found the fight they were looking for after killing Ramzes at around 20 mins; VP looked to recover and went for Roshan only to lose the ensuing fight despite having the Aegis. From then on, VP had trouble engaging- the tanky lineup from LGD disrupting the kill potential of Ramzes' Morphling, and the frontline preventing Rodjer from getting a good initiation. LGD continued to play disciplined around their big cooldowns, ebbing and flowing between farming and fighting as they systematically dismantled VP's objectives. The CIS squad finally called it quits a few minutes past 40, licking their wounds, and looking to the drawing board for game two.
Game Two
The second game followed a similar story. VP drafted a slower-paced team composition this time around, pinning their hopes on Ramzes' Terrorblade to get them through the late game. PSG.LGD went with a similar draft from game one, grabbing a Tidehunter for Yang 'Chalice' Shenyi, complemented by a Kunkka for Somnus.
Early on, VP seemed to be in a better spot than game one. Alexei 'Solo' Berezin's rotations on his Lion proved effective, as he helped pick up a kill in each lane in the first few minutes. A wild goose chase by Rojder also gave 9pasha an opportunity to pick up a kill on Ame's Phantom Assassin early on, putting pressure on the LGD carry.
As the game settled into the middle stages, both teams were content to farm while the position four and fives, rotated around; LGD guarded their jungle heavily for Ame, which resulted in a few kills for the home squad, further pushing their advantage. Despite an only 2k gold lead for LGD at around 20 mins, the Chinese squad had much better item timings compared to VP, and the pressure was all on Ramzes to get farmed up on his Terroblade. With that in mind, Solo continually found rotations and small windows for kills, even grabbing one from a very greedy Ame, trying desperately to create space for his carry.
In its final stages, a few missteps from VP would cost them, and despite rallying for one last gasp, it was over for the CIS squad. Ame would finish them off with a Divine Rapier purchase to add insult to injury at around the 40-minute mark once again. Like last year, Virtus.Pro seemed to struggle at the International, only narrowly avoiding a slot in the lower bracket. Hopefully, the Russian squad can bounce back in the lower bracket, but for now, they'll have to wait.  
TNC Predator vs. Vici Gaming
Game One
Game one of the second upper bracket series of the day was a barn burner, as TNC Predator and  ViCi Gaming went the distance in a 76-minute contest that saw the Filipinos rise to the occasion.
Early on, TNC characteristically pushed the pressure, with Timothy 'Tims' Randrup's Tiny constantly disrupting lanes; particularly on Zeng 'Ori' Jioayang's Lina. The aggression paid off most times, but at 8 minutes, VG still was slightly ahead in gold due to the great start and farm of zhang 'Paparazi' Chengjun's Juggernaut--a worrying sight, especially for the late game and combo with Magnus' Empower. As the game moved from the lanes, VG were the ones to put the pressure, hitting their item timings. The Chinese squad constantly forced TNC to react in the midgame, putting the Filipinos on their backfoot, despite them trying to make plays of their own.
Around the half-hour mark, VG seemed poised to continue their advantage. However, despite winning a few small engagements that saw them come out positive, TNC finally answered the Chinse squad with a great engagement around 33 minutes, forcing VG back and claiming an Aegis for themselves. A few minutes after, they grabbed VG's middle-tier two towers and almost evened up the 12k deficit they had worked themselves into.
From the 40-minute mark onward, the contest went back and forth, with each team never finding the best engagement to turn into something truly major. VG, however, would make a crucial mistake at 43 minutes at TNC's top fountain, after a mistimed RP from Pan 'Fade' Yi, which put TNC in a prime position not only for an Aegis but to claim all of VG outer towers as well. The game continued with Fade, pulling out some insane RPs, and Kim 'Gabbi' Villafuerte and Tims, just being absolute nuisances to the Chinese squad, surviving for much longer than anyone should.
Of all the things to end the game, it would be a single bounty rune at the 74-minute mark, as VG pushed up onto TNC's high ground, only to wipe. The Filipinos weathered the storm and came out victorious a few minutes after, charging straight up to the tier three towers and VG's ancient.
Game Two
In game two of the series, VG seemed to find their stride, drafting a lineup very similar to PSG.LGD's in their series against VP. TNC went with a very physical lineup, going after a Bristleback and Razor.
Early on, Armel 'Armel' Tabios and Tims constantly bullied Ori's Razor in the middle lane, grabbing a number of kills. As a consequence, VG's side lanes got some space to farm. Once more, TNC pushed the pace through Gabbi's bully of a Bristleback and TNC find a good engagement at around 10 minutes. Despite Gabbi's confidence--no doubt due to him stealing a number of stacks from VG--the Chinese squad picked him and Tims off for free around 15 minutes in; as recompense, TNC would grab a tower.
In the middle stages, with Paparazi hitting a nice power spike via his Radiance and Gabbi starting to fall off, control of the game flip-flopped between the two; at one point, TNC even began a slow siege on VG's high ground. VG, however, seemed to be in a much better position due to their draft, even after a particularly awful engagement at 36 minutes, where TNC executed brilliantly off of their BKBs. As the game neared the hour mark, and with BKB's getting low, TNC just didn't seem to have enough juice to finish off VG; the Chinese squad found positive fights that saw them continually pull away. Finally, despite valiantly repelling VG a number of times, the damage just wasn't there and TNC called it quits just after the hour mark. 
Game Three
While game one and two were marathons, game three was a simple sprint for VG. Despite going for what seemed to be a late-game oriented push lineup via a Medusa, VG decided that perhaps it was time to go fast.  TNC's hopes fell to Armel's last pick Broodmother, which hopefully would have put a damper on Ori's Medusa. However, it was Yang's Centaur who stymied the arachnid's advances.
Early on, TNC seemed to start off great, hampering Ori's Medusa with a great tri lane up top. Feeling confident, TNC pushed a bit further than they should have, and Paparazi ended up with a big double kill on both TNC cores. To make matters worse, Yang continued to absolutely stomp on Armel's Broodmother in the middle lane. As time ticked on, and TNC found no progress, it was clear they missed their timing.
The Filipinos did rally for a few moments at around 22 minutes, despite being down for most of the game, and gambled on risky Roshan after taking down two from VG. The gamble didn't pay off and VG played a masterful control game around the Roshan pit, forcing TNC to over extend. A few minutes after VG claimed the Roshan, they systematically continued to push and ended the game just a few moments past the half-hour mark. A valiant effort from the Filipinos, as they now move to the lower bracket while VG move on to the semi-finals.
TI9 Streams
English:
Twitch:  Main Channel |  Stream #2 |  Stream #3 |  Stream #4 |  Stream #5
MultiTwitch:  Streams 2+3+4+5
Russian:
Twitch:  Main Channel |  Stream #2 |  Stream #3 |  Stream #4 |  Stream #5
MultiTwitch:  Streams 2+3+4+5
Chinese:
Twitch:  Main Channel |  Stream #2 |  Stream #3 |  Stream #4 |  Stream #5
MultiTwitch:  Streams 2+3+4+5
Other Streams:
Pod #1 | Pod #2 | Main Hall | Workshop
Other Languages:
 Korean |  Spanish |  Filipino |  French
The International 9
Valve will bring the biggest Dota 2 event of the year to the Mercedes Benz Arena in Shanghai, China.  All 18 teams are confirmed to attend - Team Secret, Virtus Pro, Evil Geniuses, ViCi Gaming, Fnatic, PSG.LGD, Team Liquid, NiP, OG, Keen Gaming, TNC Predator, Alliance, Mineski, Na'Vi, Infamous, RNG, Chaos and Newbee. The prize pool has exceeded $25 million and that of TI8 (more than $23 million added by crowdfunding) and is now over $33 million.