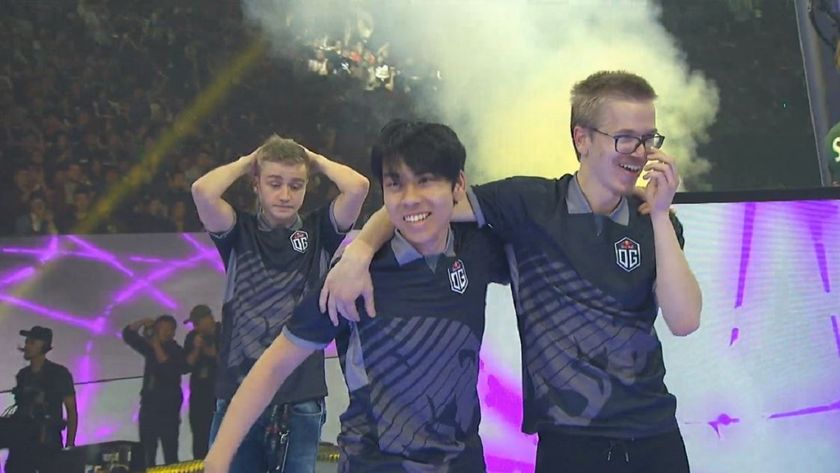 OG continue to impress in the TI9 group stage
The second day of TI9 group stage yielded more surprises and spectacular performances as teams jockey for top seeds for the main event. 
The competition at TI9 has continued to be the things that Dota 2 dreams are made of. If yesterday's opening performances were anything to write home about, today's were ones to write stories about. 
Rampages, Ultra Kills, IO carry, clutch plays and upsets peppered the group stage keeping things fresh and thrilling for the 500,000+ viewers at home and talent on-site. Unlike any other time, TI is a time that no team can be overlooked and no strategy can be counted out. 
Group A
Team Secret continues to utterly dominate this event, similar to how they eclipsed all other teams in the DPC 2018-2019 season. The European squad came into TI9 as total favorites and so far have all but sealed their top bracket seeding. 
PSG.LGD are flying in just under them, as expected as well but once again, Newbee managed to upset things with a shocking turn of events. After the NA based team were stomped in only 24 minutes in Game 1, they shocked LGD and the world when looking at mega creeps 67 minutes in, they managed to win the game and take the series after an amazing team fight and turn around. 
What also hasn't been expected is Team Liquid's inconsistencies and troublesome looking performances and lack of cohesion. The TI7 championship team hit a few bumps in the road yesterday, but today's journey was even more lackluster. Liquid managed to take only one win off of Mineski and as a result have slid into 7th place. 
Alliance had picked themselves back up today after a painful fall yesterday, but Chaos  continues to fail to find their footing at the event, losing their only series of the day 0:2  - keeping them in last place. 
Team
M
W
D
L
P

8
5
3
0
13

8
4
3
1
11

8
2
5
1
9

8
2
5
1
9

8
1
6
1
8

8
2
4
2
8

8
2
2
4
6

8
2
1
5
5

8
0
3
5
3
Matches and results
Group B
Group B has kept everyone on their toes today, thanks to some incredibly innovative strats and stunning upsets. 
OG has a certain gleam in their eye that not only shows how much fun they are having, but that they are aiming to make history to be the first team to claim two Aegis of Champions, and back to back no less. OG took down Evil Geniuses 2:0 in their first series with a thrilling game 2 wombo-combo including Reverse Polarity, Echo Slam and Omni Slash.
Next on the menu, the defending TI champions chose a core IO for Anathan "ana" Pham in the first game against NiP. Haters of the new strategy were feeling vindicated for their distaste as OG was quickly falling to the Swedish based team. In just 10 minutes, NiP was leading by a score of 4:0 and 2k gold. But their criticism was hushed soon after as OG's plan started to fall into place. An ultra-kill on IO and a relatively easy win screamed success at the end. If that wasn't enough, the team went for it once again and, once again, they prevailed. A good day overall for Dreaming Green, as OG went 6:0 in today's matches. At this rate, OG will be keeping teams guessing and at a loss for how to handle their approach to the game. 
ViCi Gaming started out with more of their solid performances, posturing to be a solid contender to take the title from OG. A Morphling + Earth Shaker combo and a rampage by Zhang "Paparazi灬" Chengjun took the first game of their opening series off of Virtus Pro, which quickly turned into a 2:0 sweep. The Chinese team started to lose a bit of steam however and ended the day with a 0:2 loss against EG... you can thank Artour "Arteezy" Babaev and his Lifestealer rampage for that!
It was Infamous though, who served up ViCi Gaming's first loss of the day, breaking their undefeated record. The South American team might be the only team full of TI newcomers, but playing with their hearts, they have managed to cause at least two big upsets so far. After taking their win over Fnatic, in part thanks to Hector Antonio "K1" Rodriguez's extraordinary Wraith King, and the ultimate sweep 2:0 over the SEA team, Infamous most likely secured a place at the main event and moved into the top four of the group. 
Na'Vi also has been making waves. After taking their first series off of VP 2:0 they took NiP to town 2:0 as well to end the day with a perfect record. Could it be that Na'Vi IS back?
Biggest surprises of the group stage so far? Both VP and EG struggling more than expected, with VP sitting in the bottom half of the group ranks. 
Team
M
W
D
L
P

8
6
2
0
14

8
4
3
1
11

8
3
3
2
9

8
3
2
3
8

8
3
1
4
7

8
1
5
2
7

8
2
3
3
7

8
2
2
4
6

8
0
3
5
3
Matches and results
Things are starting to fall into place as teams are gaining a more solid ground for the seedings and are fighting to keep away from the elimination slot, 9th place for each group. Tomorrow, team trajectories will look even more clear and on Sunday, the first two teams will say goodbye to TI9 without having even stepped a foot on the main stage. 
TI9 Group Stage
Group Stage - August 15th - August 18th, 2019
All eighteen teams are divided into two groups where they play in a Round Robin format.

All matches are played in a Bo2.

The top four teams in each group advance to the Upper Bracket of the Main Event.

The bottom team in each group is eliminated.

The remaining teams advance to the Lower Bracket of the Main Event.
Schedule:
TI9 Streams
English:
Twitch:  Main Channel |  Stream #2 |  Stream #3 |  Stream #4 |  Stream #5
MultiTwitch:  Streams 2+3+4+5
Russian:
Twitch:  Main Channel |  Stream #2 |  Stream #3 |  Stream #4 |  Stream #5
MultiTwitch:  Streams 2+3+4+5
Chinese:
Twitch:  Main Channel |  Stream #2 |  Stream #3 |  Stream #4 |  Stream #5
MultiTwitch:  Streams 2+3+4+5
Other Streams:
Pod #1 | Pod #2 | Main Hall | Workshop
Other Languages:
 Korean |  Spanish |  Filipino |  French
The International 9
Valve will bring the biggest Dota 2 event of the year to the Mercedes Benz Arena in Shanghai, China.  All 18 teams are confirmed to attend - Team Secret, Virtus Pro, Evil Geniuses, ViCi Gaming, Fnatic, PSG.LGD, Team Liquid, NiP, OG, Keen Gaming, TNC Predator, Alliance, Mineski, Na'Vi, Infamous, RNG, Chaos and Newbee. The prize pool has exceeded $25 million and that of TI8 (more than $23 million added by crowdfunding) and is now over $33 million.