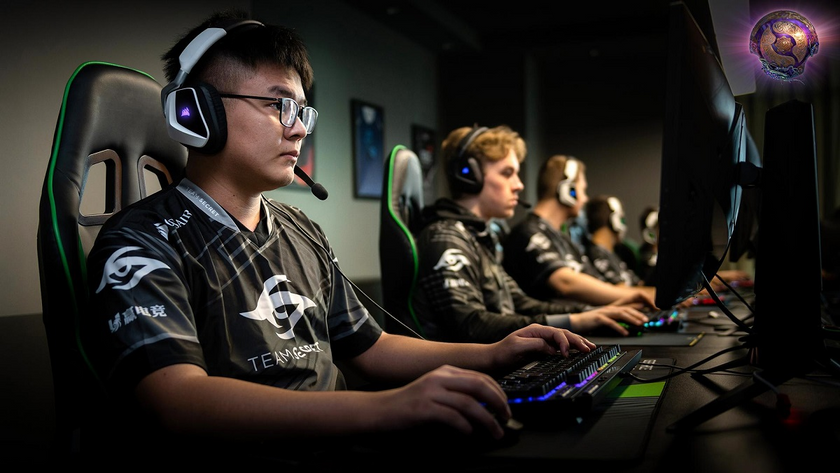 Team Secret & ViCi Gaming unstoppable opening day of TI9
Title image courtesy of Team Secret
TI9 commenced earlier today with all 18 teams playing at least one match in the opening day of group stage competition. 
The time has finally come for the greatest teams in Dota 2 to converge, marking the opening day of the pinnacle of all events of the season - TI9. 
Its become a bit expected that the first day of The International will have a few production issues. Many were hoping to escape the ghost of Shanghai Major 2016, and for the most part, did. There were only slight production and technical issues to kick things off -  audio echo, 720p stream, and stream 'd' losing connection to the server causing players names to be shown as their steam ID instead of official gaming tag  -were quickly dwarfed in comparison to the spectacular performances. After an hour delay, the first draft was underway with 500k viewers tuning in at 04:00 CEST on Twitch and Maroun "GH" Merhej claimed First Blood of TI9.
Oh, and did we mention that hours before the start, the prize pool officially reached a new record? 'Coz of course it did!
Fans across the world already witnessed some incredible Dota 2 games, giving the appetizer a powerful taste before the main course, leaving everyone hungry for more. 
We saw Mega Creep comeback, Invoker support, and a double 'w33po' rampage. 
A few highlights of the day?
Take a peek below if you missed out some of the action or just want to relieve some of the thrilling moments. 
Group A
Team Secret has just been unbeatable. Each time you thought the team would lose, they turned things around to take the win. In their opening game against Alliance, the Swedish stack had shut down Team Secret's carry Michał "Nisha" Jankowski - causing him to die 7 times in 7 minutes. Things were looking grim for Team Secret, but it was then that mid player Yeik "MidOne" Nai Zheng stepped in to save the day and steal the show. 
TNC Predator 's Carlo "Kuku" Palad's echo slam that changed the outcome of the second game against Keen gaming in their favor and gave them a clean 2:0 victory to start things off. 
Team Liquid might have been upset by Newbee to start their TI9 journey off, but the TI7 championship team quickly regained their composure and put themselves back on top. They toppled over Chaos 2:0 with the second game lasting only 22 minutes, thanks in part to a double rampage by Aliwi "w33" Omar on Meepo. 
Team
M
W
D
L
P

8
5
3
0
13

8
4
3
1
11

8
2
5
1
9

8
2
5
1
9

8
1
6
1
8

8
2
4
2
8

8
2
2
4
6

8
2
1
5
5

8
0
3
5
3
Matches and results
Group B
in contrast to Group A which had mostly 2:0 results across the three series played, Group B seemed more evenly matched with 3/8 series ending with a 1:1 score. 
OG and Na'Vi that gave the fans the first split series of the day, but it was the support Invoker from OG and the Pudge pick from Infamous in game 2 of their series that caused whiplash across the world as heads turned fast with a double-take. 
A double rampage by Fnatic's Abed Azel L. "Abed" Yusop over Evil Geniuses caught the attention of viewers across the globe. The SEA team had served the NA giants a 2:0 loss, forcing EG into the middle of the brackets and Fnatic into the top four for an early advantage in the group stage.
Unfortunately, Fnatic's momentum couldn't be sustained as they fell to ViCi Gaming after, despite pushing the second game to almost the one hour mark. 
ViCi Gaming is proving to be a force to be reckoned with in Group B and the leading Chinese team from the DPC 2018-2019 season is clearly aiming to take home the Aegis of Champions on their home soil. 
Team
M
W
D
L
P

8
6
2
0
14

8
4
3
1
11

8
3
3
2
9

8
3
2
3
8

8
3
1
4
7

8
1
5
2
7

8
2
3
3
7

8
2
2
4
6

8
0
3
5
3
Matches and results
TI9 Group Stage
Group Stage - August 15th - August 18th, 2019
All eighteen teams are divided into two groups where they play in a Round Robin format.

All matches are played in a Bo2.
The top four teams in each group advance to the Upper Bracket of the Main Event.
The bottom team in each group is eliminated.
The remaining teams advance to the Lower Bracket of the Main Event.
Schedule:
TI9 Streams
English:
Twitch:  Main Channel |  Stream #2 |  Stream #3 |  Stream #4 |  Stream #5
MultiTwitch:  Streams 2+3+4+5
Russian:
Twitch:  Main Channel |  Stream #2 |  Stream #3 |  Stream #4 |  Stream #5
MultiTwitch:  Streams 2+3+4+5
Chinese:
Twitch:  Main Channel |  Stream #2 |  Stream #3 |  Stream #4 |  Stream #5
MultiTwitch:  Streams 2+3+4+5
Other Streams:
Pod #1 | Pod #2 | Main Hall | Workshop
Other Languages:
 Korean |  Spanish |  Filipino |  French
The International 9
Valve will bring the biggest Dota 2 event of the year to the Mercedes Benz Arena in Shanghai, China.  All 18 teams are confirmed to attend - Team Secret, Virtus Pro, Evil Geniuses, ViCi Gaming, Fnatic, PSG.LGD, Team Liquid, NiP, OG, Keen Gaming, TNC Predator, Alliance, Mineski, Na'Vi, Infamous, RNG, Chaos and Newbee. The prize pool has exceeded $25 million and that of TI8 (more than $23 million added by crowdfunding) and is now over $32 million.