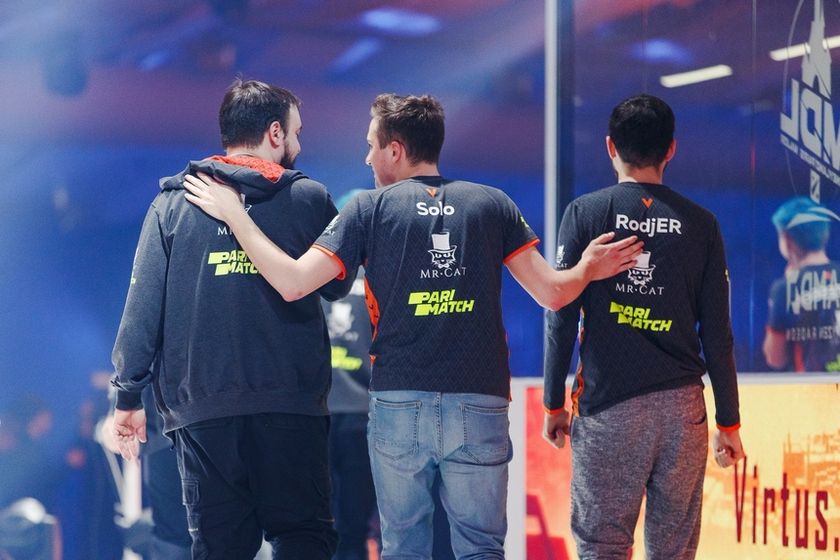 Virtus Pro and Vici Gaming take their bow at MDL Disneyland Paris Major
Title image courtesy of Virtus Pro
PSG.LGD and Team Liquid advanced into Round 4 in Main Event day 2 after 2 sets of exhilarating BO3s.
It's the Lower Bracket eliminations, but a feast at the high table no less when all the participating teams are qualified competitors of the upcoming TI.
Ranked 2nd on the current DPC ladder, the Virtus Pro warriors faced TI8 finalists PSG.LGD in the opening set of the day. In the first game, VP tried to pile on early, high burst damage with Storm Spirit and Shadow Shaman picks to buy enough time for their Spectre. To their dismay, the Chinese LAN geniuses kept moving as a unit and gaining an advantage as they came out repeatedly on top in team fights. Eventually, PSG.LGD's Medusa and Sven reached their phase of impact and crushed VP in a minute 36 high ground battle.
LGD upheld the trend of first-picking Drow Ranger in the 2nd game. VP, unwilling to go quietly into the night, resolved to answer the pick with their signature all-out aggression, and managed to achieve an 11-0 score 16 minutes in. Still, their doom loomed just over the horizon as Drow Ranger sat at her #1 net worth position all through the melee, and LGD defended tenaciously, seeking cracks amid VP's seemingly endless onslaught. Despite a mid-game 14k gold lead and barracks breach at minute 43 by VP, the Chinese team played around the dark archer and she carried them to a 50-minute victory.
The second East-West clash of the day was between the star-studded European Team Liquid and the young but talented Vici Gaming. In the 1st game, the Vici boys focused on Amer 'Miracle-' Al-Barkawi's Troll Warlord heavily whenever team fights broke out to ensure that he gets shut down. Despite a quick BKB on Miracle-, the situation went out of con-Troll as Team Liquid was slowly but steadily smothered by VG's extensive CC spells and the damage from Medusa and Monkey King. 
Liquid got hold of their beloved Broodmother in the subsequent game, and effectively crippled VG's Sniper in the mid-game despite the threat Ember Spirit and Batrider posed to Broodmother's and Enigma's summons. With a 22k gold disadvantage 44 minutes in, VG made a valiant attempt at coming back, reducing the gap to 8k at one point. Unfortunately for them, Liquid swept through them 10 minutes later in a Roshan pit fight and subsequently took the game, forcing the set into game 3.
VG established a very early lead in the decider and tried to break into the enemy base by minute 21. However, due to Liquid's Razor constantly negating VG's Phantom Assassin's by draining her DPS each time there was a major faceoff, the Chinese team lost their foothold and things started to crumble for them. Unable to harness enough damage to finish their opponents in any team fights in spite of their Magnus' outstanding RPs, VG could not prevent Liquid from going straight for their Ancient and taking it down at the 34-minute mark.
Upper Bracket
Round 3 - Best of 3
Round 4 - Best of 3
Lower Bracket
Final
The action continues today, May 10th with two upper bracket series.
MDL Disneyland Paris Major Format
Group Stage - May 4th - May 5th

Sixteen teams are divided into four GSL groups of four teams each
The top two teams advance to the upper bracket of the playoffs
The bottom two teams advance to the lower bracket of the playoffs
All games are Bo3

Playoffs - May 6th - May 12th

Sixteen teams play in a double-elimination format, with the final four days being in front of a live crowd
Eight teams begin in the upper bracket, eight in the lower bracket
All games except Grand Finals and Lower Bracket Round 1 are Bo3
Lower Bracket Round 1 are Bo1
Grand Finals is Bo5
MDL Disneyland Paris Major Prize Pool Distribution:

The total prize pool for the event is $1,000,000 split between all 16 teams. In addition to the handsome financial reward, teams will be awarded DPC points as well. 
1st place: $TBD + 4,950 DPC points
2nd place: $TBD + 3,000 DPC points
3rd place: $TBD + 2,100 DPC points
4th place: $TBD + 1,350 DPC points
5-6th place: $TBD + 900 DPC points
7-8th place: $TBD + 450 DPC points - Virtus Pro/Vici Gaming
9-12th place: $TBD + 150 DPC points - paiN gaming/Mineski /compLexity Gaming/Keen Gaming
13-16th place: $TBD + 75 DPC points - beastcoast/Team Empire/Chaos E.C /Fnatic