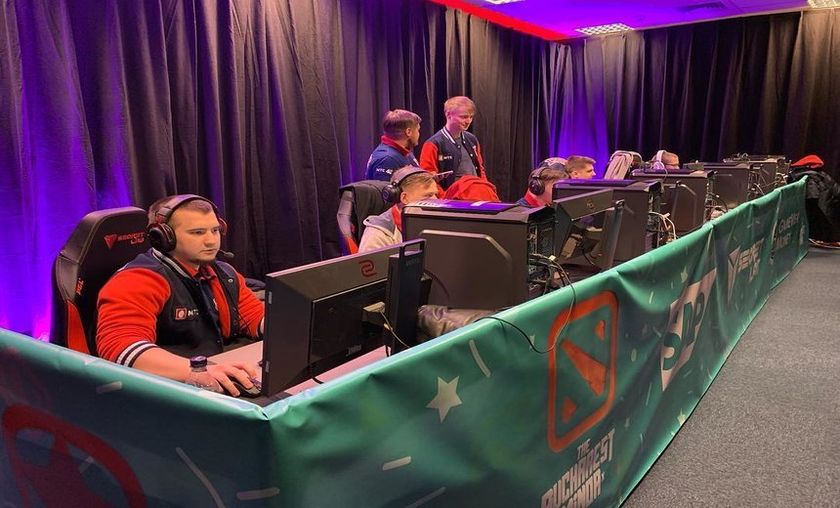 Bucharest Minor; EHOME and Gambit Esports to face off in upper bracket final

photos courtesy of Gambit Esports
On day one of the Bucharest Minor playoffs, EHOME and Gambit Esports continued to dominate, making quick work of their opponents as they both move to the upper bracket final, and one step closer to the last slot of the upcoming Chongqing Major.
EHOME vs Keen Gaming
Continuing their dominance from Group B, EHOME took Keen Gaming to town in a clean 2-0 that lasted just under an hour long. In the first game, it seemed as though Keen Gaming were a on timer, with the late game potential of EHOME's lineup. Keen took a small lead early, but it was a decisive and wonderful Roshan steal by EHOME's Li 'ASD' Zhiwen, which lead to a deficit that Keen never recovered from.
In game two, it seemed like Keen had adjusted well, taking out the troublesome Lion and Medusa from game one in the draft. And yet again like game one, Keen took a relatively early lead. But it seemed like déjà vu, as yet another decisive fight around the Roshan pit all but sealed Keen Gaming's defeat at 18 minutes. Again, Keen failed to recover from the deficit—especially EHOME's lineup of objective taking powerhouses in the Drow Ranger and Clinkz. Keen held on just a bit longer than game one, but ultimately EHOME triumphed and continued their undefeated streak from the group stage. EHOME moves on to the upper bracket finals while Keen drops down to slug it out in the lower bracket.
Gambit Esports vs OG
Game one from the second upper bracket series saw a similar story to EHOME and Keen Gaming's first match. In the beginning, OG seemed to have a slight upper hand in terms of gold and experience, but a timely and well-placed Chain Frost from Artsiom 'FNG'Barshak's Lich around the 16-minute mark saw OG lose three and tipped the scales in Gambit's favor. From there, Gambit pressed their advantage with their cadre of late-game powerhouses. OG showed some potential for a comeback as another fight around 27-minutes gave OG the opportunity for a Roshan and Aegis. Unfortunately, OG failed to capitalize on the small victory, and the Aegis was taken back quickly by Gambit and with it, the victory in just under a half-hour.
Game two was a quick 20-minute affair for Gambit, as they crushed OG once more. A very aggressive tri-lane from Gambit featuring Nikita 'Daxak' Kuzmin, Alexander 'Immersion' Hmelevskoy, and FNG simply spiraled out of control and caused OG to hemorrhage heroes, gold, and experience. To make matters worse, OG lost their other lanes as well—no doubt a consequence of trying to salvage the top lane trainwreck. As such, without any real way to deal with Gambit's lineup, nor the time and space to mount a comeback, OG called it quits in just 18-minutes.
Keen Gaming and OG move down to the lower bracket. EHOME and Gambit Esports face off against each other in the upper bracket final tomorrow.