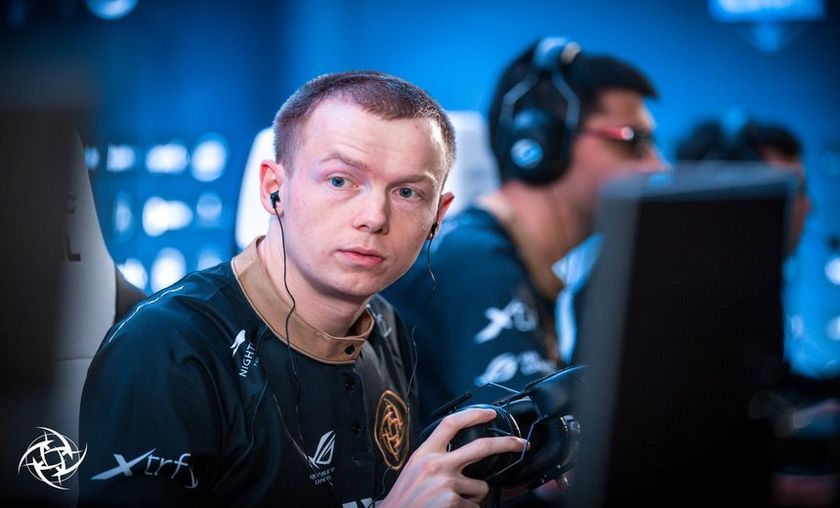 NiP and VP march into the semi-finals of the Kuala Lumpur Major

photo courtesy of Ninjas in Pyjamas
Evil Geniuses fall short to their former captain and Virtus.Pro continue their domination, trouncing Fnatic in the upper bracket on Day 4 of the Kuala Lumpur Major.
Evil Geniuses vs Ninjas in Pyjamas
Evil Geniuses stomped Ninjas in Pyjamas in game one off the back of Syed 'SumaiL' Sumail Hassan's Ember Spirit. Perhaps hungry for some competition after his absence from ESL One, SumaiL played an absolute masterclass in the middle lane and dominated Adrian 'FATA-' Trinks's Alchemist. And while NiP's draft had the potential to spiral out of control, SumaiL retained his hold on the reins of the game. Off of his insane performance, the rest of EG were able to take control of the map handily and closed out the game in a comfortable 28 minutes.
Bouncing back from game one, NiP were in much better form this game, as Peter 'ppd' Dager's squad had much more control and lockdown. EG's draft was more focused on the late game, and the onus was on NiP to close out it in the midgame, lest they contend with the power of Artour 'Arteezy' Babaev's Terrorblade. NiP did just that and had a strong laning phase--EG's rotations falling much flatter compared to the previous game. And as the game went on, a number of dire errors by EG, including two disastrous Roshan fights cost them greatly, and with ppd's superb warding on top of some insane Keeper of the Light play by Martin 'Saksa' Sazdov, NiP closed out the game in just under 40 minutes.
No doubt, emboldened by their win in game two, NiP gave EG a stomping of their own in game three, as Fata got his revenge on SumaiL and dominated him in the midlane. The contest seemed relatively even for the first 10 minutes, but it was NiP's ingenious draft and teamwork that allowed them to take control of the game. While stellar performances by Martin 'Saksa' Sazdov and Team Liquid stand-in Ivan Borislavov 'Mind_Control' Ivanov were key to NiP's victory - their side lanes proving absolutely monstrous - it was Fata's Templar Assassin that was the ultimate nail in the coffin for EG as the veteran took SumaiL to town. As the game continued on from the 10-minute mark, EG continued to hemorrhage gold and experience, and despite best efforts from the boys in blue, NiP played too tight to make any errors for a potential comeback. With an almost 40k net-worth lead, NiP closed out the game around the 45-minute mark, sending EG to the lower bracket.
Virtus.Pro vs Fnatic
The second upper bracket series of the day started with a flawlessly executed game by the CIS juggernauts as Virtus.Pro punished Fnatic for an extremely greedy draft. Most of the game's action centered on the bottom half of the map as Daryl Koh 'iceiceice' Pei Xiang's infamous Broodmother was left to its devices, duking it out against Vladimir 'Noone-' Minenko's Monkey King who got some equally great farm. With such a greedy lineup, onus was on Fnatic's supports, Anucha 'Jabz.' Jirawong and Djardel 'DJ' Mapusti to make some plays. While the two tried their best, they were unable to really make anything happen as VP simply capitalized on the weak lanes and greed—Pavel '9pasha' Khvastunov's Phoenix taking full advantage. VP closed out the game in a clean 30 minutes, never missing a beat.
Continuing the momentum, VP trounced Fnatic once again in game two, even with an unusual five position Drow Ranger for captain Alexey 'Solo' Berezin. The game started off a little better compared to the previous for Fnatic as Solo was forced to jungle due to Fnatic's pressure in the bottome lane, but VP were in full control once again of the middle and top lanes. The small advantage was short-lived as although Fnatic took bits and pieces from VP throughout the contest, the CIS squad simply controlled each and every team fight, with 9pasha's Brewmaster effectively shutting down iceiceice's Tidehunter who was unable to get off a single effective Ravage in the 40-minute contest.
With VP's victory, they move onto face NiP in the upper bracket semi-finals while Fnatic joins EG in the lower bracket.
Upper Bracket
Round 3 - Best of 3
Round 4 - Best of 3
Lower Bracket
Final
The Kuala Lumpur Major details:
 
Group Stage

9 to 10 November 2018
Four groups of four teams each.
Bo3 double-elimination (GSL) bracket.
Top two teams from each group advance to the Upper Bracket of Main Event.
Bottom two teams from each group advance to the Lower Bracket of Main Event.

Playoffs

The playoffs will be held from November 11 to 18.
Only the final three days will be in front of a live crowd.
Double-elimination bracket.
All games except Grand Finals and Lower Bracket Round 1 are Bo3.
Lower Bracket Round 1 are Bo1
Grand Finals is Bo5