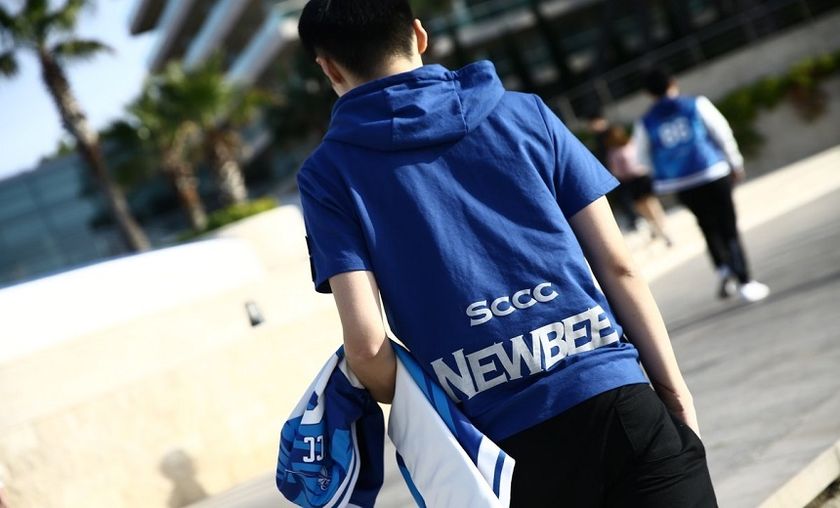 Brutal Breakout series push 3 Chinese teams out of the DAC 2018 Major

Image courtesy of Newbee
In a shocking turn of events for the host country of the Dota 2 Asia Championships 2018, 3 Chinese teams that qualified for the breakout series today were eliminated by American and European teams.
After an extended and exhausting group stage that lasted 3 days with an astounding 67 matches including tiebreakers, 8 of the 12 teams that qualified competed in the new elimination system called breakout. The BO3 elimination round aimed to bring the 16 competing teams of the tournament down to half. The 4 teams that qualified are headed to the first round of the upper bracket and will compete against LGD Gaming, Virtus.pro, Mineski and TNC Pro Team who topped their respective groups.
Evil Geniuses 2:0 Newbee
There is no denying Newbee have looked significantly weaker than other teams in recent times and are far from their prime. Despite being one of the teams in the five-way tie in Group A, they fell to the bottom in the tiebreakers, losing all of their games. They drafted their signature Naga Siren + Disruptor combo in Game 1 for their supports Hu "Kaka" Liangzhi and Zeng "Faith" Hongda. However, opting for a greedy Invoker pick on their midlaner Song "Sccc" Chun may have been what sealed the deal on their defeat. Evil Geniuses took advantage of this and stormed through, winning the laning stage with their aggressive trilane and continuing to gain a steady networth advantage. Their last pick Puck for offlaner Syed Sumail "SumaiL" Hassan made their lineup even more formidable. The young player has truly shone out after transitioning to the new role with some MVP-worthy performances.
Newbee did not seem to adapt much, as Game 2 followed with an even more brutal, one-sided and shorter victory for EG. While they did pick meta favorite Dragon Knight for their midlaner this time, they made their second greedy pick of the series with an offlane Enigma on Damien "kpii" Chok. Their hope to combo it with the repeat Naga Siren pick wasn't nearly enough to hold back EG's constant onslaught. Once again, SumaiL carried the game with another flashy performance, this time on his new favorite hero of the patch Leshrac. The disco pony has surged back into the meta after gameplay update 7.12 and it looks like he's here to stay for a while.
Team Liquid 2:0 VGJ.Thunder
Team Liquid did not seem to be in top form in the group stages despite the return of midlaner Amer "Miracle-" Al-Barkawi, but then again, neither did VGJ.Thunder. Game 1 saw VGJ drafting a very strange lineup, with a rare offlane Doom on Zhou "Yang" Haiyang and a position 5 Nature's Prophet on Leong "ddc" Fat-meng. Liquid on the other hand drafted the signature Lone Druid for Lasse "Matumbaman" Urpalainen and meta favourite Gyrocopter for Miracle. They did go for the forgotten Lich for support and captain Kuro "KuroKy" Salehi Takhasomi. The laning stage went fairly evenly, however a Radiance purchase on the Lone Druid nearing the 20-minute mark switched Liquid into high gear. It allowed them to go for objective after objective that could not be stalled by VGJ, forcing them into a 'GG' call.
Game 2 was not as one-sided. With a signature Earth Spirit on position 4 support Maroun "GH" Merhej, Liquid blitzkrieged through the early game and gained a significant networth advantage. However, Pan "Fade" Yi's Keeper of the Light stalled their high ground push till they could hit back. Near the 30 minute mark, VGJ secured Roshan after winning a teamfight and turned their networth deficit around. They used this to their advantage and tried to take the middle lane of barracks, but settled with a Tier 3 tower. Liquid kept their cool, minimizing their losses with every fight and came back with a massive teamfight that wiped the Chinese's squad. With the second Roshan secured, and only Liu "Sylar" Jiajun's Juggernaut left to defend, they eased their way to victory with the last base siege.
OpTic Gaming 2:0 Invictus Gaming
Stirring up controversy in an arrogant and arguably offensive tweet, captain of OpTic Gaming Peter "ppd" Dager seemed to have predicted victory before the day even started. The TI-winning drafter went for a push-heavy deathball lineup with Death Prophet, Terrorblade and Venomancer in Game 1. What followed was an absolute stomp of Invictus Gaming that allowed OpTic to secure mega creeps. Although we did get to see Pangolier at the tournament once again, this time in the hands of star player Ye "BoBoKa" Zhibiao at the main event, it has not shown great success except in the hands of Mineski's offlaner. It may be proof that the hero is not suited in the position 4 role in professional games.
In Game 2, it was carry player Per Anders Olsson "Pajkatt" Lille's time to shine with a surprise Phantom Assassin pick. With a physical damage heavy lineup, OpTic seemed to want to power through, but IG didn't make it easy for them. After an even laning stage, a massive, extended teamfight near the 24-minute mark gave IG a decisive lead.
OpTic forced the issue and continued to hemorrhage losses, with a dieback on the offlane Puck played by Neta "33" Shapira. He salvaged the game with the only redeeming play as he got the kill on Roshan and picked up the Aegis of the Immortal, despite losing it and dying again immediately. They returned to win several teamfights with their heavy physical burst damage fuelled by multiple armour-reducing mechanics. It seems ppd has lived up to his words this time, eliminating the winners of the DAC Major last year.
Vici Gaming 2:0 Team Secret
The last hope for China for the day and the European powerhouse gave us the most exhilarating series of the day. Clement "Puppey" Ivanov started his Game 1 draft with a surprise Crystal Maiden pick. Despite getting buffed in the recent update, the hero is generally considered weak. Puppey surprised us all with a top-tier performance by remaining the highest networth support for a major part of the game. Around the 30 minute mark, Team Secret secured the Roshan kill and the Aegis with a plan to push into the Radiant's high ground. The massive damage coming out of the Impetus shots of Marcus "Ace" Hoelgaard's Enchantress scared Vici Gaming into their base, but they held their own. However, they were only able to secure a Tier 3 tower in the top lane and retreated.
What followed was an unprecedented teamwipe of Secret by Vici Gaming into the late game, without sacrificing a single hero in a demonstration of pure skill. Securing the third Roshan of the game and a Refresher shard on Zhang "Paparazi" Chengjun Outworld Devourer, VG just walked all over Team Secret who fought fruitlessly to the bitter end.
With complete trust in their star player Paparazi's Outworld Devourer, Vici Gaming showed us their bold and versatile drafting capabilities in Game 2 with the resurgence of a Faceless Void + Phoenix combo. Secret responded with their own Shadow Demon + Chaos Knight combo, two heroes who have not seen the light of a professional tournament in a long time. They even gave their ex-10k MMR midlaner Yeik "MidOne" Nai Zheng his new favorite core Kunkka, though it was clear from the start his laning would not go well against the OD.
Using the confidence from Game 1, Vici Gaming steamrolled over Team Secret, winning teamfight after teamfight owing to the synergy of their well-rounded draft. Carry player Zeng "Ori" Jiaoyang was the clear MVP of the game, acheiving a 14-1-14 KDA on his Tiny. Against all odds, Vici Gaming eliminated the recent DreamLeague Season 9 Champions and proved everyone wrong who thought every Chinese team competing today would go back home in shame.
The devastating elimination of 3 very strong and popular Chinese teams from the Dota 2 Asia Championships 2018 Major leaves LGD Gaming and Vici Gaming as the last representatives of the host country. It remains to be seen whether they will regain some pride and glory to the region.
LGD Gaming will go up against Evil Geniuses tomorrow, April 4th at 10:00 CST. This will be followed by perhaps the most anticipated and close match-ups of not just the tournament, but also the DPC season. Team Liquid will face-off against Virtus.pro at 13:00 CST to determine who advances in the upper bracket and who falls to the lower bracket.