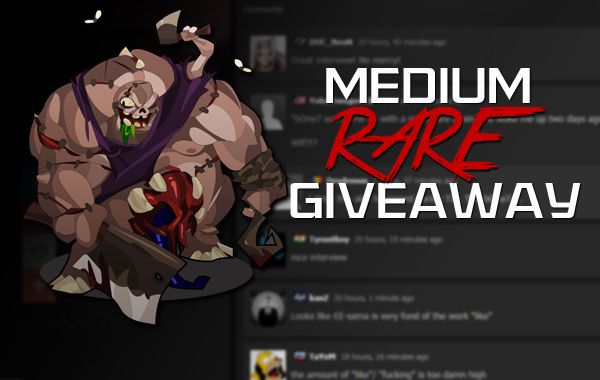 GIVEAWAY: Comment your way to 100 rares
ATTENTION: The time span of this contest is now over, winners will be announced soon.
We at GosuGamers currently have more rares than our backpacks can carry. As a result, we will be giving a total of 500 rares away this week. Anyone who posts a comment in any Dota 2 news published from today until the end of Friday will have a shot at winning.
Five different GosuGamers users will each win 100 rares this week. Anyone is welcome to participate, all you need is a GosuGamers account and some sort of typing device (such as a keyboard). The next step would be to post a comment to the news articles published here this week. Do note that all comments posted must stay relevant to the news topic. If you are posting your comment as a response to another user's comment, also keep it relevant to the comment to which you are replying. Comments deemed as out of topic or as spam will be censored and disqualified.
Any news article posted in the Dota 2 section between September 8, 00:00 CEST (today) and September 12, 23:59 CEST (Friday) will have the comment section eligible for competition. You may post more than one comment per news, but only one comment per news will be counted. Posting in multiple news posts will however increase your chances. Each winner will be selected through first settling on a random news article published in the eligible time span. After that a random comment will be declared the winner (where only one comment per user/news is counted). Winners will be announced on Saturday, September 13.
Rares won can either be used for betting in our ItemBet section or unloading into your Steam backpack. To claim any won rares you need to have your Steam account connected to your GosuGamers account and be opted in for ItemBetting. You may opt in at this page.
Summary of the rules
Post a comment in any news article published between Sep 8 (00.00 CEST) and Sep 12 (23.59 CEST)
The comment has to stay relevant to the topic
Only one comment posted per news will be counted, but posting multiple will not disqualify your original comment
It is beneficial to post comments in multiple news as it will increase your chances to win
Five random user commenting will be awarded with 100 rares each, winners will be announced on Saturday
Butcher drawing by hangemhigh13 at deviantart