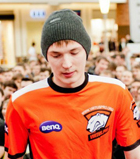 Virtus.Pro welcome back Ars-Art; Goblak and Resolut1on out of the team
Virtus.Pro has been fledgling since they signed their new star-studded roster 39 days ago, with different views on the game and strong personalities clashing causing the team to be unable to find common ground. While the move to replace some players did not surprise anyone as it was announced earlier today, the exit of Artour 'Goblak' Kostenko and Roman 'Resolut1on' Fominok specifically is likely to go counter to the expectations of some people.
While Goblak has been a darling of the CIS community since his return from retirement and the formation of a new DTS lineup in 2012, his star rose high amongst western fans for his work with Team Empire, and somewhat surprisingly in particular after his exit from the team, as he helped Quantic reach the finals of DreamHack Summer 2013 as well as claiming second place in the Western Qualifiers for The International 2013 through his intelligent and unorthodox drafting. Still, some have called into question Goblak's mechanical skills, be it due to his role inside the game drawing his attention away from his own play or for whatever reasons, and with the new VP roster seemingly lacking the trust in his drafting skills and choosing to try out other drafters, it may be understandable that the team decided against Goblak remaining in the team.
In his place we will see the return of Sergey 'Ars-Art' Revin, or Smile as he is known to the CIS community. Considered by many as one of the most well rounded supports in the West, his removal at the insistence of the newcomers and against the wishes of the heart and soul of Virtus.Pro for over a year now, Ars-Art's dear friend Yaroslav 'NS' Kuznetsov, was quite the shock to many fans. With Goblak removed from the team, his return was all but assured, allowing for a different and more energetic approach to the game from the support line of the team, which likely will fit NS better as well.
The other person to leave the team however comes as quite the surprise, as Resolut1on is generally considered one of the most promising players of the CIS scene and a future star on the level of someone like Danil 'Dendi' Ishutin. Many expect instead that it would be living legend Dmitriy 'LighTofHeaveN' Kupriyanov who would be making an exit, as he has been under much attack for not having reclaimed his former level of play with the new team. Whether it is justified to judge the level of any of the players individual performances on the team given their obvious issues with making unified calls inside the game is for each to decide, but what seems clear is that the team felt the conversion of one of the teams two solo mid players into either a carry or offlane role was a task that wasn't going well, and that it would be better to hold on to Light who has a massive amount of experience with both of these roles.
The fifth player is as of yet unknown, but there are a number of strong candidates available to the team. Topmost on the pile may be the name of RoX.KiS carry player Stanislav 'BzzIsPerfect' Glushan, who has impressed many within the CIS community with his stable and consistent play, and who stood in for VP as they played without NS and Light the last few days. Another name which is certain to come up in discussion although his true availability may be questioned is popular Russian streamer, caster for StarLadder and generally considered one of the best Russian around; Andrey 'Dread' Golubev. Dread is also a former RoX.KiS player who left competitive play after his close friend Aleksey 'Solo' Berezin was famously ousted because of a match fixing scandal. Would VP be ready to make a sufficient offer to bring Dread back to playing rather than just standing in for his old team from time to time? Maybe, but for now this option is a long shot, especially considering there may still be some bad blood between Dread and NS from their previous stints together.
The following statement was released by Virtus.Pro manager Alexey 'LeX' Kollesnikova:
Unfortunately, five players we have picked in the beginning of September didn't show the main thing - the desire to work together, despite all the difficulties and different understanding of the game. Everyone was guilty, each in his own way. I want to wish all the best to Roman and Arthur. It was comfortable to work and communicate with you. Today we are announcing four players that are ready to go along together and to believe in their strength. Boys know each other for a long time, know all strengths and weaknesses of each other, what give additional advantages in the beginning. All of them are true stars of both Dota 1 and 2, let's hope that everything will turn out. Your support is needed now more than ever
Additionally, in a resent video interview with Virtus.Pro, when asked about the issues within the team, Dmitriy 'LighTofHeaveN' Kupriyanov said the following:
Well, they decided to gather people who do not know each other, relying on their reputation and having big names. The result speaks for itself. Basically, everyone wants to give their opinions and sometimes we could not hear each other because of that. Morally, it was tough from the first week we got together, so tough that I wanted to leave the team and we did not manage to fix the problems.

...

It wouldn't even work because after the discussion we would go back to our old ways. Let's say you are at the North Pole and you have to get to the South Pole, you only have two directions - either through the East or through the West. Some of us are moving to the East and some of us are moving to the West. We do not move together.
A full transcript of the interview is available here.
Virtus.Pro Roster:
Yaroslav 'NS' Kuznetsov

Dmitriy 'LighTofHeaveN' Kupriyanov

Sergey 'Ars-Art' Revin

Sergey 'GoD' Bragin
Source: Virtus.Pro
Photo also coutesy of Virtus.Pro