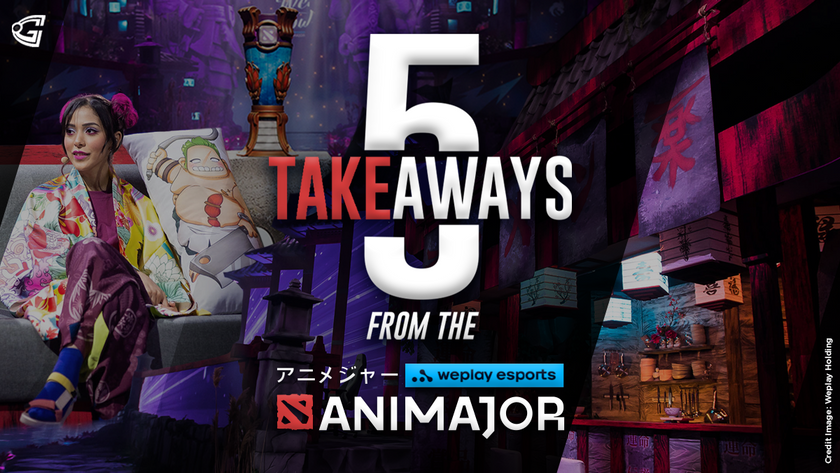 Five takeaways from WePlay AniMajor
The WePlay AniMajor was one for the books, praised by viewers around the world for creating a memorable tournament. Here are five takeaways from the event. 
The WePlay AniMajor was a spectacle to behold. With dazzling displays, a full variety of unique content, stand-out storylines, and thrilling gameplay it was not only one of the top three Majors watched online, but also a top 5 non-TI, and also TI included, event.
Impressive!
Eleven days of content and 137 games played, we've sorted out the five biggest takeaways from the WePlay AniMajor. 

1. You don't need an audience for a great event
We previously explored the impact of having LANs without spectators has had on tournaments. 
From the home-field advantage with crowds fueling the energy to finding the production balance to provide the same hype and thrill the players have become accustomed to in live competition, the absence of spectators has been significant.
However, WePlay managed to find a way to bridge the gap. Creating the storylines and cross-overs for each of the team introductions and spectacular hype, the players couldn't help but feel pumped about their entrance onto the stage.
Neither the teams nor the viewers seemed to remember that there wasn't a live audience on site. 

2. You don't need to rely on VR for production value
For some years now,  tournament organizers have been using Augmented Reality and other advanced technology in their event productions. 
Valve introduced Dota 2 to AR at TI6 in the opening ceremony and then again in the drafts on the main stage. 
With the inclusion of AR, sometimes it feels that tournament organizers have grown to rely on that as the bulk of their production. 
Not WePlay though. We know from a previous deep dive into the organization with Maksym Bilonogov WePlay Esports General Producer, that their real passion and expertise is in production value and creating stories.
Of course, it takes a lot of hours and money to create a stage production of such a high caliber, but it wasn't just that. 
The Ramen Shop for the panelist discussions and even as the base of content, and the couch segments with the costumes and props added a real flavor and details that elevated the value in multitudes. 

3. Give new talent a chance
WePlay AniMajor saw the likes of Robson "TeaGuvnor" Merritt and Mira "Ephey" Riad on the panel. For both of these talents, it was their first Major debut, for Ephey, it was pretty much her first overall debut. 
TeaGuvnor told GosuGamers  that "Being an ex-pro coach that was unable to reach the top of the competition but still was able to compete at majors, I worry sometimes that the viewers will judge my analysis and this self-doubt is something I've learned to accept and work on."
Ephy had said "I'm really grateful I got this opportunity. It's not something that I pushed for or anything. I got reached out to, so to see that leap of faith that they took in hiring me and the belief that I would do a good job really inspired me to do the best that I could, to watch as many dota games as I could and prepare as much as I could and just do a good job 'coz when someone puts their faith in you, you don't want to let them down."
Both had their own personal hesitations stemming from inexperience but the community embraced them each and both of them proved without a doubt their merit and value to contributing to a remarkable event and debut.
If only more tournament organizers would take that same leap of faith and provide ample opportunities for others. 
4. Anime and Dota DO go well together
Dota 2 fans (and players) are often associated with being weebs into Anime. Anytime there is a rift in a team composition it's likened to an anime betrayal, anytime there is a comeback story.... well, the same. 
But it turns out that Anime and Dota 2 DO pair well together. 
Dota 2 truly reflects the anime stories and tropes of the comeback teams, betrayal, perseverance, making legends, overpowered protagonists, ridiculous power scaling antagonists, titans, shonen heroes, and hidden gem storylines. 

5. Don't get arrogant when things go well
The WePlay AniMajor production was flat-out amazing. The community sang praises and cheered to the success of the event. Next to the ONE Esports Singapore Major, there were no comparisons and fans were hopeful that TI10 had a chance at being just as memorable, even if it was held without a live audience on site. 
But sometimes, a tremendous influx of exaltation feeds the ego and inflates the head. 
In the days that followed, some of the WePlay social media posts that appeared tooted their own horns a bit too much for the community's liking. 
Coming off as arrogant and elitist, the community was quick to start dunking on the tournament organizer leaving a blemish on their otherwise smooth and stellar event. 
Sometimes it is better to just enjoy the moment in silence and take a short break after such an exhilarating event. If only the Dota 2 community could figure out how to avoid that ever-so-tempting tweet button.