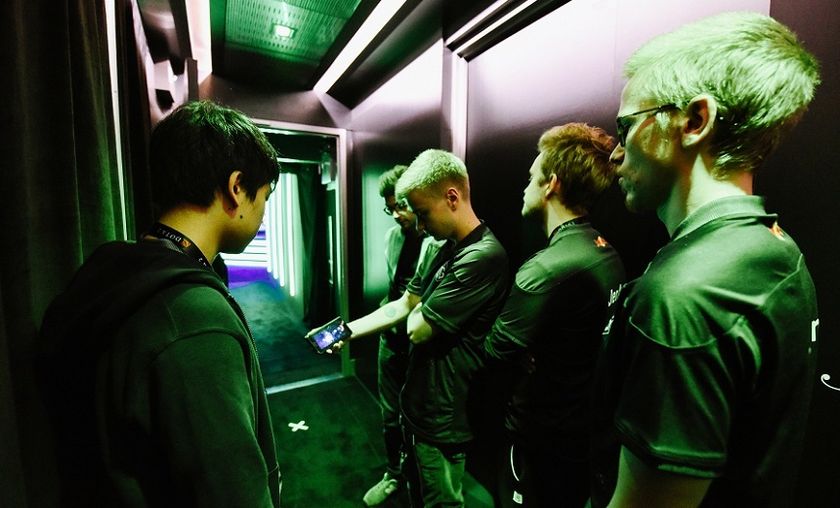 Daeja's View: OG and the Chongqing Major Regional Qualifiers

OG just off-stage at The International 8. Photo courtesy of Valve.
Three years ago today, OG won the Frankfurt Major 2015, establishing a lasting legacy for the squad. Three months ago, the newest iteration of OG won The International 2018 (TI8). We haven't seen them play since then as the squad took some much-needed rest.
When Gosugamers spoke with Johan "N0tail" Sundstein in July, he expressed his concern about the pacing of the Dota 2 Pro Circuit (DPC):
"
I don't really know what Valve's thought process is about this, but this season I'm pretty sure that it has pushed a lot of players to the limit. I think that they are going to look at the next season and look at it twice."
He suggested teams that got into the top five at TI8 might take some time off at the beginning of the second DPC season.
Lo and behold! OG was one of those teams. They opted out of the first two DPC events, as well as off-Circuit tournaments such as ESL One Hamburg 2018.
But now they are back. OG is one of five teams directly invited to the European Regional Qualifiers for the Chongqing Major. Also attending will be Ninjas in Pyjamas, Alliance, Team Liquid, Team Secret, and the three Open Qualifier teams: Hippomaniacs, Vega Squadron and The Final Tribe.
However, as we reported earlier this week, it won't be the TI8 OG squad. Anathan "ana" Pham will be taking a longer break. So what does this mean? OG hasn't announced their stand-in (or new player?) for the qualifiers yet. The European portion will run November 28-30, so there's still some time for that information to be released.
OG will also be playing on LAN at the AMD Dota 2 Pro Series event run by Convictus Esports Group in Melbourne, Australia. In the statement regarding ana's status, N0tail mentioned seeing him soon in Australia, so potentially the TI8 roster may compete on LAN there from December 7-9.
What I'm Watching For:
OG's post-TI8 debut is not the only reason to watch the Chongqing Major's qualifiers. It will certainly be interesting to see whether the squad remains competitive in the new season (especially as this roster really only competed at TI8 last season!). But there's other reasons to tune in.
Patch 7.20 was released on November 19, giving teams in the CIS, SEA and SA regions only six days to prepare. Those qualifiers will run from November 25-27. The patch has already had an update, moving us into 7.20b. It's possible there will be additional tweaks before the group stages kick off on Sunday. With so many changes in 7.20, teams are surely scrimming hard this week to figure out what heroes are strong, which items are must-buy, how they can exploit the new map and surprise their enemies. Expect some entertaining and unexpected drafts!
Team Liquid will also be returning to competition in the Qualifiers. They took a hiatus after winning and then withdrawing from their spot at the DreamLeague Season 10 Minor.
In the interim, Ivan "MinD_ContRol" Ivanov played with Ninjas in Pyjamas at the Kuala Lumpur Major due to a visa incident. The team placed fourth. Watching Ninjas play versus Team Liquid should be quite interesting; will either squad have new insights for how to beat the other? The patch may have deteriorated the quality of any recognizance completed during the brief crossover.
Consider watching the North American qualifiers as well as European. I know the regions will be playing at the same time, along with China from November 28-30. It'll be worth it! Why? CompLexity Gaming will debut a new roster after going down to only two members. As per our reporting on November 15, Jingju 'Sneyking' Wu and Jacky 'EternaLEnVy' Mao were released by their own requests. Additionally, Andrei 'Skem' Gabriel Ong was benched due to several concerns, though the organization pledged to help him find a new team. No details yet on who will complete the new roster.
Regardless of who you're rooting for, these regional qualifiers should be very entertaining.
It'll be good to have OG back, it'll be fun to see how the professionals do on the new patch, and ultimately, fifteen teams will earn their tickets to China. Tune into the Chongqing Major Regional Qualifiers from November 25-30 for all the Dota 2 action!