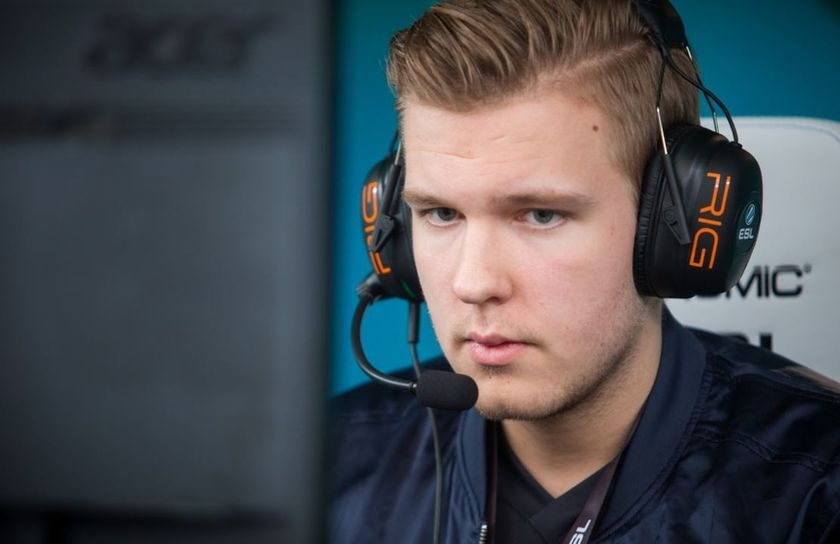 TI7 Interview with EG's Cr1t: "We are happy to make it to the upper bracket."
We caught up with Andreas 'Cr1t-' Nielsen, captain of EG, right before the TI7 Playoffs and he was kind enough to answer a few of our questions.
---
Congratulations on making it to the upper bracket! What are your thoughts on the group stages?
Pretty good for us. Pretty much what we expected. We are happy to make it to the upper bracket, there was some uncertainty in the group stage, but it turned out good for us.
Did you expect the level of competition to be as it is right now?
I think it's hard to explain the competition at TI, you never really know, but you know most people will give it their all, especially in early games they will play their best, is why we dropped our first couple of series. Can't really expect teams to underperform, you have to respect everyone, they will pull their best strategies.
Next, you will face Newbee, you had a few feuds with them recently, what are your thoughts on that matter?
Newbee have performed really well to this point. We've played them a lot of times and we obviously see patterns. It's hard for me to say too much about it, but we've done the preparation we needed for today.
Coming to one of your favorite heroes in the group stages, Earthshaker, how did you come up with that strategy?
It's mainly Sumail, he asked for it and we gave it a try and it was good for our team so we went for it. It's that simple.
Who do you think are the strongest contenders?
Liquid are really strong now, our series against them was really close, was hard to play. For us, Liquid is the team we expect to make it far. Also LFY, LGD, these teams are really good. A lot of TI teams, who do well in groups, fail to follow in the playoffs.
Does being favorites for this TI put a lot of extra pressure on you guys?
Yes, there was last year and this year, but not as strong, since then everyone expected us to win, now we are just one of the top teams. Last year was harder, was definitely more pressure.
You were one of the best Position 4 Supports, now you play as Position 5, what changed, do you like it or was it more of a sacrifice for the team?
I think my role in OG was not very typical Position 4, I would play a lot of heroes that are considered Position 5, like Bane and Dazzle. So I had some experience with the role, there were some games where I felt like a Position 6, it's just very different. I enjoy it, it's not very flashy when you practice Position 5, but it's very important.
In the current state of the game and meta, do you think the Position 4 Roaming Support is the most important role?
I think it's probably the most versatile and it's not that difficult. I think the best Position 4 players are not that flashy but are rather know the balance between going for plays and focusing on helping their teammates.
Do you think that the Mid Role has now, even more, weight with the addition of an extra creep for the first 15min of the game?
 I'm not sure, because there are just too many factors that affect the Mid Role. For us, it's nice to have someone, who is mechanically good, to win the lane one on one, it's really nice to have, but there are a lot of things that are depended on the supports.
What do you think about the new competitive system of Majors and Minors?
I think it's great for the players and teams, all these chances, before that there was only TI and Valve Majors, now there will be a lot more large tournaments throughout the year. It's not just like last year, where you could have a bad time with the Majors and that would be it, now you would have a lot more possibilities. I think it will work out a lot better for everyone.
What do you think of the NA pubs?
It depends on the time of the year, who's here from the pro players, now it's a lot better. NA pubs are not that good the rest of the time when there are no tournaments.
Thank you for your time and insight! Any shoutouts?
Not really.
Click here for results, VODs and all the other information
 
headline image courtesy of ESL One