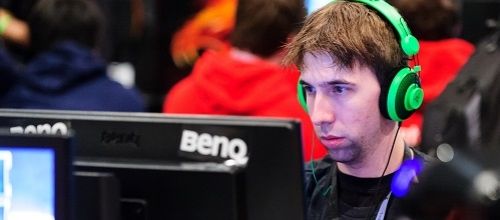 Vibe and Major own AM Challenger Group B
The 2012 US champion and Mexico's most prolific player return to AM Premier after shoving out Vibe and Bails in Group B of Challenger.
 
More WCS America coverage
Check link for VODs, news and match info
?
With the American line-up in their own circuit thinning up, it was up to the players in Group B to inject some of their blood into the Premier league. With no outsiders to ruin the party, Vibe, Major, Bails and Killer entered a pit fight to defend their continents' pride. 
First to climb up to Premier was last year's United States champion Dan "Vibe" Scherlong. Last season, Scherlong suffered a Ro32 elimination to TheSTC and Snute and failed to beat the Challenger bracket after a 0-2 loss to Jim but his play was on point today. The ROOT Zerg dropped but a single map to Major to finish first in the group.
It was Major himself that followed Vibe out of Challenger and up to Premier. The ex-ROOT member and now the only foreigner on KeSPA's Team 8 recovered after his opening 1-2 loss to KiLLeR, eliminating Bails 2-1 in the losers match and taking revenge on the Chilean in the rubber match. 
Outside Scarlett and puCK, Vibe and Major are the only American to so far qualify for WCS America. Another one is guaranteed to advance tomorrow from Group C, featuring XY, Capoch and HuK.