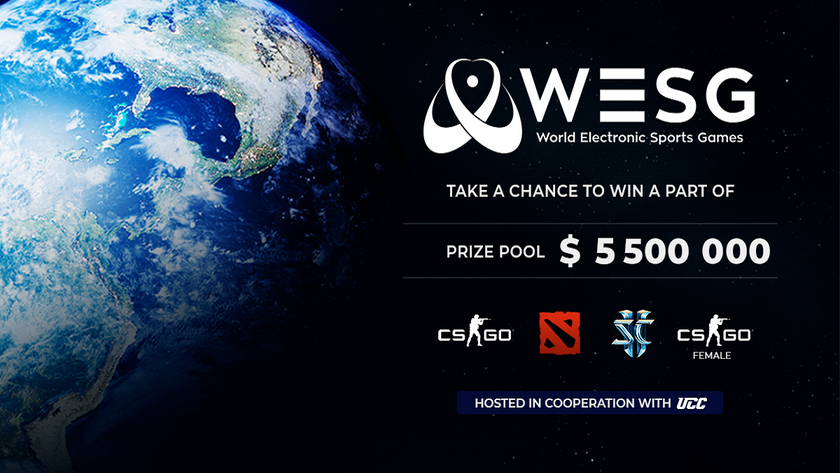 WESG 2019-2020 details for CS:GO, CS:GO Female, Dota2, StarCraft II
WESG has announced its return for the 2019-2020 season with information regarding the qualifiers, dates and general details.
WESG launched in April 2016 and over the last few years, WESG has been met with mixed enthusiasm and criticism for hosting such a large event with substantial prize pool open to teams and mixes comprised of players from the same nationality. This year U Can Company will be hosting the online qualifiers for various different discipline groups —CS:GO, CS:GO Female, Dota2, StarCraft II with a total prize pool of $5,500,000. 
The online qualifier registration of the WESG 2019-2020 will start on November 13, 2019. This season teams are able to have a maximum of 2 players from other nationalities, while also fulfilling a minimum of 3 players representing the same nationality.
This year, WESG is bringing back the Asia Pacific Final in which national teams from the region will qualify to face off in Kuala Lumpur in January 2020.
Last year the Philippines representatives for Dota 2, TNC Predator, dominated their opponents from start to finish at WESG 2018 —becoming two-time WESG champions also having seized the title once before, at WESG 2016.
The online qualifier details are as follows:
Schedule of all Qualifiers - HERE
Format

The qualifying system consists of 2 stages; the open qualifiers and the closed qualifiers.
The open qualifiers will use a single-elimination bracket
The closed qualifiers will use a double-elimination bracket.
The system may vary among regions by an announcement in advance.

Stages

Players from Europe, CIS and Africa will compete for the direct slot to the Grand Final.
Players from Asia will compete for slots to the Asia Pacific Final, then qualify for the Grand Final.

Slots

Players are able to register online HERE by choosing their game title and country.
Countries and regions highlighted in white will be online qualifiers and available for registration.
Countries and regions highlighted in blue are online/offline events hosted by an official local WESG Partner. 

Community Caster

If you are interested to be a community caster, please register HERE.